(Wait, no more saddle shoes for the duration? HOW CAN YOU ASK SUCH A SACRIFICE?)
The Japanese were believed today to be preparing another powerful all-out task force for an all-out attempt to retake the Solomon Islands from American Marines. Naval observers made that prediction as the Navy brought its announcement of enemy ships damaged or destroyed during the past week to eighteen. The latest communique credited American submarines with torpedoing eight additional ships and sinking four. Some observers placed "considerable credence" in reports from Chungking that the Japanese have dispatched four battleships to augment naval forces already present in the South Pacific, crediting that information to "excellent Chinese espionage" agents who have provided accurate information in the past. The Japanese are also believed to be massing for a frontal battle with Allied forces with Port Moseby, New Guinea as the prize.
Presidential envoy Wendell Willkie is sharply reducing his social activities during his tour of the Soviet Union, reducing sightseeing to the minimum as he concentrates on study and conferences concerning Soviet industry, agriculture, and morale. Soviet authorities, said to be impressed with Mr. Willkie's simple, straightforward manner, are cooperating fully with his desire to speak with ordinary Soviet workers and peasants about their opinions on the war. Mr. Willkie also plans to interview several Soviet clergymen on the religious question.
Officer Candidate Clark Gable is said to be "an excellent student" as he continues his training at the U. S. Army Air Force Officer Candidate School at Miami Beach, Florida. The film star, who gave up his Hollywood career and his famous moustache to enter the service last month says that he's lost ten pounds since his enlistment, and is "feeling fine."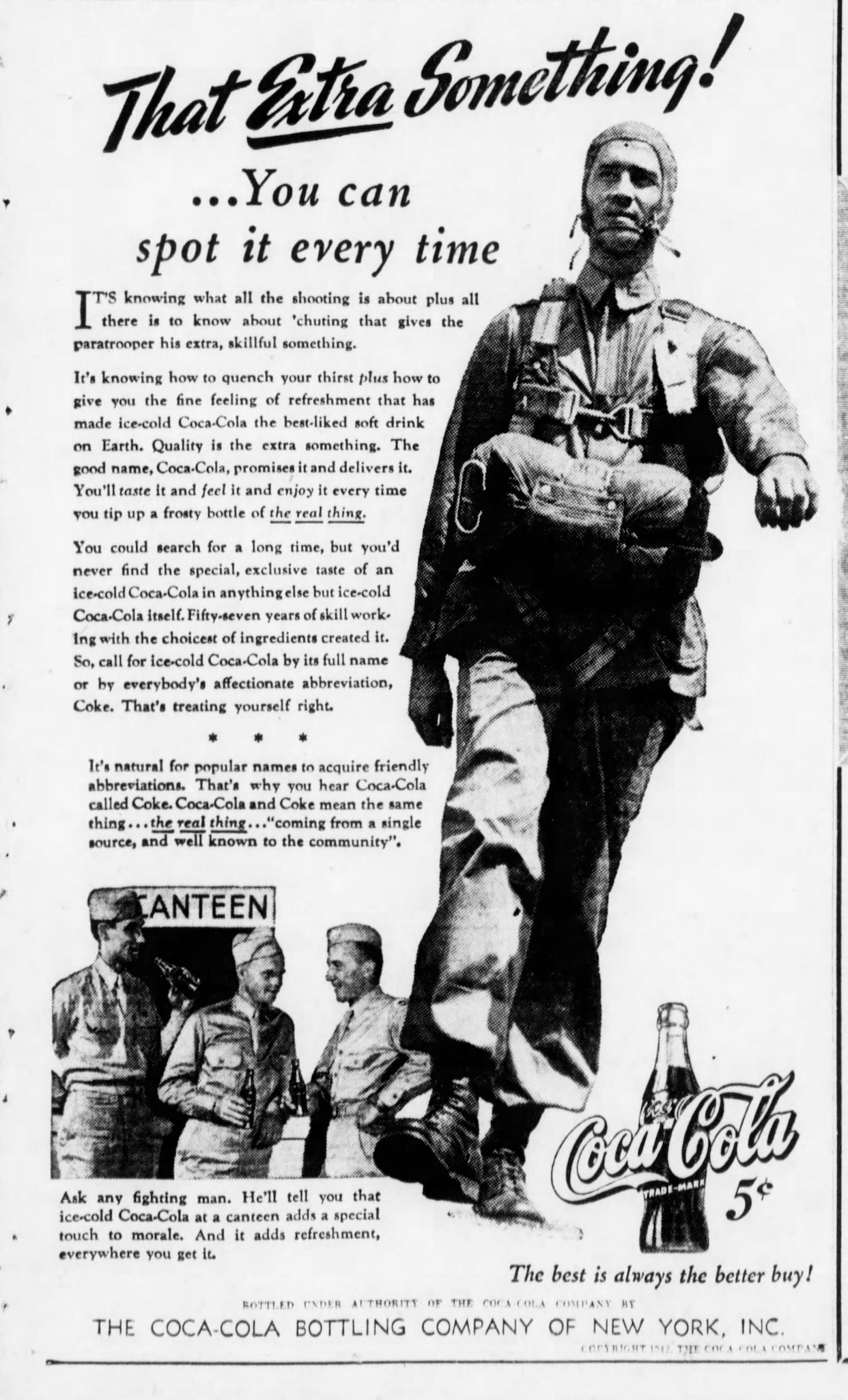 ("Nobody knows I've got the handy six-bottle carton packed in with my parachute!")
Abe Stark, Brownsville businessman and secretary of the Brooklyn Million Dollar War Bond Show Committee, stepped up yesterday to buy ten loge seats for $10,000 in war bonds, as ticket sales mount for the monster variety show to be held at Loew's Metropolitan on Friday. In addition to loge seats for a $1000 bond purchase each, one box seat costs $500 in bonds, an orchestra seat costs $100 in bonds, and a balcony seat can be had for a $50 bond purchase. Ann Rutherford and Carmen Amaya were added yesterday to the already impressive roster of stage, screen, and radio talent signed up to appear in the one-time-only performance.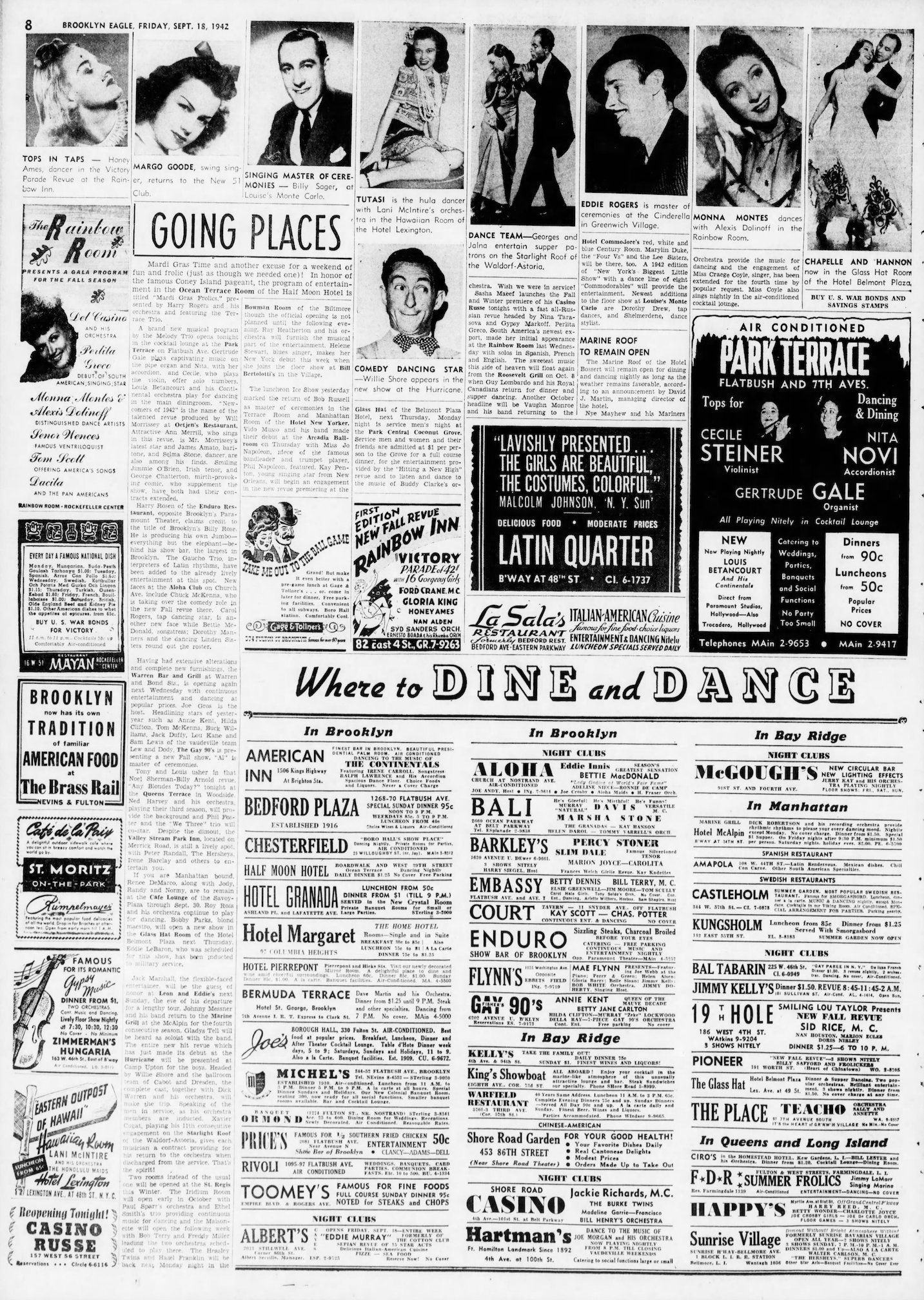 (If Senor Wences is good enough for the Rainbow Room, he ought to be good enough for Loew's Met!)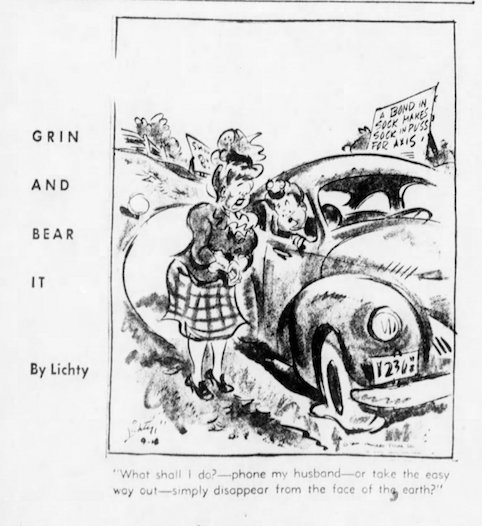 (Page Four is waiting to see how you resolve this.)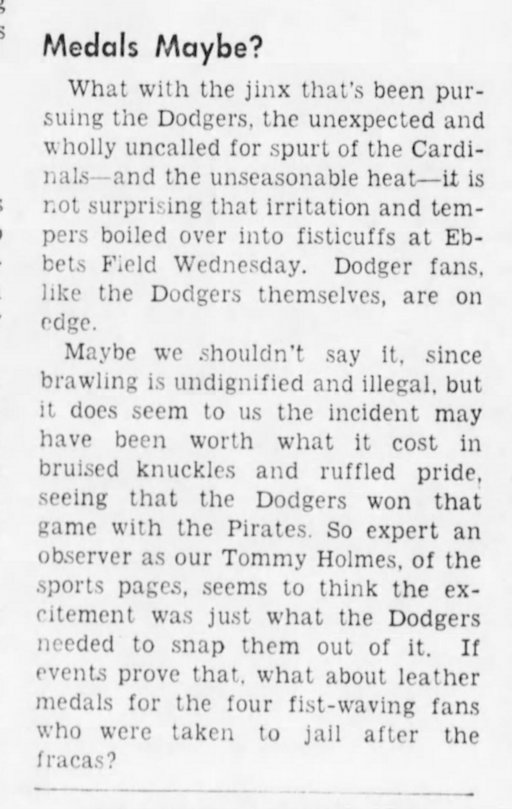 (Yeah, but --)
Dodger outfielder Fred "Dixie" Walker and catcher Arnold "Mickey" Owen face assault charges, and two Ebbets Field ushers were charged with disorderly conduct stemming from Wednesday's brawl in the stands behind the home dugout at the Flatbush ballpark. Magistrate Charles Solomon in Flatbush Court issued summonses yesterday for the four participants in the fracas, ordering them to appear in court on October 5th. The four fans involved in the exchange of fisticuffs were also charged with disorderly conduct and will face Magistrate Solomon on the same date.
An 86-year-old retired foreign correspondent is boiling mad today after learning of a fraud pulled upon him back in 1907 by the then-Emperor of Japan. Jimmy Hare was a correspondent for Collier's Magazine who was cited by the Mikado for his coverage of the Russo-Japanese War, and was presented with an impressive medal that he was told was made of solid gold. Yesterday, Hare donated that medal to the Overseas Press Club to be melted down and recast into a special decoration to be presented to the first American flier to bomb the Imperial Palace in Tokyo. But he was shocked to learn from the jeweler who was to melt the medal that the decoration was nothing more than brass.
A hoard of subway slugs bought by the IRT in 1928 in anticipation of a possible fare increase will not be turned over as scrap, according to the chairman of the Board of Transportation. The War Production Board had asked the city to consider donating the tokens to the present salvage campaign, but Chairman John H. Delaney says the 10,000,000 copper-nickel tokens cost $133,000 fourteen years ago, and if sold on the scrap market today would bring a return of only $12,000. Mr. Delaney said the tokens will be head, instead, "pending further developments."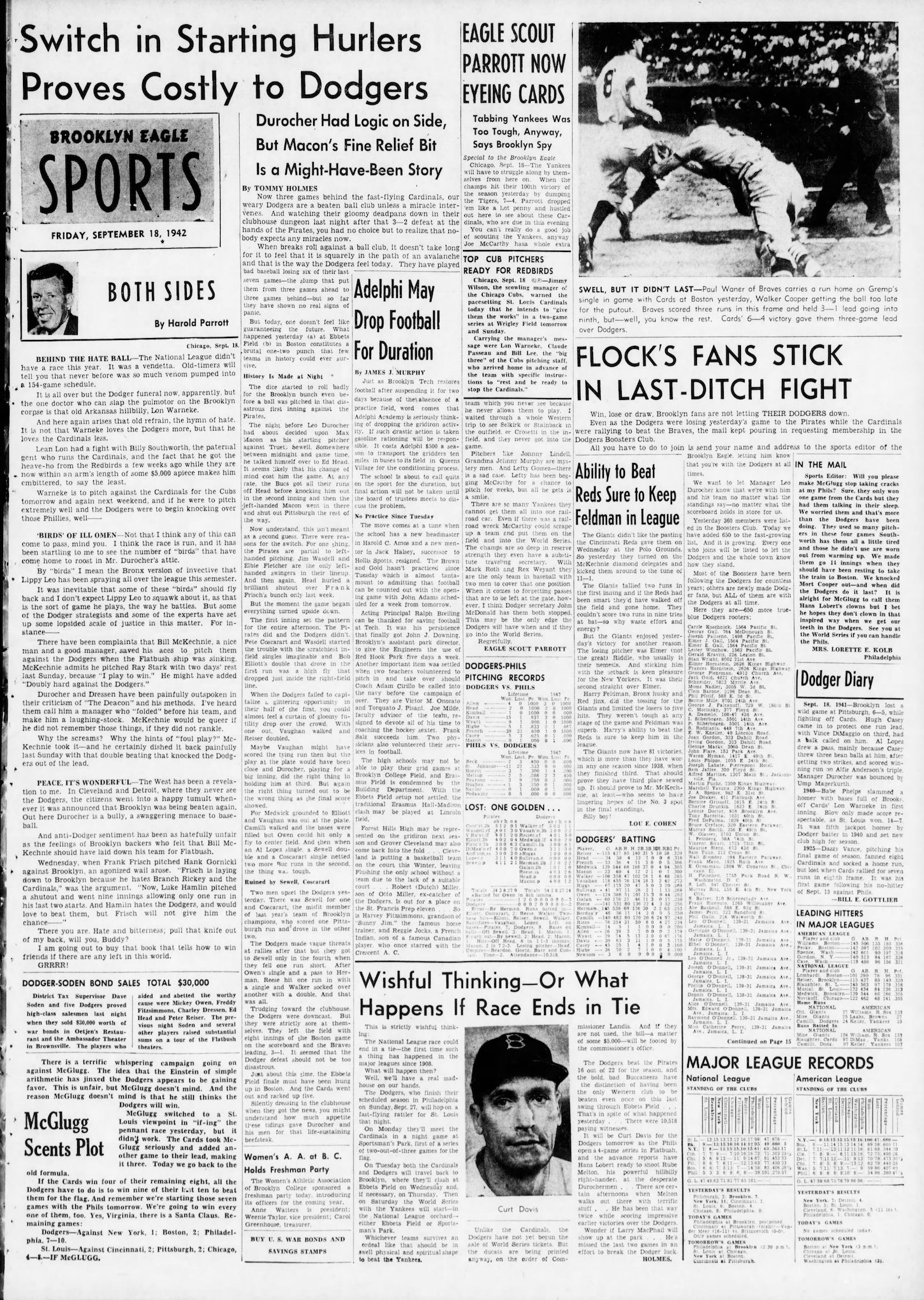 ("Wondeh if Larry MacPhail will show up at t' park, huh?" growls Joe. "I jus' bet." "He ain' even retoinin my cawls," grumbles Sally. "T'oity cents I spent tryin' t'get t'rough!" "BUM GON! BYE!" laughs Leonora.)
Baseball coach Austin Dugan takes over the Erasmus Hall High School football team this fall, replacing Lt. Paul J. Sullivan, now serving in the Navy, and is optimistic about the Buff and Blue's chances this year. "Sully left me with a pretty good backfield," Coach Dugan says. In addition to piloting the Erasmus baseball squad to the PSAL championship in 1941, he has served as coach for the Erasmus Junior Varsity squad for the past four years. While he favored the "T formation" in that role, he plans as varsity coach to continue his predecessor's preference for the single wingback and short kick formation.
(Oh yeah, Mr. Truman. Forgot all about him. Hey, how you doin' down there?)

(A cliffhanger? More like a "sidewalklayer.")
(Looks like when the Bungles left town, they sold their slipcovers to this hotel.)

("SHOULD I TELL HIM NOW OR STRING IT OUT ANOTHER WEEK? THIS IS REAL ACTING FOLKS!")