("Good f't'is Nelson guy," declares Joe, as he pours himself a cup of watery-looking coffee. "Keep'm flyin' kid." "You don' want none'a t'at," says Sally. "It's Sanka. All I c'd get." "Might as well drink Postum," mutters Joe, his fingers fumbling as he drops the cup on the floor. "Well ya don' hafta be like T'AT about it," snaps Sally. "I can't help it if..." Joe makes no reply, but grasps at the edge of the sink, his face going blank. And as Sally gasps in horror, Joe crumples suddenly to the floor...)
Eighteen meat dealers indicted in Newark yesterday on black-marketing charges were described by Price Administrator Prentiss Brown as "the biggest hammer blow we have yet dealt" to the illegal meat trade, even as the Office of Price Administration itself remains the butt of sharp attacks by groups in the food industry, charging that they are being "squeezed out of business." Comprising one spearhead are independent butchers complaining that the new ceiling prices will aggravate their inability to compete against chain stores, with many local supermarkets offering meat well below the new ceilings that go into effect April 15th. Prices charged by independents are generally higher than those incoming ceilings. Patsy D'Agostino, president of the New York State Food Merchants Association, warned that it will be impossible for independent markets to compete against chain outlets selling porterhouse steak for 37 cents a pound, and predicted that "about one third" of the city's retail food dealers will be driven out of business.
War jobs will be open to boys and girls 16 years of age and up, and school pupils may be legally released from school to take up farm work under bills signed into law today by Governor Thomas E. Dewey. The Governor expressly warned, however, that no other relaxation in the laws governing the employment of children under the age of 18 is included in the new law, nor are such further changes contemplated. Approval of the measures is intended, stressed the Governor, to relieve critical labor shortages. The Governor also emphasized that there are restrictions on the type of noncombatant war work for which youths may be used, noting that the bill does not "place children in the factories and the shops."
The president of a Brooklyn department store has been appointed as the new Director of the United States Purchasing Commission in Brazil. Benjamin H. Namm, president of the Namm Store on Fulton Street, will leave for his new post in Rio de Janerio within two weeks.
In Indianapolis, Indiana an eighth-grade boy who appeared in school with a tattoo of a naked dancing girl on his arm has been ordered by a judge to have the figure tattooed over with clothing. Fifteen-year-old Bobbie McDonald amazed his friends by causing the nude figure to "dance" by flexing his forearm muscles, and was brought before the Juvenile Court where he was directed to "put a dress on her."
(Oops.)
A 26-year-old Army private with a proud family tradition of military service and two bachelors' degrees from the Sorbonne appeared in Queens County Court today to face bigamy charges. Pvt. George Van Dreyer, born in Siberia, and not an American citizen, stood stiffly before Judge Joseph M. Conroy and admitted that he married Marie Trefzer of College Point on January 12th, despite the fact that he was also married to Ethel Jean Ten Eyck of East Orange, New Jersey. Both wives sat in the front row of the courtroom as Van Dreyer was arraigned. The soldier was also charged with passing two worthless checks for $25 at a Flushing saloon, and it was noted that he had previously been convicted of Army desertion. Van Dreyer told his story, Judge Conroy held his hands to his temples and swayed on the bench. Van Dreyer's attorney David A. Ticktin stated to the Judge, "I cannot understand this young man." "I can't either," agreed the Judge.
Police are searching today for a 32-year-old singer from Manhattan who disappeared yesterday from her suite at the Hotel Ansonia, only to be found unconscious in Central Park, and then disappeared again after receiving treatment at Roosevelt Hospital. Miss Bernice Lawrence, described as a soprano voice student who had received applause Sunday night for her performance at a Red Cross benefit, lived at the hotel with her teacher, Nadine Aslanoff. She was reported missing early this morning by her brother Elmer, a performer with the Fred Waring orchestra. Miss Lawrence is five feet four inches tall, weighs about 135 pounds, and was last seen wearing a camel's hair coat over a black dress, black shoes, and a scarf.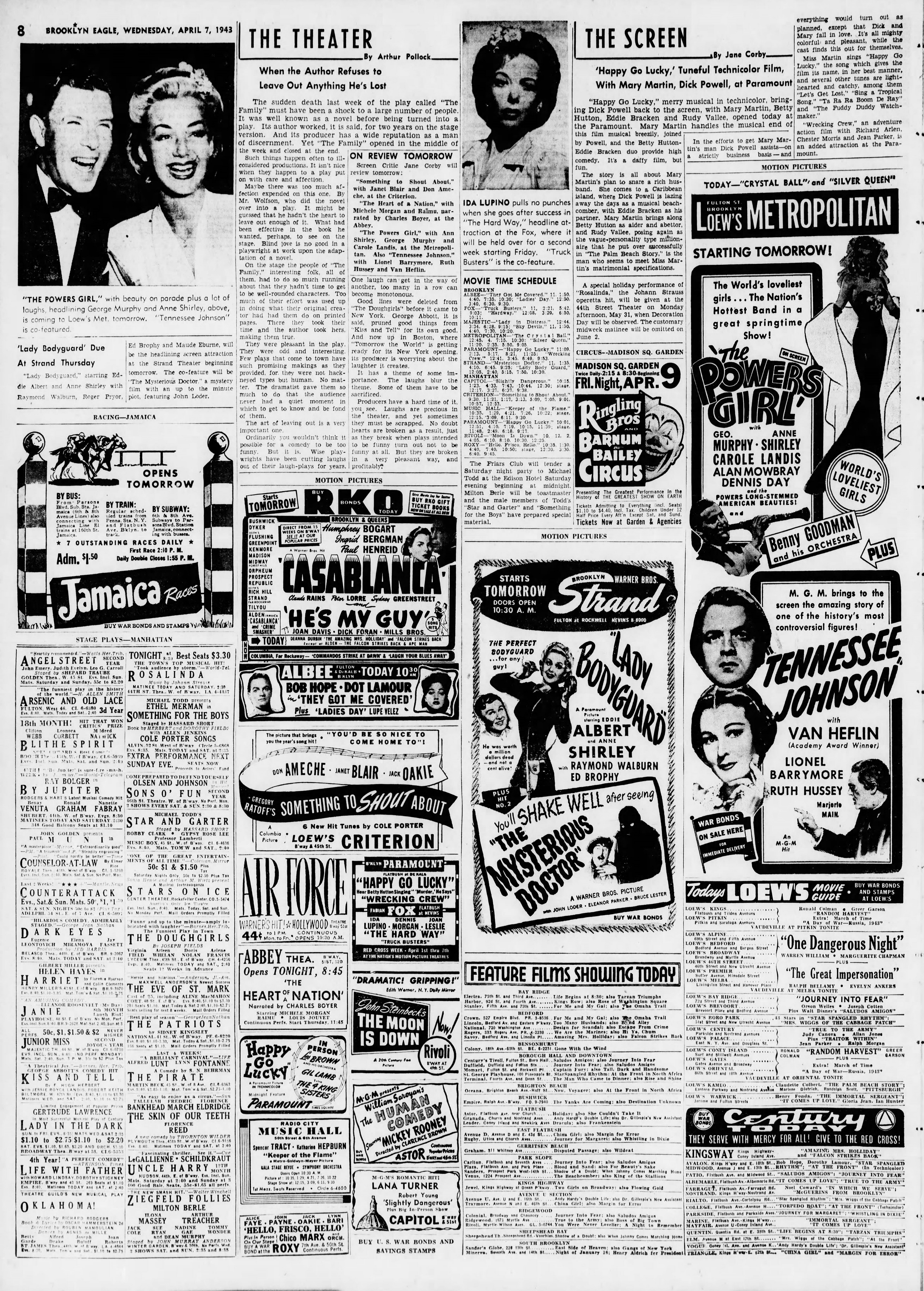 (Latest craze of 1943 -- "Powers Models." Unless you're in "Mary Worth," that is...)
The Eagle Editorialist salutes Our Dodgers for being "out in front" in all efforts on behalf of the war program. "It is a matter for congratulations that Branch Rickey is proving just as aggressively patriotic as Larry MacPhail, who led the Dodgers at the head of the Organized Baseball procession in all such matters last year." The EE notes that the ball club "hung up a splendid record for patriotic endeavor" in 1942, and all indications are that they will exceed that record in 1943.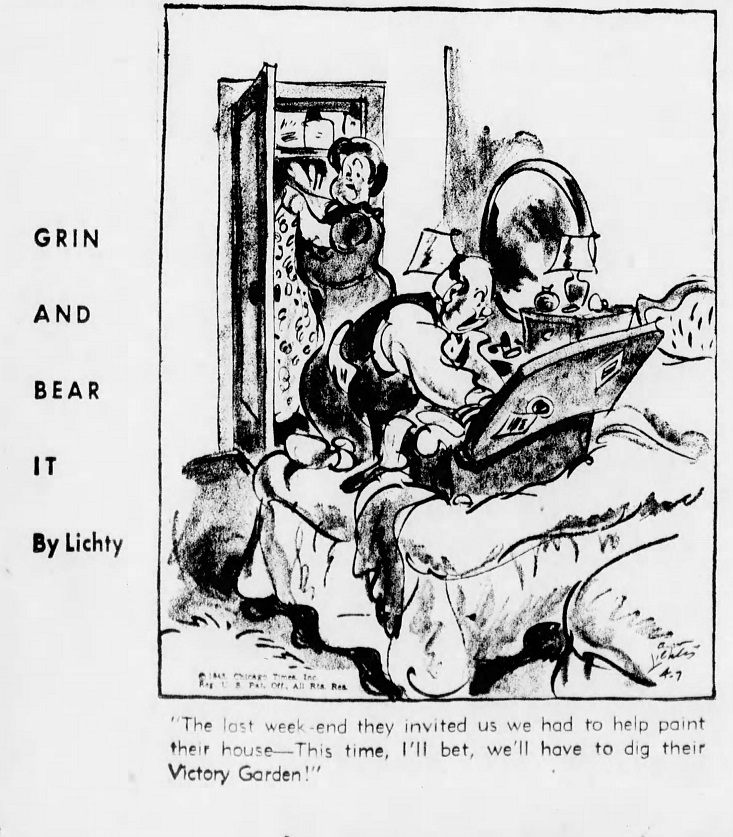 (FIRST GUY TO BE DRAFTED FOR FARM WORK)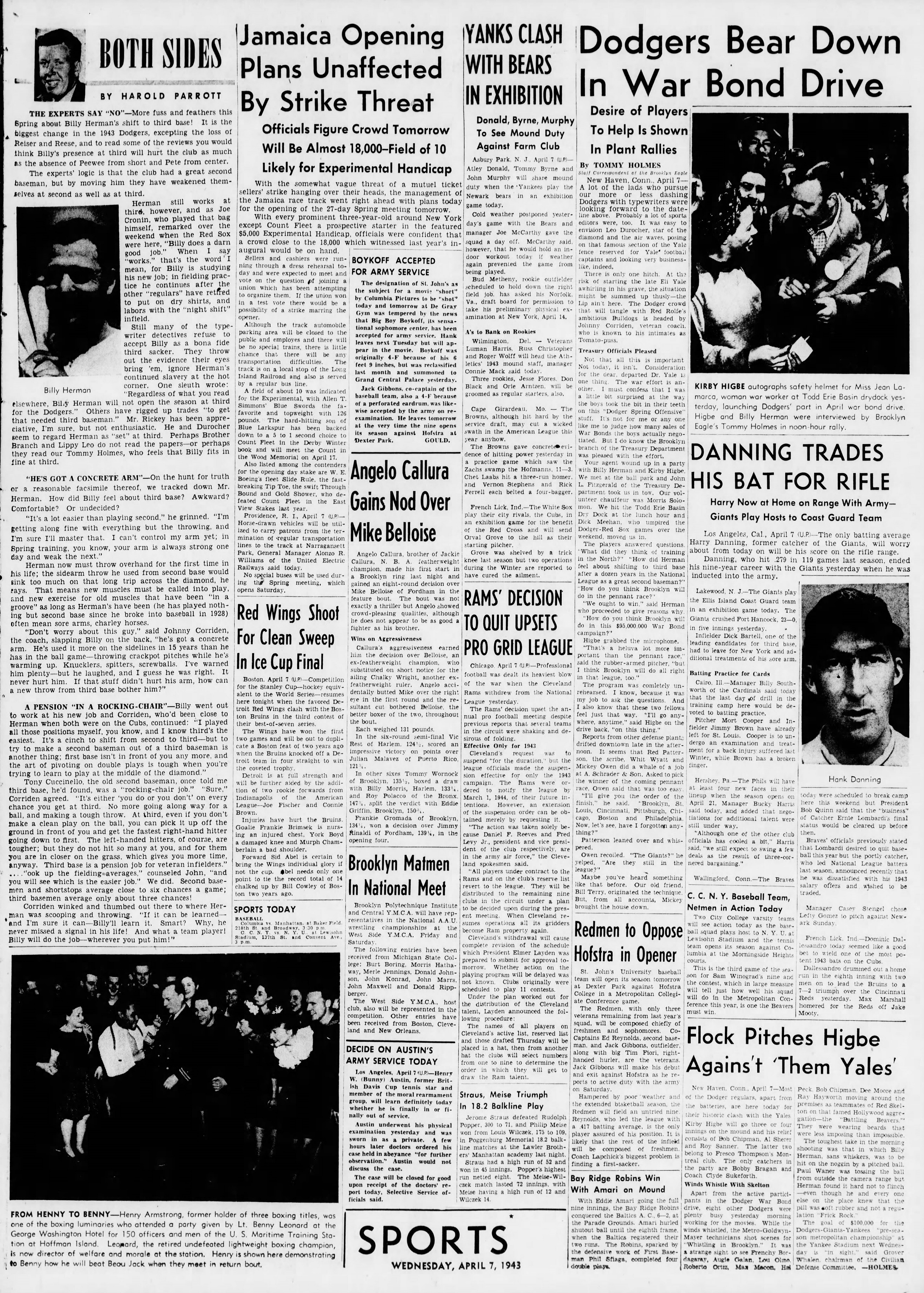 (Since Sally is preoccupied right now, I'll say it for her -- Herman at third, fine, but WHO'S GONNA PLAY SECOND?? KAMPAHOOZIS? GLOSSOP? HAH!)
A $1000 war bond will be awarded to the parents of hero flyer Sgt. Meyer Levin by the producers of the "Hop Harrigan" radio serial. M. C. Gaines, president of Hop Harrigan Enterprises, which produces the aviation-adventure serial heard weeknights over WJZ, says that the program is the first and only children's feature to make such awards recognizing real-life aviation heroes. The new "Hop Harrigan Award" will be presented in recognition of air heroism four times a year.
(Nobody likes a gossip columnist. I mean, whatever became of Clifford Evans?)
(Debate: Super Strength > Invisibility.)
(SEE IT'S JUST LIKE FLIP CORKIN AND ROUGE)
("WHAT?? A CONSCIENCE? LOOK MUTT, YOU'RE IN TOO DEEP TO SUDDENLY GROW A CONSCIENCE! WE GOT A CONTRACT!")

(I get it now, this is the ultimate Alternate Universe story for George. Suddenly there's five times as many people around to browbeat him.)