Recently one member of TFL had a question about the self edges on certain pieces of his denim pants. Realizing that it was not easy to find a thread on TFL which entirely covers everything about Denim Trousers, I have the idea of starting one which can serve as a collection of
general real life experiences with denim trousers (dry denim, raw denim, raw and dry denim, sanforized, unsanforized, hot soaking, cold soaking, pre-washing, shrinkage, shortening, hemming, chain stitch, brake downs, crotch blowouts and all the other things) that can help people decide what to do and not to do with their new pair of pants of certain makes and batches.
sizing, fits, styles and personal preferences and how they change over years with experiences made (shrink to fit, boot cut, skinny fit, loose fit, relaxed fit, high rise, mid rise, low rise, suspender buttons or belt loops or both..)

storage (to fold or not to fold)
wear and tear (to cuff up or not, to kneel or not, differences in long term use like office jobs vs standing and walking jobs, garage workers, mending tips)
place to ask questions about the meaning of words like "raw", "sanforized", "shuttle loom" etc.

Collecting

ethics (labor conditions, environmental impact of denim fabrication)
history (stories, historic denim pants, mills, identification etc..)
I think I start with my own experiences with my go to pants and leave out those I rarely used or never used until they did not fit anymore but can't sell for collector reasons.
I truely believe that the way a jeans has to look is a very personel preference and this preference is built some day in our youth. The image we keep in our brains' underworld from that very day back then will probably influence every single jeans we buy. To me it was the cover image of Bruce Springsteen's "Born in the USA" album. In my early days, when I shopped for jeans in the usual malls I always turned my back to the mirror in the store to get a glimpse of how my - forgive me - arse looked in those jeans. The position of the rear pockets were the biggest concern. It could take a whole day until I found one that I liked. I did not have a preferred brand first, but when I found one of my taste, I soon realized, that even the fit of a proven brand and style changed over the years while my stature stayed the same for long periods. And when I finally had found a pair which did not change much, my stature changed, and it could be quite a task to follow the guidlines of my brains' template to still receive the look I wanted. In the 80s I found my style of jeans in my beloved Edwins. Some day there was no Edwin anymore in our usual stores. Fancy brands I wore thereafter could not convince me, that jeans are something for me any longer. I quit wearing jeans for a long time.
I was intruduced in raw denim after I had seen the last three mall jeans I purchased ripping on me after only half a year of use. I wondered why jeans in my youth did hold up to the hard use by me wild guy for a long time, while my new pairs could not even stand bending to lift something that had fallen on the floor. During my research I learnt how much production had been shifted to places of cheap labor and bad labor conditions, lower cotton quality, thinner fabrics over time. I was especially shocked about the conditions those cheap jeans were produced in and the environmental impact their production had - and still has.
Then I run into a store which had some of the first "raw" denim jeans availlable in my area and everything changed. The denim was made in Japan. It cost a fortune but I had my old denim quality back. But at the same time new problems arose. The pants were by far not as easy to handle as I remember my youth jeans were. I had a hard time to understand all the different qualities and how to treat these pants. I finally went with sanforized jeans, what I can now from my own experiences only recommend anybody who is entirely new to higher quality jeans to save them from first disapointments which could possibly hold them off buying another pair of higher quality jeans.
To summarize my experiences: I went down the road not washing my jeans for at least half a year as is recommended in the care lable of the preferred jeans I wear. I initially cold soked another pair I bought. I hot soaked the next. Now I have abandoned all these recommended treatments and just throw every new pair into the washing machine before the first wear and run a soft cycle without spinning, wear them and wash them whenever I want to wash them or I feel it needs a wash. I can do this, because I know these jeans. I stick to them because I know them best. I can get two good years out of every pant when I wear them hard. They are still okay by then but I always sell them at about this time because they still are worth money to be spend by a new owner, have years of use left, but I don't like them to be too faded and to pale bleached. I choose to sell them when they are still blue jeans but with a lot of bright whiskers and creases. I never go for specific crease patterns. I like them to be not too extraordinary looking.
The picture below is showing one of my two year old jeans exactly at the moment after I had decided to sell them, but not before I had already received a new one of the same make and the same style (but sometimes in the actual size I need by then). This picture is old now but I did this again and again over the years. I always wash them inside out when new in 30°C and on the setting for delicate fabrics, reduce spinning to minimum, pull them out after wash, lay them flat on a towel over the rack, put them on when waistband still is a tiny bit damp, sit in it at my computer for some work to be done until they are dry, iron lentghwise folds out after tapping them with a cloth wetted with distilled water, lay them away until they are bone dry and then start to wear them for 4 to 8 weeks until I wash them like I wash any other cotton. I gave up soaking and all the other things recommended. If anything, the initial soak is done by the initial washing procedere. This is a pair of sanforized jeans. It shrinks nevertheless about 5 cm in lentgh. And my impression is, it shrinks a little over all with the initial washing and stretches on my body in the areas where it should. It also shrinks a tiny bit with every additional wash. So I buy them not tight fitting anymore. I am always able to sell those jeans after two years, because the buyer knows, he will have no hassle with shrinking any more on him. Luckily I have two guys who like them in this used look while I like them most when still quite dark. So we are kind of symbiotic.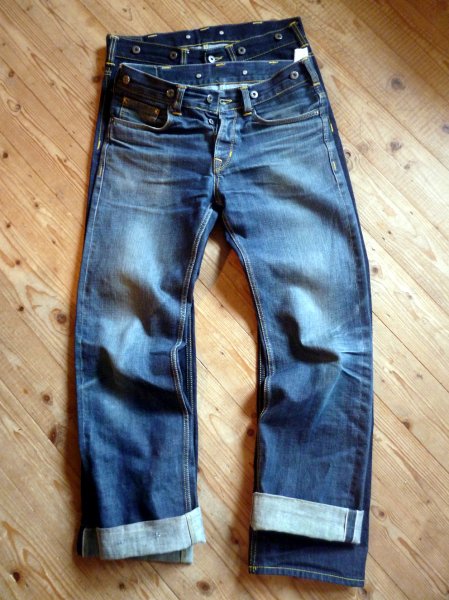 ​
Now I will end my lengthy initial post in a thread which is hopefully accepted, meeting interest, sparking lively discussions, additions, contributions by as many denim trouser lovers as possible here on the Fedora Lounge! I hope this thread will explode with colorful pictures, not just text deserts like my post. If this theme is not wanted, and if it is desired to delete this crap, feel free to do so, Bartenders!
If it is wanted, then come on with your story, pictures, experiences, knowledge, tips and everything concerning your denim pants!
Have a nice lockdown time, folks! Stay healthy and take care!
Cats
Last edited: