TRD is a custom leather maker in Cleveland that has occasionally received mention on these forums. TRD stands for The Real Deal.
My first "real" motorcycle jacket was a TRD that I picked up for $225 at a motorcycle show in 2002. It was exactly what I had been looking for, for a few years, and it remains my all time favorite jacket. I've talked about it a few times on the Lounge.
Sadly, I lost it at a bar about 10 years ago. I went back to TRD and had them make me a replacement, but it just wasn't the same. The old jacket fit me perfectly, even though it wasn't made for me, and the new one didn't fit me at all, and the leather they were using at this time wasn't as good as the stuff they made my old one out of. I ended up selling it at a loss, and gave up on TRD, disappointed that they couldn't duplicate the perfection that they'd achieved with my first jacket.
I don't like to bad-mouth them, anyway, because plenty of people have good things to say about their jackets, and I don't think my one bad experience should be taken as representative of their quality. Still, I wouldn't put them on the same level these days as the usual brands we talk about here. They're at a more affordable price point, around $400, and their focus is pretty much cruiser riders, Harley guys, and they have a bit of a cowboy/western vibe.
Looking for a new jacket was how I ended up discovering TFL, a good 5 years ago or so. Despite the dozens of jackets that I've bought since, and love, I still think it's too high a price to discover this community. I really miss that one I lost, dammit.
So when one popped up in the Finds and Deals thread, I snapped it up. My old one was a perfecto-style cross-zip, with side laces, a full belt, and a long kidney panel in the back, epaulets, and no yoke. This one has similar styling, but is a center zip design in the front, and doesn't have the coin pocket or left breast pocket that a traditional cross-zip has, and no epaulets. But according to the auction listing, this jacket was made in the early 2000s, same era as my beloved.
It was delivered today, and I do believe that this is a worthy sibling to that fabled jacket of legend that I still hope to be reunited with, whether in this life or the next. The leather is thick, medium hand, supple, full grain naked cowhide, the same type that is used in the heavy Natal/Natel/Walter Dyer jackets that I like, only somehow nicer. Maybe it's personal bias, maybe it's something undefinable that I can't put my finger on.
The other differences between this jacket and my first TRD are numerous:
- The old one was a 42, this one is a 44. Both fit me perfectly, though.
- Hardware on the old one was brass, this is silver. Good, heavy duty YKK zippers.
- The old one had a removable vest liner, this one has a non-removable diamond quilted nylon/polyester liner.
- The old one had a hang chain inside, this one lacks one.
- The old one had a single horizontal slot inside pocket on wearer's left. The new one has a vertical slot inside pocket on wearer's left.
- The old one had a W-shaped collar and a classic cross-zip front. The new one has a center zip front with a mandarin collar, giving it a cafe racer look from the front. But it has the same back, and side laces, although it lacks belt loops or a belt. The style of the side laces is my favorite type, different from what I've seen in most jackets. Schott, Vanson, Cal, Langlitz all use a different type, and I'm not knocking any of them, but this is the type that I think looks best.
I couldn't be happier with this one, and having it has renewed my interest in finding the identical twin of my old one.
The fit is incredible. Sleeves are exactly correct, not too tight or too loose, exactly the right length, sleeve zippers tighten around my wrists exactly the right amount. Through the shoulders, chest, and waist, everything is exactly where it should be. God, what a fit. Like a glove! Like a second skin. The gusseted shoulders give perfectly unimpeded full range of motion, perfect execution on the design.
It weighs in at 6.25 lbs, and I think its a bit lighter than I remember the old one, but not by much. I think the old one, being a cross-zip, with a collar, had more material to it, which could account for the greater weight, but the thickness is about the same. Perhaps the old one was marginally thicker, but it's so long gone now, it's impossible to say. The panels on this one aren't as perfectly matched to each other as on my old one. If the old one was a perfect 10 (and, damn it, it absolutely was), this is probably an 8, in terms of matching grain, and a 9 in all other aspects of the leather. Yes, that's a highly subjective, biased rating based on my memory of my perfect, long lost jacket, and if you put this up against your favorite leather, I'm sure you'd prefer yours over this. It's no CXL, or Comp Weight, or the stuff Langlitz or Lost Worlds use. But if you've owned a good, thick Natal/Natel jacket, you know what I'm talking about. Thei leather and build quality and construction is very similar also to California Creations, maybe even on par with Johnson Leathers of San Francisco. The only major mismatch with the grain is on the wind flap, which is of course completely hidden when zipped up. The kidney panel has a slightly coarser grain to it than the rest of the exterior panels of the jacket.
Oh, and as for condition, this doesn't appear to have been worn a whole lot. It's in great shape, clean, no bad odors, no damage or much in the way of noticeable wear, really. The metal hardware is a bit dull, that's about it. I think the listing said it had only been worn during one season, and spent most of its life in a closet, and I can believe it.
Unfortunately now that we're in the winter months, it's too dark too early for me to get some good fit pics until the weekend, as it's dark by the time I get home from work during the week.
Here's the listing pics, which will have to suffice for now. I'll get some close up detail photos sometime tomorrow, and do some fit pics this weekend.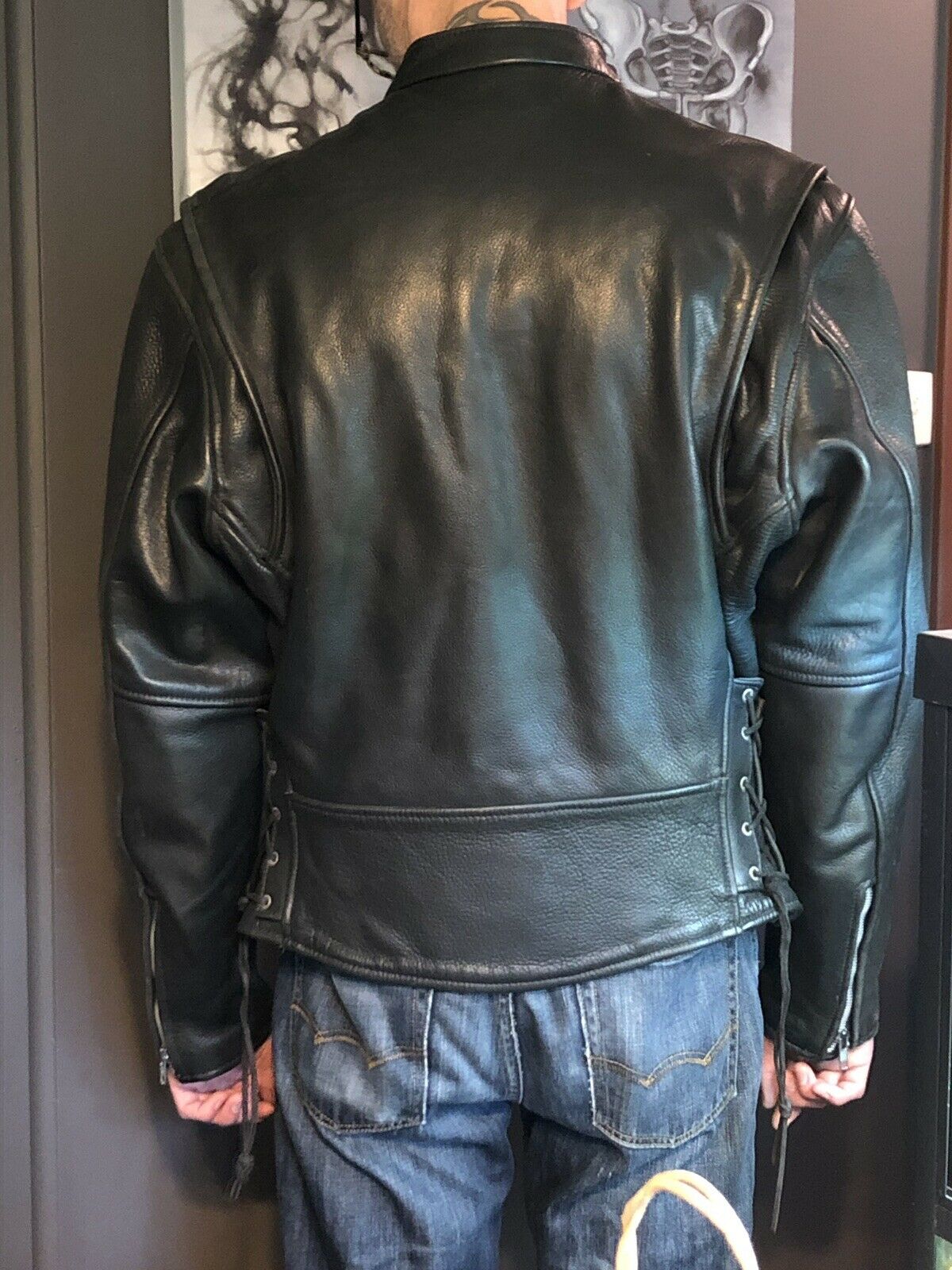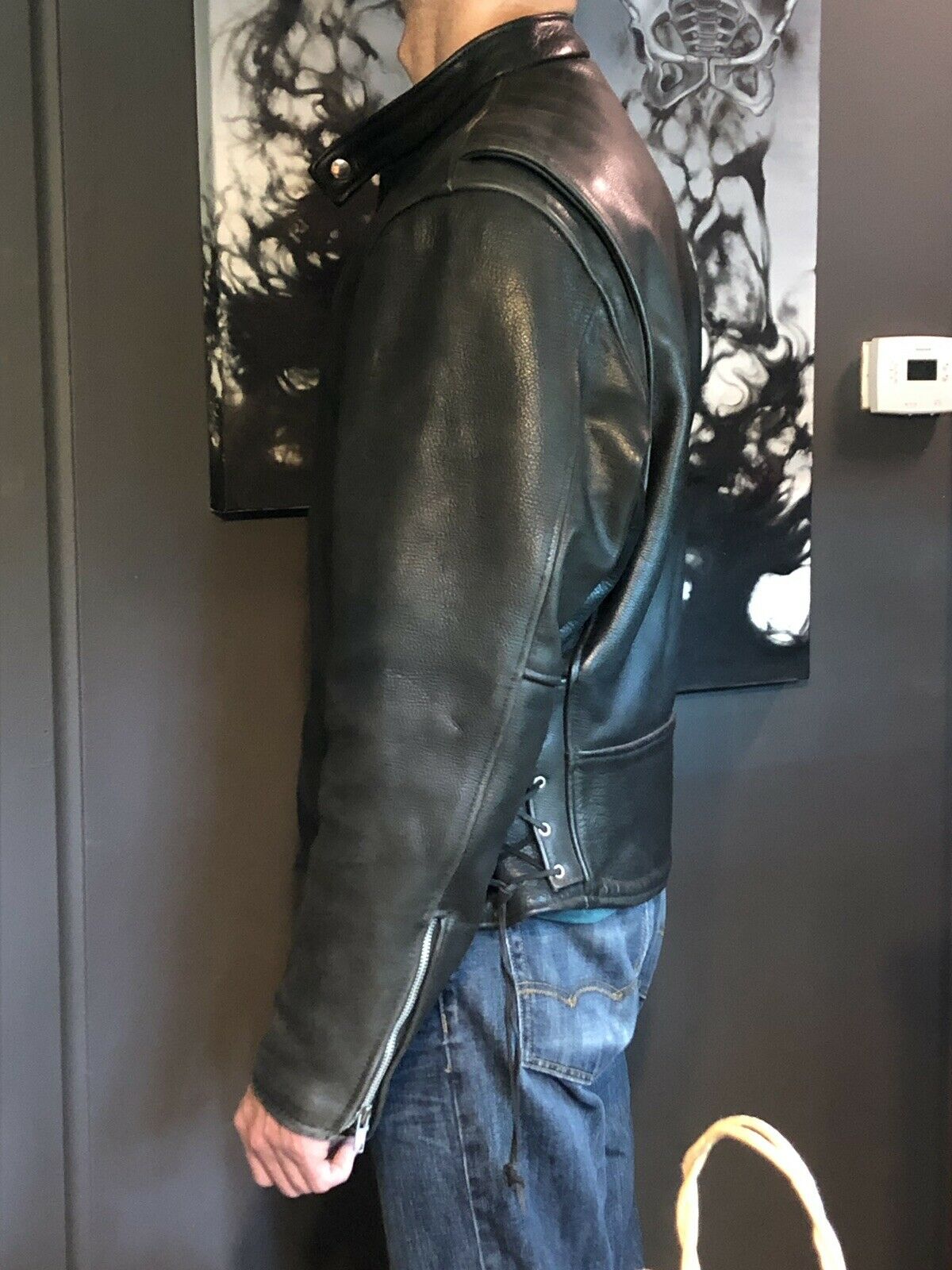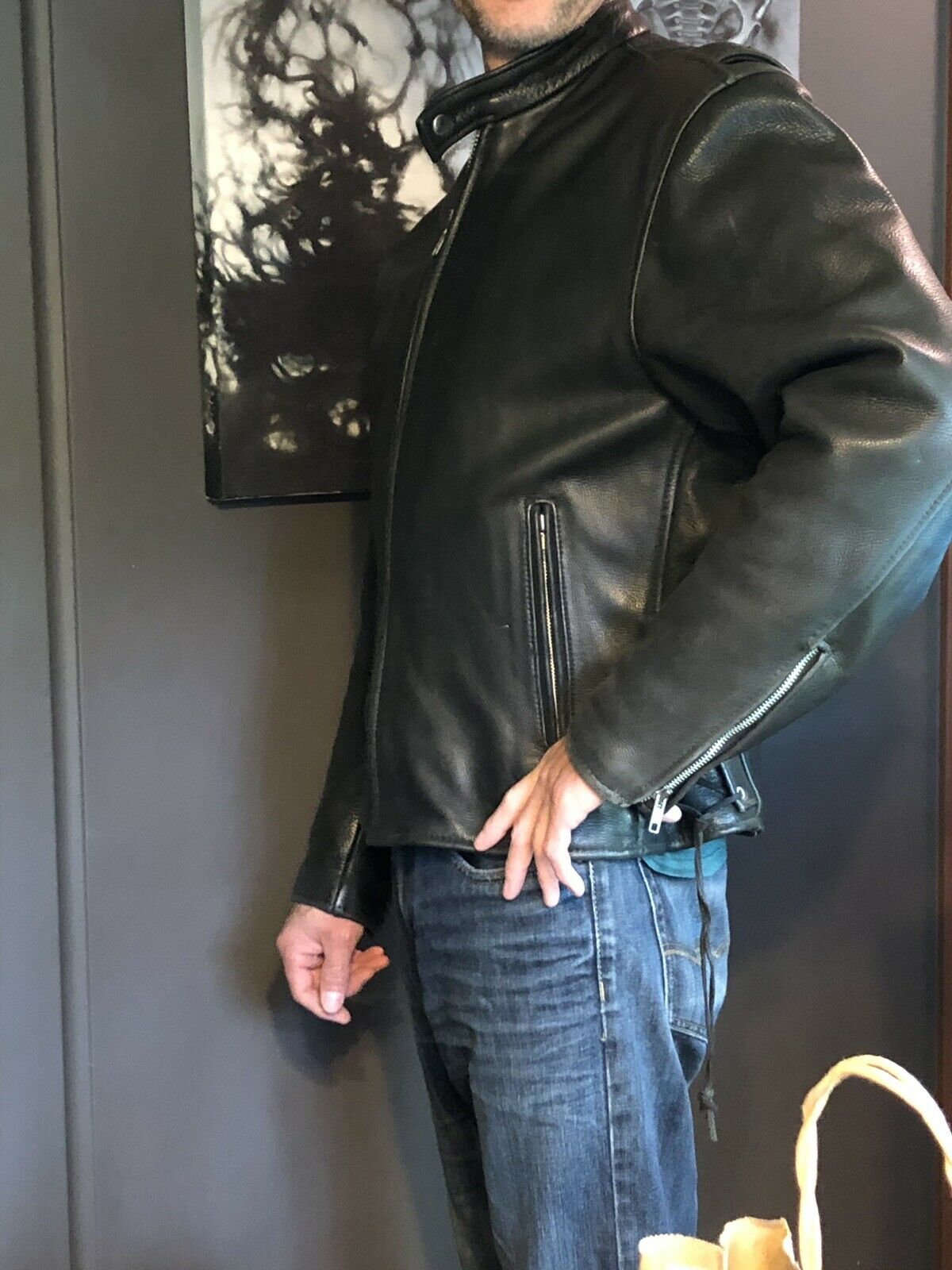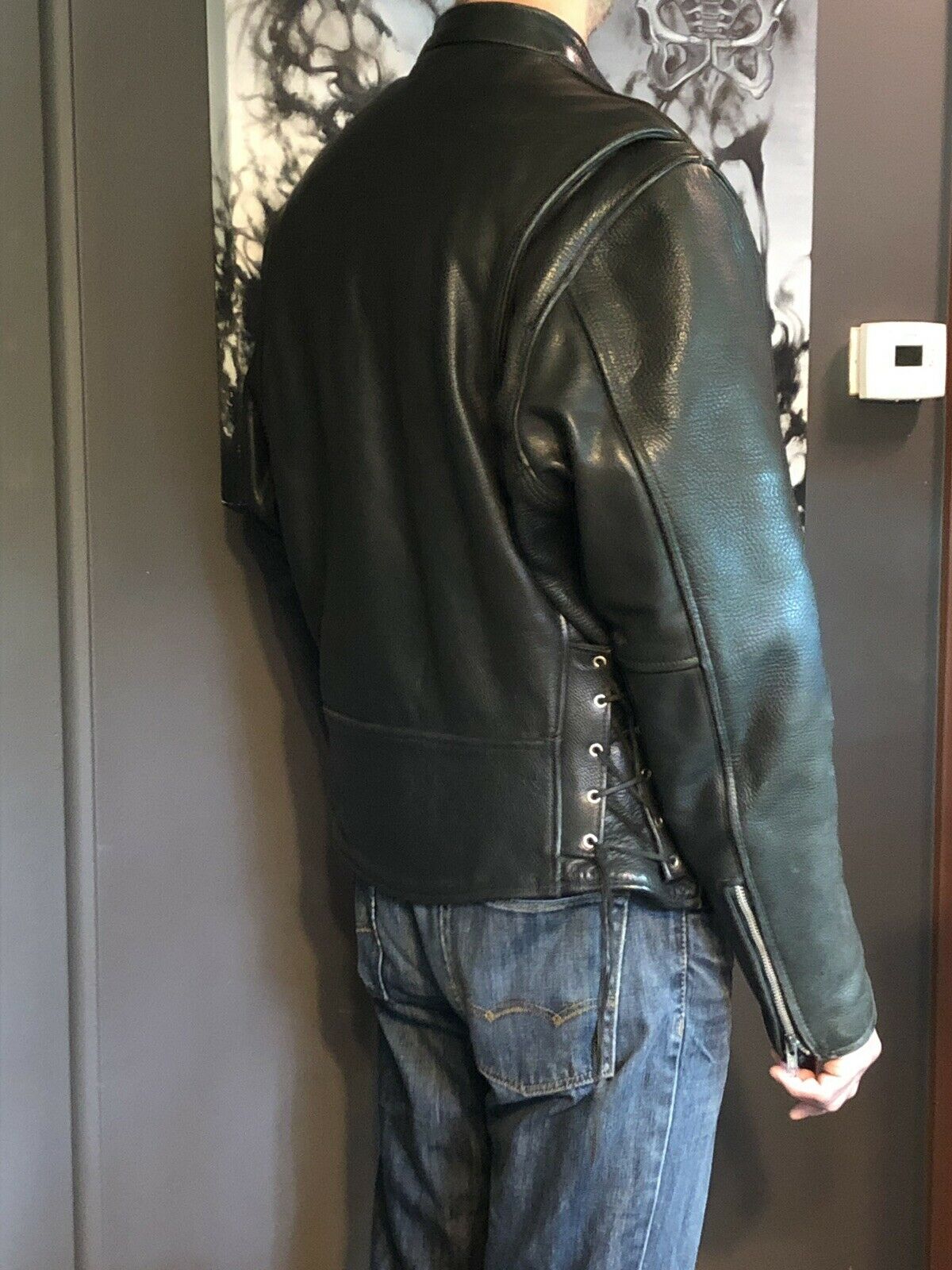 Last edited: