By Scott Daniels
For many men, putting together a full vintage (or vintage inspired) suit and tie combination can be a challenge ringed with pitfalls, traps, and dead ends.
In the best of circumstances, you're a gentleman of medium height or a bit shorter, with a trim build, flat stomach, not-too-wide shoulders, and tidy proportions. For this fellow, vintage suits are plentiful enough to allow a fairly wide selection. With a little patience, the exact suit, in the desired fabric, color, pattern, and weight desired can usually be found within a few weeks of online and shop searching, with minimal, if any alterations required.
Of course, our imaginary ideal suit seeker is not the norm. Every body is different, and the more one deviates from the standards above, the more quickly the field of possibilities narrows, with prices increasing in inverse proportion. Frustrating, to say the least.
But this may actually be a very good thing, in a way, allowing for time to educate oneself. When the big ticket items are going to take a great deal of time and patience to secure, the smaller accessories offer a splendid way to start adding a vintage esthetic to your wardrobe with quick gratification and the thrill of the hunt at a smaller introductory price tag. In other words, starting small allows time for a learning curve on a peppercorn budget.
Some years ago, we discovered a secret about schoolchildren in the early to mid 20th century: They often gave their male teachers handkerchiefs as gifts, year after year. We learned this at the estate auction of a teacher who had educated several generations of students; there were piles of unopened boxes of handkerchiefs covering an entire six foot folding table. While many men today have ditched the "pocket square" as gaudy, overdone and affected, we would strongly steer you to approach vintage handkerchiefs with a wide open mind.
Patterns tend to be quite subtle. In fact, you're unlikely to find paisleys, foulards or polka dots. Instead, expect faint combinations of light blue tones hemmed into discreet borders. Most show no color at all, instead offering interesting stitched borders, degrees of damask weaving, and delicate piping. Fabrics range from extremely fine Irish linen to impossibly delicate cottons. Silk, we've found, is in somewhat shorter supply; we've also found such examples to be less desirable.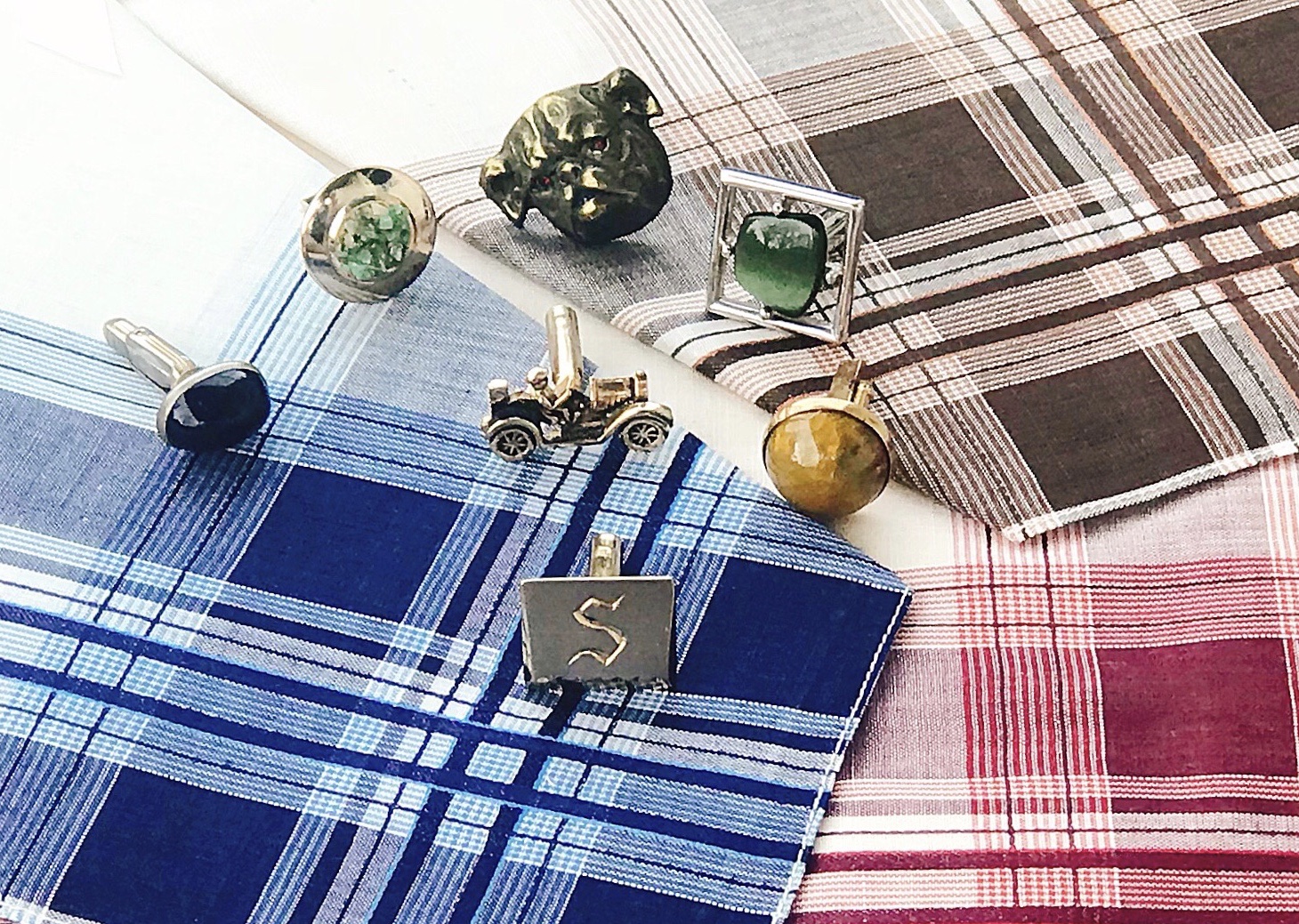 Any of these can be easily added to a more modern suit already in the closet with confidence and a certain sense of "showing how it's done."
At the risk of seeming to encourage baser, vulture instincts, we suggest watching for estate sales representing older schoolteachers as a source for excellent, unused, high quality handkerchiefs which can become an easy, inexpensive entré into vintage accessories. We were able to buy the entire collection of hundreds of vintage pocket hankies for under $20, providing a lifetime of options, and something to hand over as on-the-spot gifts for male friends who admire them.
Stepping away from estate sales, flea markets are often an excellent source for another vintage collection starter—cufflinks.
Describing the sheer number of interesting vintage cufflinks waiting to be found at almost every city, village and backwater in the industrialized world occupies numerous threads at The Fedora Lounge. We personally find them at every flea market, thrift shop, antique market, and charity jumble we visit. No matter your specific occupation, avocation, hobby, heritage, education, color preference, or budget, be assured you will find enough cufflinks of interest to fill several jewelry boxes. We've landed links in the shape of bulldog heads with ruby eyes, those of rough jade, and our initials engraved in every typeface imaginable. Expect to spend proportionally with rarity and stone or metal content, but generally speaking, cufflinks remain a relatively cheap investment. Most pairs will set you back $20 or less.
As your search for the right suit progresses, there is much enjoyment, and much to be learned, in seeking out accessories. Along the way, you'll begin to spot desirable items like neckties and shoes, which require a bit more knowledgeable eye before purchasing. With a little patience, the education gained will serve you well when you're ready to pull the trigger on the big stuff.