44) GRAIL! 1954 Southwick Tweed, made for The Andover Shop, Mass.!
This is a wonderful jacket, with a wonderful provenance!
The Andover Shop was founded in 1948 in Andover, Mass., with an eye to selling traditional American clothing to the clientele of nearby Philips Academy. (A second shop was opened in 1953, by Harvard--for obvious reasons.) They also make bespoke and offer MTM clothing--like this wonderful jacket, which was made by Southwick and completed on 21st October, 1954.
Despite being over 60 years old this jacket could easily pass as being one made in the 1990s, and carefully looked after. (Note that from my perspective a jacket made in the 1990s is something that's fairly recent!) It's in absolutely excellent condition--as you'd expect, since someone who buys bespoke at The Andover Shop is likely to be someone who cares about clothes, and looks after them; and well-made tweeds repay care with considerable longevity!
And this jacket is wonderful. The tweed is absolutely beautiful. At first sight, it appears to be a dark brown herringbone with vertical striping in rich dark chestnut. However, closer examination reveals that the tweed consists of herringbone striping with the differing diagonals both different lengths and separated by the vertical striping--a lovely, classic, yet rare tweed.
Cut as a sack--undarted--as you'd expect from The Andover Shop, this is not a 3/2 jacket. Instead, it has a three button front with just the HINT of a lapel roll at the top button. It has two button cuffs, period-correct narrow lapels, a lapped central seam down the back and a single hook vent. It has very natural shoulders. It is half-canvassed and fully lined in a beautiful yellow lining with red and Royal blue neats. It was, of course, Made in the USA.
Asking just $49, or offer--a steal for a jacket of this beauty, quality, and with this provenance!
Measurements:
Chest: 21 1/2
Sleeve: 26 (+1 3/4)
Shoulder: 18
Length: 32 1/2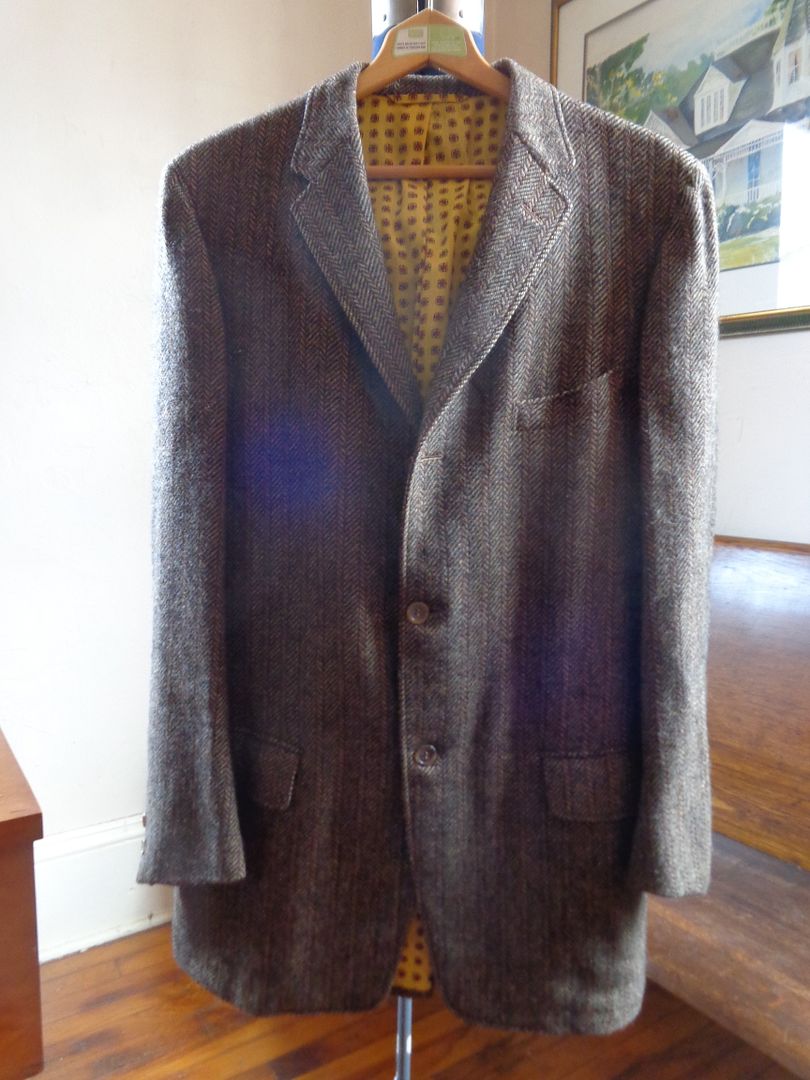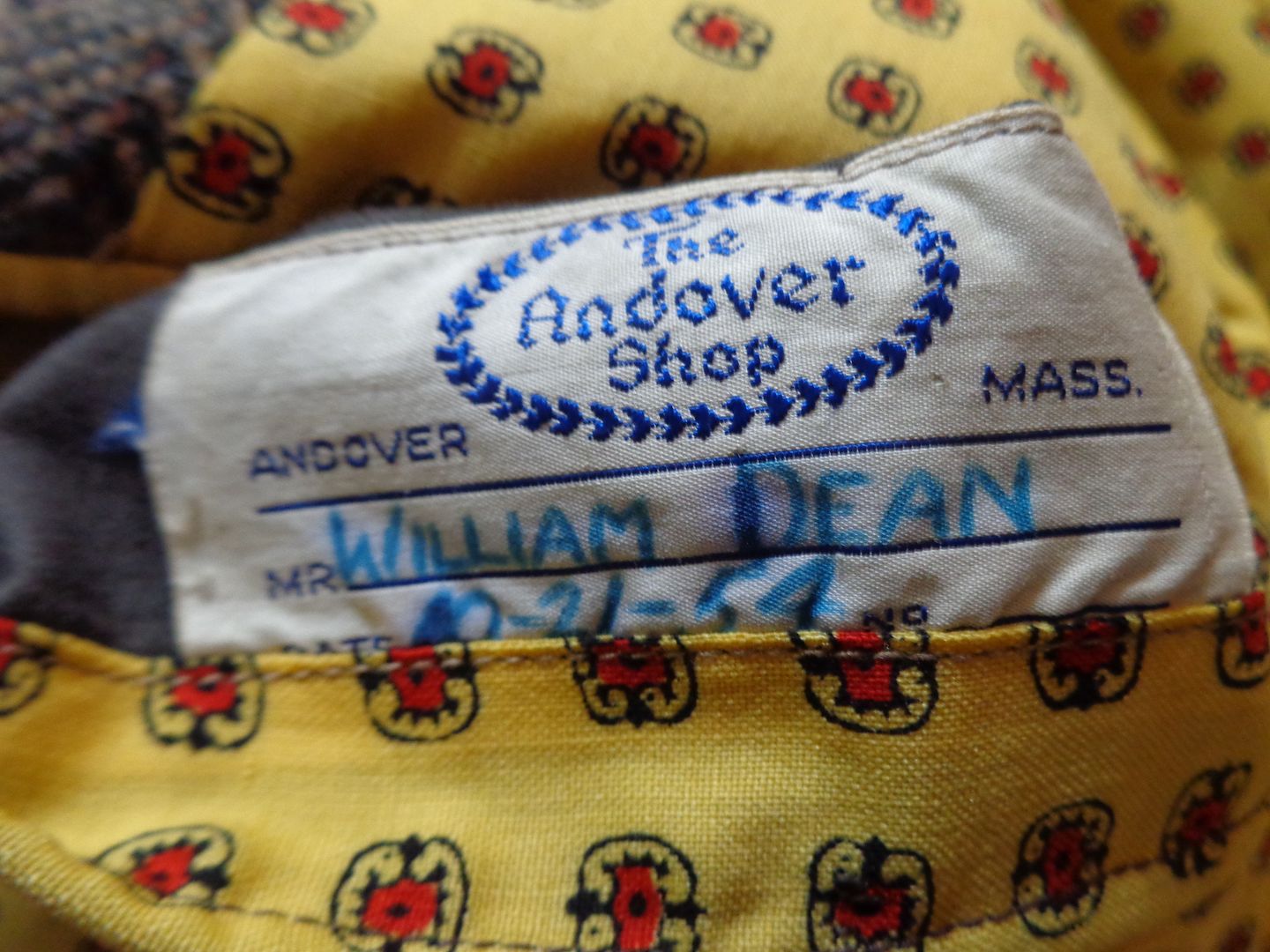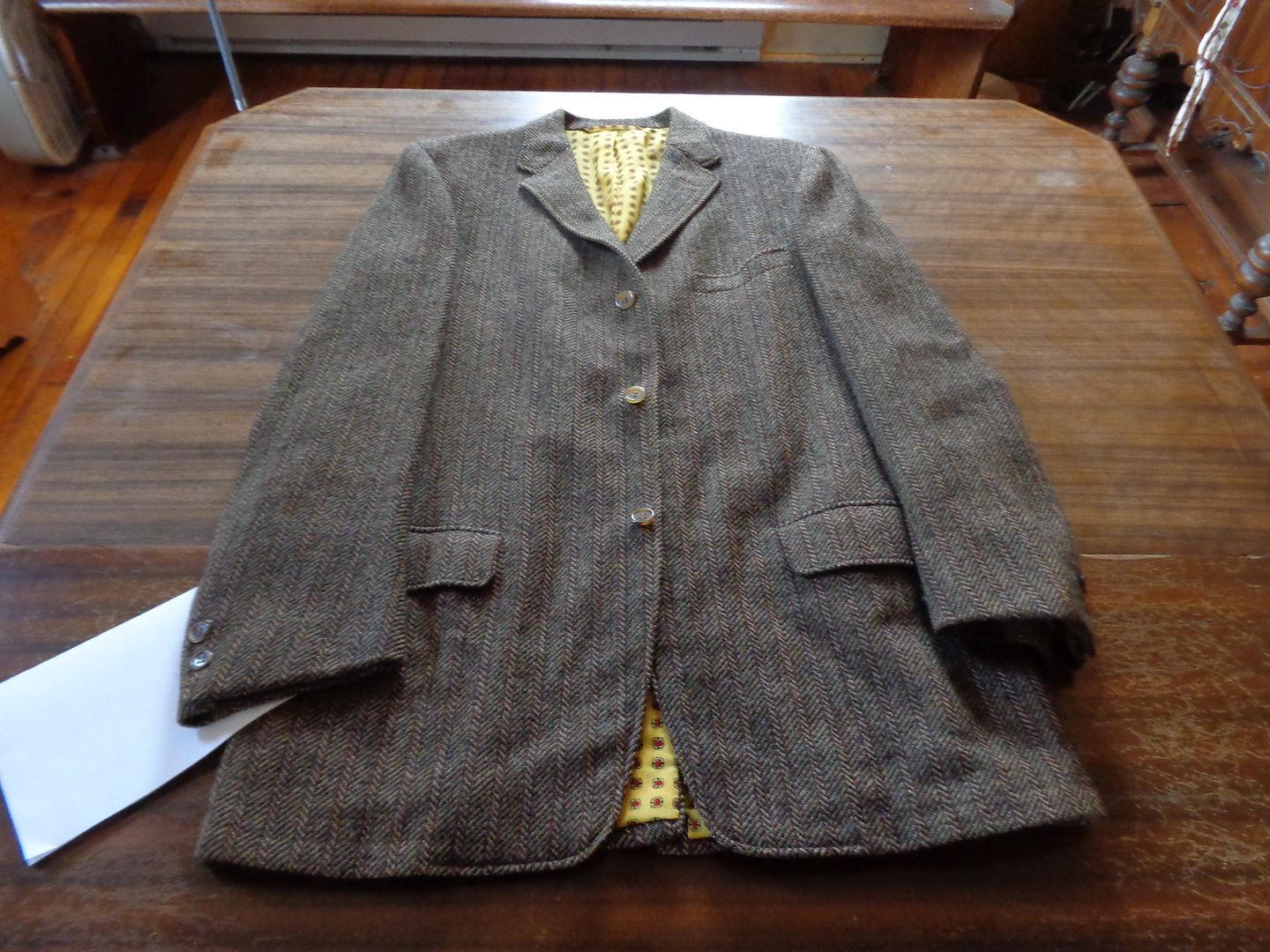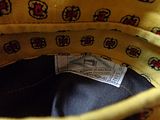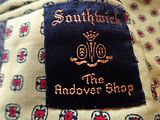 45) MADE IN ITALY wool and cashmere jacket.
Cut from a lovely golden-wheat barleycorn cloth, this jacket is a blend of 80% wool and 20% cashmere. It is half-canvassed and fully lined. It has a three button front with subtle darts, and is unvented, in Flusser approved style. Made in Italy, and in excellent condition.
Just $24, or offer.

Tagged 40S. Measurements:
Chest: 21
Sleeve: 23 1/2 (+1 3/4)
Shoulder: 19 1/8
Length: 29