Last Friday, a big box from Thurston Bros. arrived at my apartment. I felt a rush of excitement, combined with a bit of anxiety: Would the fit be right?
This is my first custom Aero, and my first fine leather jacket of any kind. I got a 30s Half Belt with the August collar in brown CXL FQHH, with changes to the sleeve and body length, and some tapering added so it would fit my short, broad-shouldered but slim-waisted frame.
I opened the box and the wonderful smell of fresh leather hit my nose. Unwrapping the jacket, I was overwhelmed by the rich color and the texture. I also noticed how heavy it was. My fit jacket was in the Vicenze horsehide, and the Chromexcel has a very different feel that I love.
Now, the moment of truth. I pulled on the jacket, and started to zip it up. I got about halfway, and had a brief moment of panic. Was it too tight? Did we get something wrong with the tapering? I zipped it up the rest of the way, and took a big breath. It wasn't too tight at all. The stiffness of the FQHH was what fooled me.
Quickly, I realized that a breaking in my new jacket was going to be similar to breaking in a new pair of raw denim jeans, which I've done many times. They start out stiff and almost uncomfortable, but quickly mold to my shape and soon feel like they were made just for me. My experience so far with this jacket has been much the same.
I've worn it around my apartment for at least a few hours every day this week, and it's slowing getting more flexible. Today I finally got around to having a few fit pictures taken. Later, I'll take some close-ups of the grain, and a shot of subtle green herringbone lining, and I'll post those here.
So, what does everyone think of the fit? Did we get it right?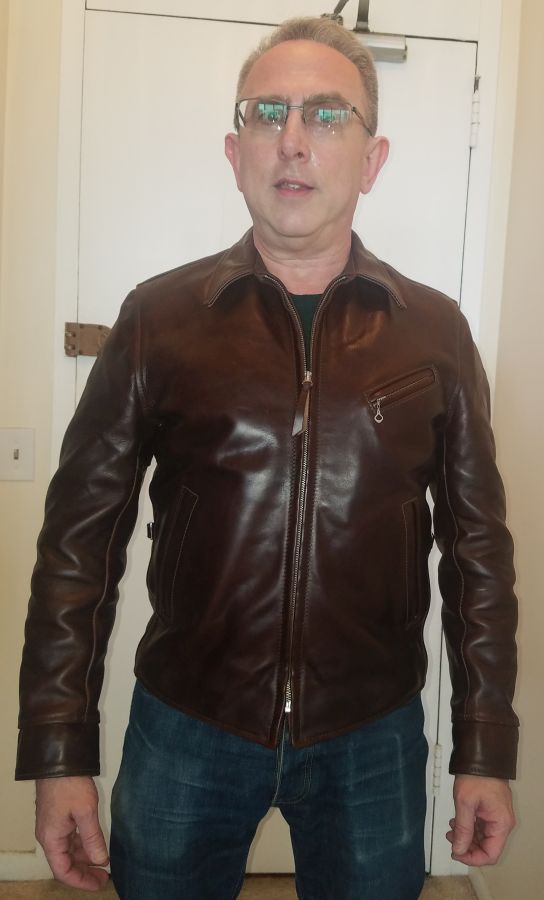 Last edited: