I'm typing this a day before I post the review. I have my Tito's and soda and a shit eating grin. I don't even honestly know where to begin. I'm speechless. That's a rare phenomenon for a loud mouth Chicagoan. I've handled and/ or owned a fair amount of just about everything available, new, old and everywhere in between. That's not a boast, I certainly don't have a collection that would indicate as much. I am however, an explorer. The greatest joy for me in this hobby is the unknown frontier. When you catch lightning in a bottle, that's the cherry on top.
Warning: This is a shit ton of words/ stream of consciousness
. It has to be said!
I don't want to get too long winded, pompous sounding or just overly flowery. It's been a long time since I've had the pleasure of writing a genuine review and having this Regius jacket in my stable absolutely demands it.
Our friend
@regius
is a long time member and contributor to this forum. He is a student of the hobby, having handled an enormous amount of new and vintage jackets himself. I believe the jacket he has built for me is the physical manifestation of the student becoming the master. I have watched his progress. He has the eye. He gets it. I don't think this is true of every repro maker in the market. I see many repro makers where subtleties are glossed over. Regius misses nothing. He understands what made the vintage stuff so good (unbeatable really). He has digested it. And from that, this is what followed….
The Jacket
:
I proxied an absolutely stunning original Windward Halfbelt sports jacket for Marc (maybe a year and a half ago?). I loved it. Everything about it was perfect. A quintessential example of the 40's 50's HB. Short, tapered, just perfect. The scarcity of these can't be understated. I've seen 2 in 20 years. Windward jackets are my favorite. I know people are nuts over the OG Herc but my money is on the Windward label. And I've not seen a decent repro of this jacket, ever. I believe there was a Japanese co. that did something similar but that jacket struck me as painfully underwhelming. In my view it missed the mark.
I had seen the Regius Leather version on IG. He nailed it. With help from
@Marc mndt
, who supplied extremely detailed photos for Reg to work off of…the outcome was spot on perfect. I had to have it.
My jacket is black dyed through Shinki, I believe it is chrome tanned. TBH we talked about so many leather options that I have forgotten what I ultimately chose. It's an oiled leather, Reg described as slippery. I can see where sewing this would be brutal. Seems like it would want to jog. Perfect mid weight hide, 5.5lbs on the TFL required fish scale. Nice body and drape. Stitching is consistently neat, tight and well done.
Main zip is a NOS Coats and Clark/Crown so it sings when operated. Chest pocket is a shiny brass Diamond Talon and the HB hardware feels like jewelry. The body is blanket lined, reminiscent of a storm rider, with a silky feeling red wine drill in the sleeves and side panels. The liner is paneled to mirror the jackets exterior and the pocket bags feel like heavy sail cloth. Everything is just right. Thoughtful, well placed and perfectly executed…excellent.
The Process
:
Working with Reg was an absolute delight. We talked measurements, hides, patterns and techniques spanning months in texts and messages. These conversations were fantastic and let me know I was in good hands with this build. Reg also provided a leather mock up as part of the process. Amazing! It really helped us dial in the fit. I told Reg I wanted him to be free with the build. Use his judgement and his gut on the details, the hide, everything. I wanted him to take his time and I as indistant there was no rush. Reg delivered in short order, and in nothing short of spectacular fashion.
The Result
:
One of my absolute favorite and best jackets ever. Hopefully those reading know that statement isn't made in a glib or casual way. If you've seen my posts over the last decade or so here you'll know I'm not a brand elitist. I sample, as much as I can, in as many styles as as possible, across the decades. I have favorite makers, of course, we all do. But this is my best jacket. It hits all my marks and fits to the absolute NUTS.
Watching Regius blossom and achieve this tier of skill in such a remarkably short amount of time has been a treat. Being able to own one his originals is an honor.
Thank you
@regius
! Many have tried but you are the first to finally succeed in making me my jacket. 'Nuff said. To the pics!
The original beautiful Windward (Marc's jacket):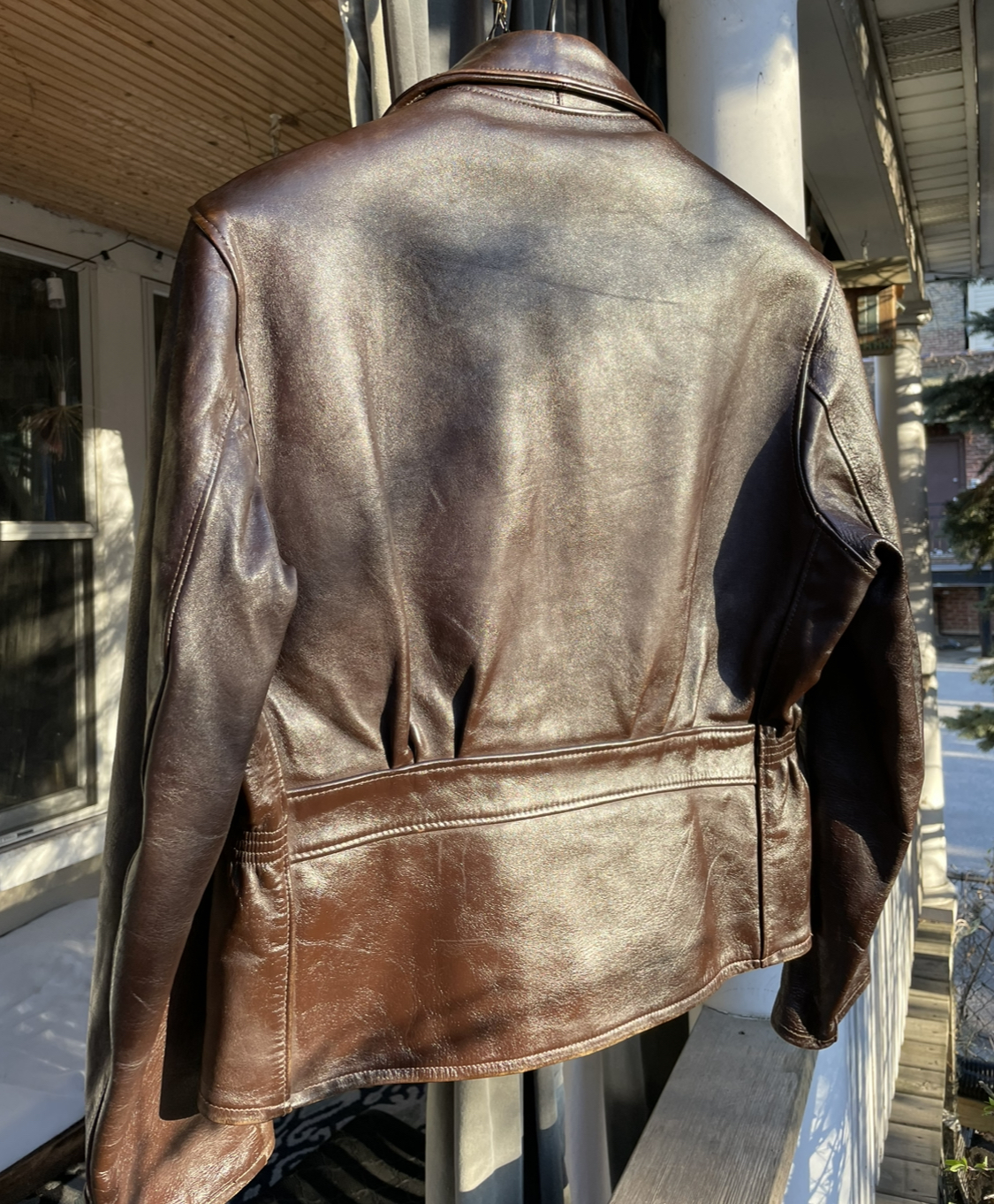 The Regius Leather repro: