Asking $950 usd shipped in continental USA. PPFF or Zelle gifts only.
Purchased from classifieds. Catch and release. I have references here.
The original owner purchaed from Mushmans Japan, authorized Rainbow Country stockist. I have that original receipt email.
Size 40
21.5" pit to pit
22.8" front zipper length
25" rear length
dark seal, contract W525AC-23380.
Worn 3 times total by original owner (over a single weekend) total. Never worn by me.
The jacket is pretty much brand new and knits and leather are still in perfect condition.
Rainbow Country jackets are made in the same factory as Freewheelers
This is the updated 2022-2023 model with a slightly larger collar faithfully reproducing the original even more.
"In producing A-2 as an autumn/winter product this time, we reexamined the actual rough wear clothing A-2 and completely reviewed the pattern.
First of all, we focused on the most characteristic collar shape of rough wear clothing A-2 and changed the tip and line of the collar.
Due to this change, it has become a product similar to the real rough wear clothing A-2, which is larger than before and has a higher collar position. "
In hand photos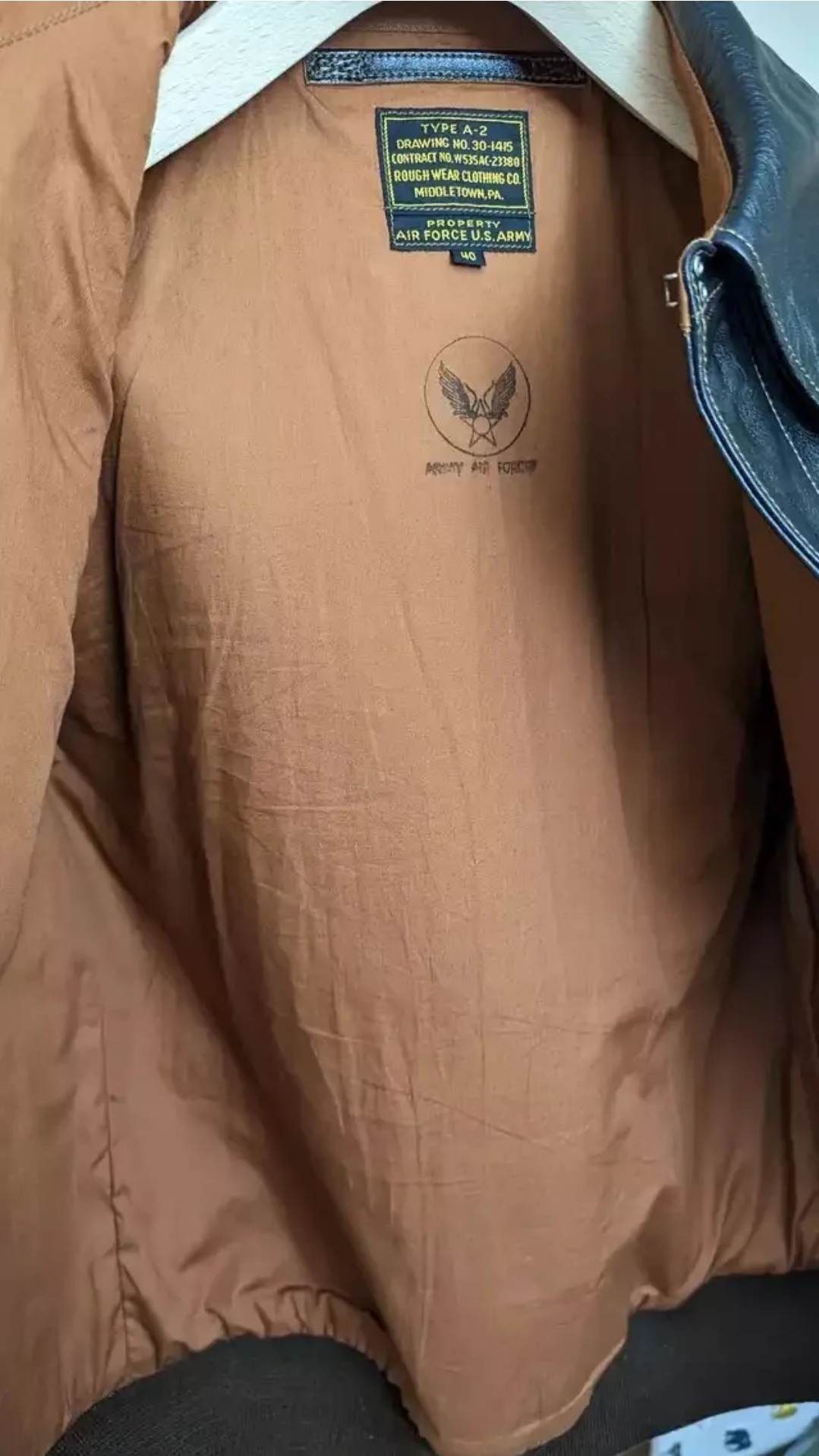 Measurement Photos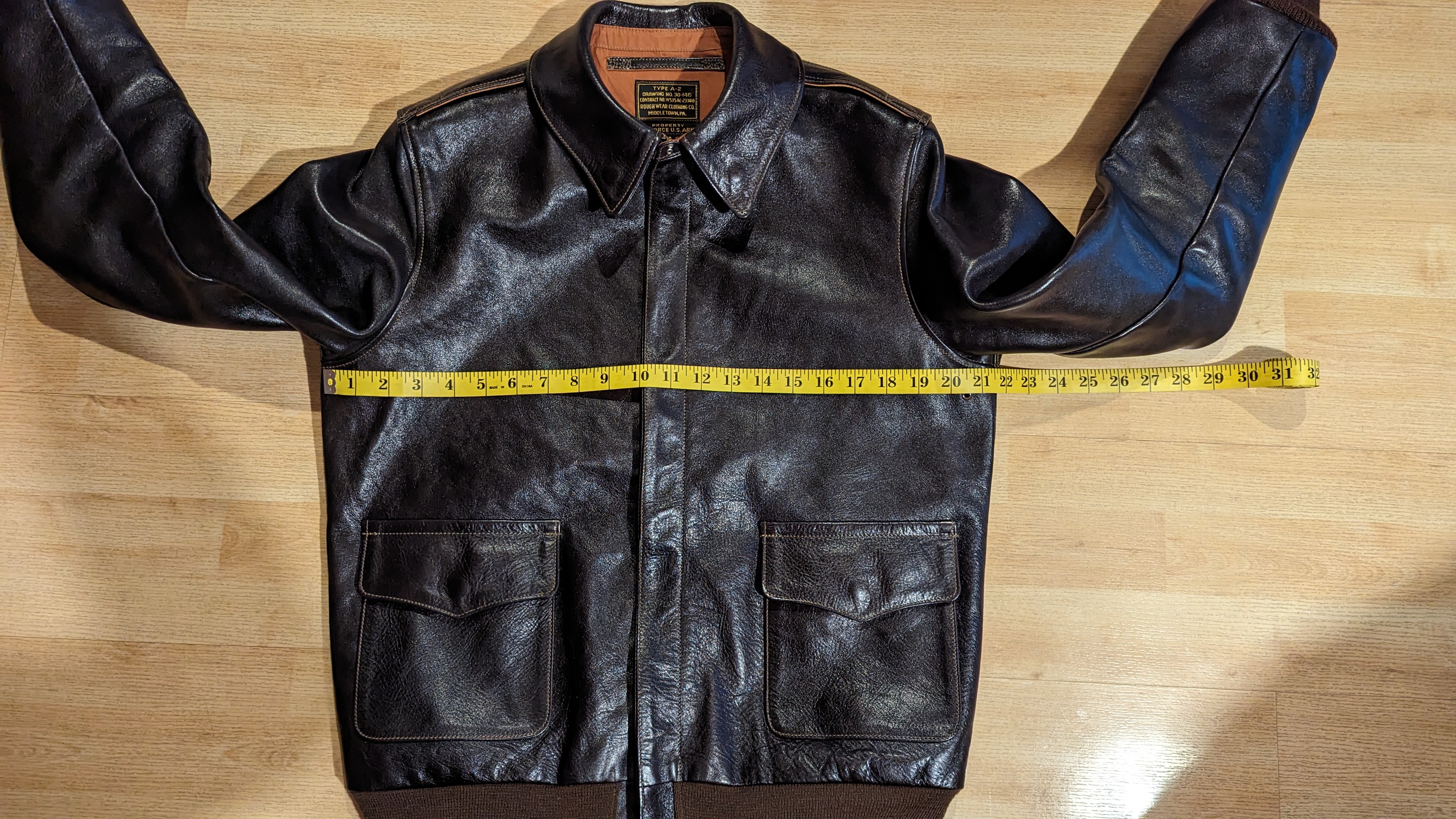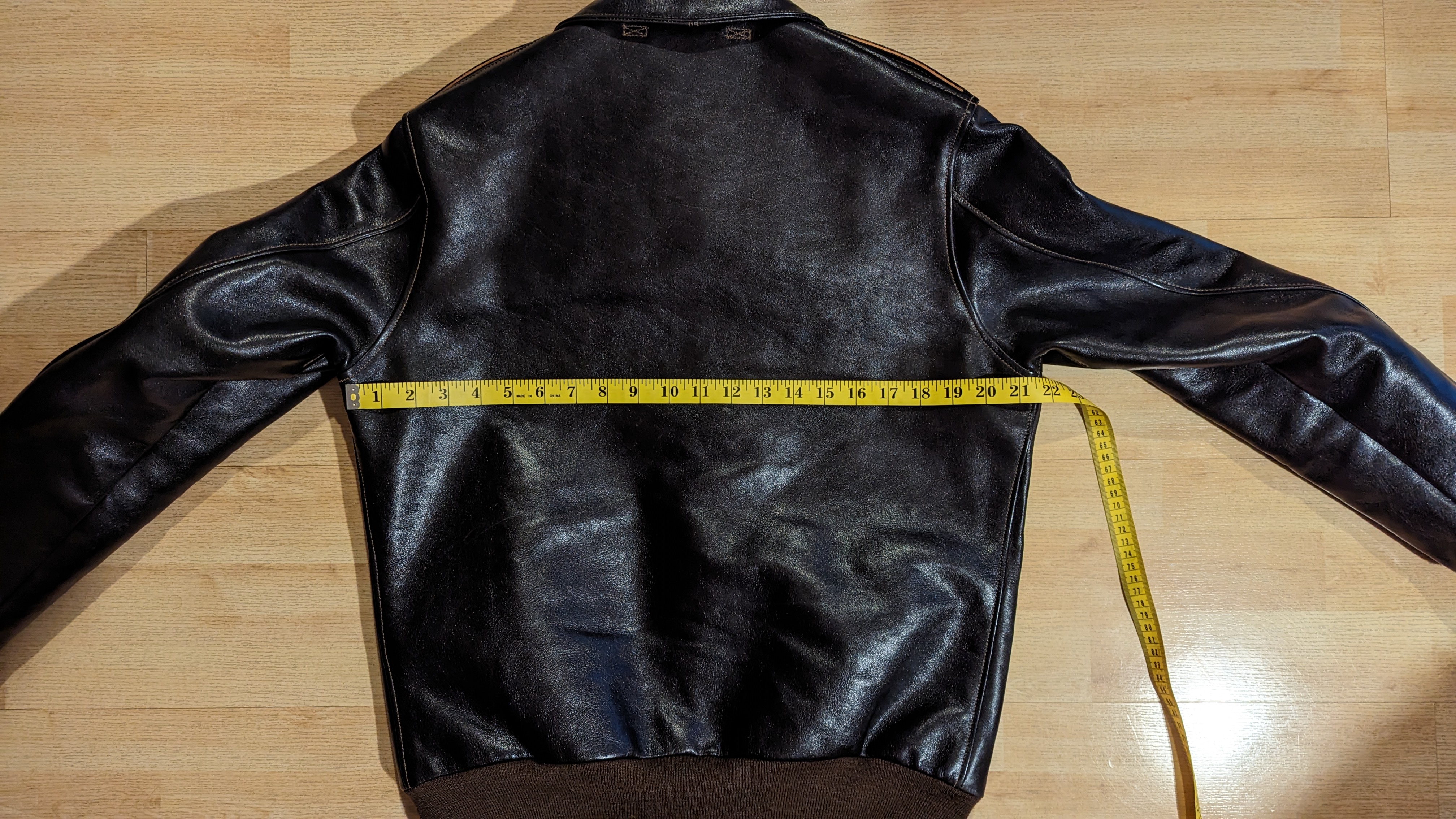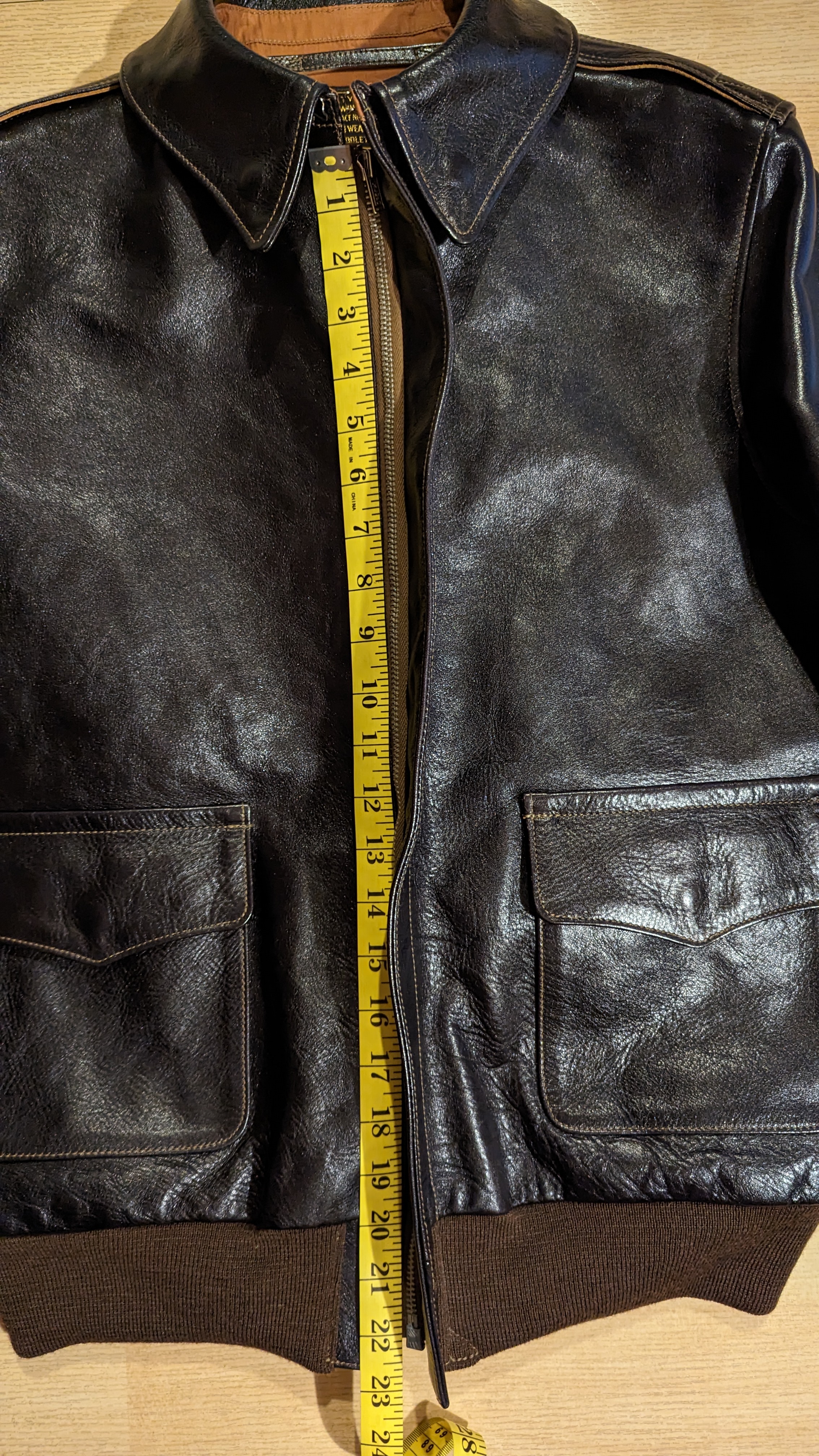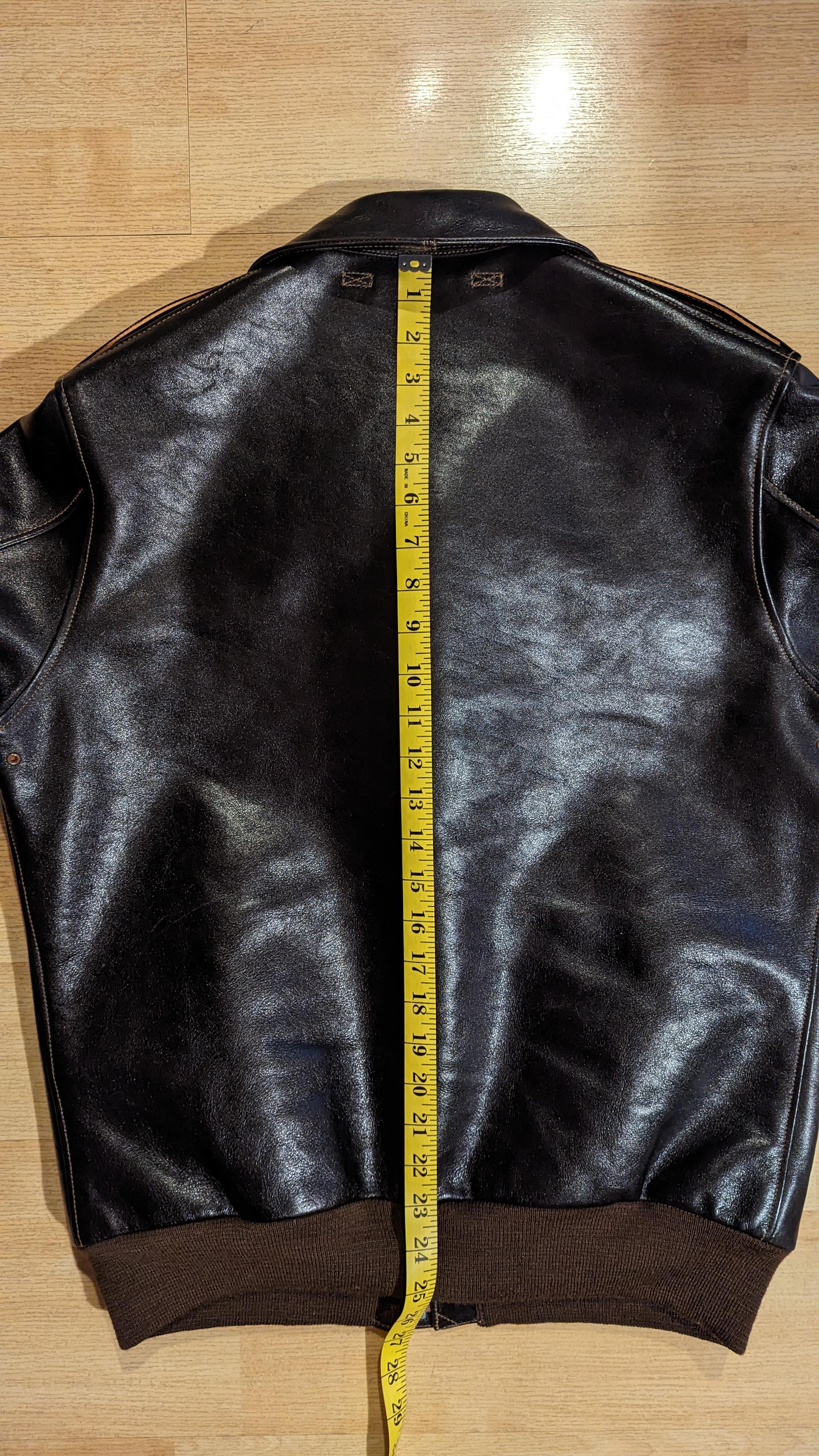 Mushman's description of the slight changes for 2023.
Anyway, the calmness when wearing it is the best.
The previous model was more stylish and comfortable than the A-2 made by other brands, but this time we aim even higher.
I think it's hard to tell just by looking at the wearing feeling that the details are closer to the vintage model. If you have the same model of the same brand, you can see that it has been clearly changed by placing it next to it and comparing it.
Also, I mentioned that the dimensions were [extended front body length, corrected shoulder width], but I would like to let you know how it actually changed numerically.
For size 38
・Length (front body) +0.5cm
・Shoulder width +1.0cm (one side +0.5cm)
・Width +1.3cm (one circumference +2.6cm)
・Suseo circumference +1.0cm (one circumference +2.0cm)
Isn't this just a matter of simply looking at the numbers? You may think that, but although it is true that each part is slightly larger numerically, it is the pattern of clothes that cannot be explained simply by that alone.
As a result of updating the configuration of various parts to create a better fit, the overall measurement results in these dimensional differences. Think of it like this.
If you have worn the conventional model at 38, there is no need to go down in size just because the dimensions are slightly larger.
It is a pattern that has been redesigned so that the body type that wears 38 can wear it more comfortably.
The impression that you can wear it comfortably without stress.
Feels good!
*The person in the image with sunglasses wears size 38. *
The Story
The A-2 Summer Flying Jacket, adopted as standard clothing by the United States Army Air Corps on May 9, 1931 and worn throughout World War II was treated as a status symbol, not just as a uniform.
The A-2 jacket uses horse leather, a light brown lining, a leather collar, brown sleeves and hem knit, and a very simple design with a zipper front opening and is manufactured by many contractors (suppliers). The basic specifications were simple as described above, but the design differed depending on the contractor (supplier) and delivery time at that time.
Among the many contractors, the ROUGH WEAR CLOTHING, which was selected as a contractor five times from standard adoption to the end of World War Ⅱ, is known to feature a large and high collar, which makes it look like a military uniform.
Since Rainbow Country founding, they have been fascinated by this ROUGH WEAR CLOTHING TYPE A-2 and have been reproducing it from the start of their production to today, while gradually changing the pattern and sewing specifications. It is now as close as possible to the design of the actual ROUGH WEAR CLOTHING A-2 jacket.
Details
- Sewn by one single Master Sewer, from start to finish
- 100% Vegetable Tanned Horsehide (1.3 mm)
- Tanned by the famous Japanese Shinki Hikaku Tannery
- Orange Core Leather
- Aniline Finish
- Rust Cotton Lining
- Wool Ribbed Cuffs and Waistband
- Bespoke DOT Button (engraved "UNITED CARR" in reverse) done to the exact vintage specifications
- Bespoke Neck Hock same as vintage A-2 jacket
- Bespoke olive color cotton sewing thread with the exact same specifications as the vintage model
- Rough Wear Clothing Co. Contract N°W535AC-23380
- Master Made in Japan
About Rainbow Country
Rainbow Country is undoubtedly the most confidential Japanese brand. Little is known about its origins. And yet, many leather jacket aficionados know that their jackets are of exceptional quality. Search niche forums or Instagram, and you'll find various articles describing it as one of the top 3 leather jacket brands in the world and, quite possibly, one of the most sought after when it comes to reproduction of vintage leather jackets (1930s-1940s).
I was lucky enough, thanks to my contacts, to hear the story from Rainbow Country founder...
"The company was founded in 1998, in Chiba prefecture and used to work with many specialty Japanese brands to sew leather jackets to the highest levels.
Back in the days, I was working for a very famous Japanese heritage company as a Specialty Planner for leather garments. I was able to study deeply the leather work, and traveled to the best tanneries in England, Italy, New Zealand and USA.
Five years later, I stopped working for this heritage brand and was hired by the former company (it wasn't named Rainbow Country back then).
When hired, they basically gave me the reins of the leather department, and I named the company Rainbow Country, for one simple reason: I want my customers to feel like kids watching a Rainbow; only happy and satisfied.
I then went to the famous horsehide tanner Shinki Hikaku in Hyogo prefecture every year and went to the finishing factory in Tokyo every week to study and check every aspect of leather tanning.
Since then I have made many styles of leather jackets in our own factory, using only Japanese leather, Japanese bespoke parts, Japanese cotton thread, etc. We usually study old American military, motorcycle, and sports jackets . They have very interesting details and they are both challenging and fun to reproduce. In terms of leather, we usually work with horsehide, it has a lot of potential for making old style leather jackets.
Because of that, I named this leather brand "California Mfg. Co." which feels like an old American style company. In other words, Rainbow Country is the company name, while California Mfg. Co. is the brand name.
But everybody knows us under the name Rainbow Country
Last edited: