Hi Loungers,
I don't really know how to expose this thread. I guess it's lack of habit. I have decided to write about this topic because I consider that the jacket, the maker, the occasion and the owner deserve a single thread.
As I have put in the title, I'm going to talk about the Cal-Leather jacket that Freddie Mercury owned, which can be seen in the video of "Crazy Little Thing Called Love", "Don't Stop Me Now", in the first 10 minutes of the Montreal concert in 1981, or in various promotional pictures that can be easily found on the internet. As you can see, a beautiful padded CHP Cal-Leather jacket.
What's the subject? Why this new threat and not a post on "Vintage Cals" or "Celebrities jackets? Well, first of all because I think this occasion deserves a single thread, as it is Freddie Mercury (whom I adore), his jacket (a Cal), and also because right now
the auction house Sotheby's in London
exposes it along in two floors with the vast and infinite collection of Freddie's possessions that he treasured from his beginnings in the music.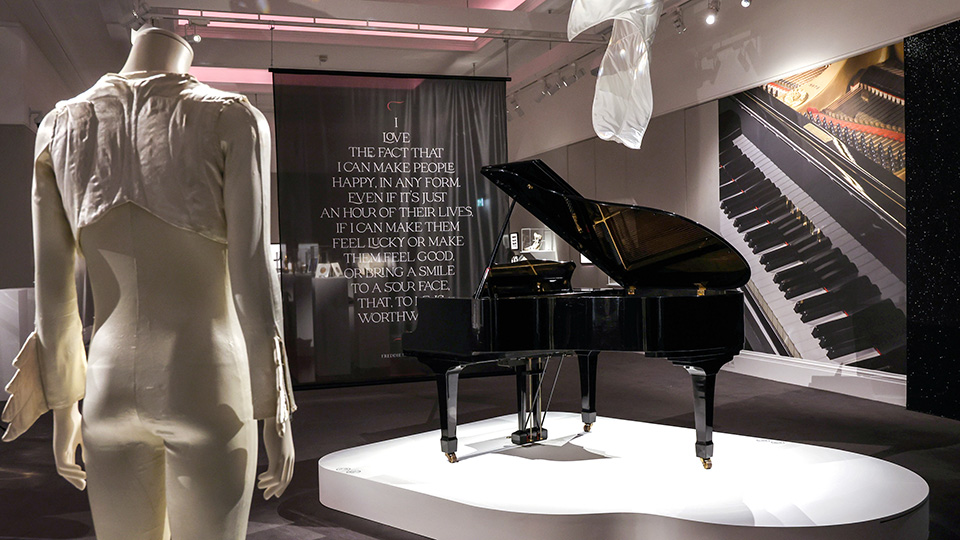 A temporary exhibition that collects all his belongings (manuscript lyrics, photographs, clothes, furniture, instruments, jewellery, art...) that Freddie accumulated in his life. The sad part for the fans is that each and every item will be auctioned and will end up in the hands of the highest bidder, and separated forever. So this exhibition is unique and unrepeatable because all of Freddie's belongings will be together for the last time until auctions begin. The reason? Summing up the matter, it can be said that whoever inherited Freddie's house and its contents, who was his long-time friend Mary Austin. Now she has decided it's time to move on, since she has been living with her family for the last 32 years in the house as Freddie left it. And so, by the way, fill her bank account a little.
Well, the point is I've visited London to see that exhibition, from Barcelona it's 2 hours and a half flight. Without going into details of the whole exhibition itself, just to say that for any fan of Queen and Freddie it's a wonder to be able to see and be in front of his famous handwritten songs, his instruments, outfits, personal items and cherished possessions. Although in my case, at times I had a bittersweet feeling: on the one hand I loved being there, on the other I couldn't stop thinking that this was a kind of disembowelment, since everything has a price tag and the main purpose is getting the maximum benefit, as it's not a museum, but the catalogue of an auction house.
Well, the jacket: you can see
the lot in Sotheby's web
, full pictures and description; a padded cross-zip Cal-Leather.
I've had it within millimetres of my face, touched it a little ("not touch" signs everywhere, but scrw 'em!) and without being an expert in types of leather, I do can say it's top quality, horsehide probably. All zippers are Talon. No scratches or weak areas, I assure 'cause I have been inspecting it despite the strangeness glances that the security staff sent me. The jacket has some thread sticking out at the waistband, but no tears. And as a "defect", just a few whitish stains around the right armpit. The two waist laces are impeccable. I took multiple pics, but for not overloading the server, I put these two.
Now here is my intervention, which my partner recorded in video. I called a Sotheby's worker who was there explaining details of different garments to the visitors. I went to her and told that I could complete some information of the jacket that Sotheby's web missed. Very attentive to my proposal, we went towards the jacket and, after explaining to her that I'm an enthusiast of vintage leather jackets, I told that if she'd raise one of the cuffs zipper, she'd find a strip of fur. No one, apart from Sotheby's staff, can touch any object. And so she unzipped the left cuff and a black fur showed up, which looked new and soft, not like the furs many Cal have that looks like old fleece. Her face was of surprise, as she told me no one inspected that detail. The second "secret" I revealed to her was the size. Telling the jacket had only one inside pocket on its left side, I asked her to look inside, and she'd find a number written either blue or red pen. She did and was stunned, there was a "38" written in red as if it had been put on yesterday. The woman literally flipped. She asked two of her coworkers and they said no one had checked that. So after exchanging a few kind words with them, I followed the route of my visit.
I did that to convince myself that, thanks to the wisdom I have gained from this great forum, I now know details and things I didn't know before. I wanted to say, despite going blind I wanted to take a chance and say things that, maybe, there did not happen. But they did!
While I'm writing this, the latest online bid is £40,000 (crazy, right?) and surely it's going to rise when Sotheby's holds live auctions of all the lots next week. I wish, but...
That's my speech on Freddie Mercury's Cal-Leather and the exhibition at Sotheby's in London. If you are a fan of Freddie Mercury and Queen, or even if you are not, and can visit it, go ahead. Sotheby's have put an exquisite place on at the height of one of the best musicians and rock superstars ever. I've talked here about this specific item, but the exhibition shows hundreds of objects that are wonderful to see up close.
I hope it entertained you as much as I did writing it, if you've had the patience or interest. Thank you. And eventually I apologize if making this thread instead of just posting at some existing one causes some inconvenience. But forgive me: I have not found a better way to talk about Freddie Mercury and his jacket, and to pay tribute to his contribution in the history of music, to his artistic and personal figure. A great lover of cats, he had a total of 10 almost all rescued in shelters.