(I have no practical experience in demolition work other than helping to tear down a chicken coop once, but I think that even I would know enough not to work in a building full of ammonia coils without first making sure that the coils were no longer pressurized.)
Survivors of the passenger steamer Caribou, sunk in Cabot Strait between Newfoundland and Nova Scotia on Wednesday, described yesterday how the U-Boat responsible for torpedoing the vessel surfaced as survivors bobbed helplessly in the water and "plowed ruthlessly" thru the women and children struggling to stay afloat in the icy waters. Canadian naval rescue vessels picked up 101 survivors, and the bodies of 36 persons killed in the attack. One hundred and one persons remain missing. Captain Benjamin Tarvenor went down with his ship, but before the prow of the Caribou sunk below the surface, he attempted to ram the attacking submarine, but the U-Boat escaped by plunging below the waves. It resurfaced suddenly, knocking the occupants of a lifeboat and two rafts into the water, and cruised cruelly thru the debris and struggling victims. Only one of the fifteen children aboard the steamer survived. "If anything were needed to prove the hideousness of Nazi warfare," declared Canadian Navy Minister Angus MacDonald, "surely this is it."
Damage estimated in the millions of dollars was left behind today in the receding waters of a three-state flood caused by nearly seven inches of rainfall over the past four days. Portions of Maryland, West Virginia, and Virginia were beswept by surging flood waters, as well as Washington D. C., where the Potomac River flood crest reached a height of 17.6 feet -- a new record in an area where flood stage is considered to be seven feet. President Roosevelt made a personal inspection of the flooded sections of the nation's capital today, and directed that "neither effort nor money should be spared" to protect the city.
House and Senate conferees last night reached full agreement on history's biggest revenue bill, expected to cost taxpayers an additional $9,600,000,000 per year. An accord was reached between the two bodies after it was agreed to restore a levy on freight which adds another $98,000,000 for the Treasury. The measure will go to the House for a vote as soon as the final report can be printed, probably on Tuesday, followed by action in the Senate immediately after. "This is a good bill," stated Senate Finance Committee Chairman Walter F. George (D-Georgia.)
A fifth slacks-wearing glamour girl faces an appearance in Children's Court on charges that she participated in a burglary at the Stapleton, Staten Island home of Mrs. Walter Fisher on September 29th. Fifteen-year-old Carmella Camaratta of 211 E. 110th Street in Manhattan was implicated by testimony from the other girls now in custody for the burglary, but denied any involvement until, after interrogation at the St. George police station, she confessed.
Bigots have been warned in Brooklyn-Queens Weekend Court by Magistrate J. Roland Sala that he intends to dish out maximum penalties for any and all crimes brought before him that carry implications of racial or religious prejudice. Magistrate Sala gave his warning in hearing the case of 23-year-old James Scofield, brought in on a charge of malicious mischief after kicking in the glass on a sidewalk showcase at 565 Gates Avenue. "It only belongs to a Jew," sneered the defendant when brought before the magistrate, "and he's no good anyway." Magistrate Sala ordered Scofield held for hearing on Wednesday, and promised that if he finds Scofield guilty on the charge, he can expect "a straight six months in jail."
(And once again -- where have we actually seen that these two are "jitterbugs?")
Nineteen-year-old Edward Ryan of 369 12th Street yesterday became the 54th man to be sent to the Army by Kings County Judge Louis Goldstien. Ryan pleaded guilty to a charge of unlawful entry and was placed on probation pending his release from the New York State Vocational Institution at Coxsackie, and Judge Goldstien promised to lift his probation in exchange for his enlistment.
The recent closing of the Trommer's restaurant by the brewery that operated it reminds Old Timer Cecil Johnson that half a century ago there were many, many breweries in Brooklyn, especially in Williamsburg. Obermeyer & Liebmann, Eppig's Germania, Brown & Butler, Dominion Dry, Claus Lipsius, Aetna Lager, Budweiser -- no relation to the St. Louis product of the same name --, Burger, Malcolm, Frese Lager, High Ground, India Wharf, Dananberg & Coles Extra Weiner, Feigenspan, and the still-famous Rheingold and Schaefer, were all familiar labels to beer drinkers of olden times.
The Eagle formally endorses Attorney General John Bennett for Governor, declaring that his election will "keep alive the liberal tradition in New York State." The Eagle Editorialist, in outlining the endorsement, sniffs that "a vote for Alfange is a completely wasted vote," which will only make more likely the election of a Republican governor.
Mayor LaGuardia promised yesterday that he will take steps to brighten the surroundings in offices of the city Marriage License Bureau, after a national magazine published criticism of the "dismal, dreary surroundings" that prevail in such offices nationwide. The mayor averred that he couldn't "hang up dainty little white bows" in every Bureau office, but promised that something will be done to provide a cheerier atmosphere for newlyweds.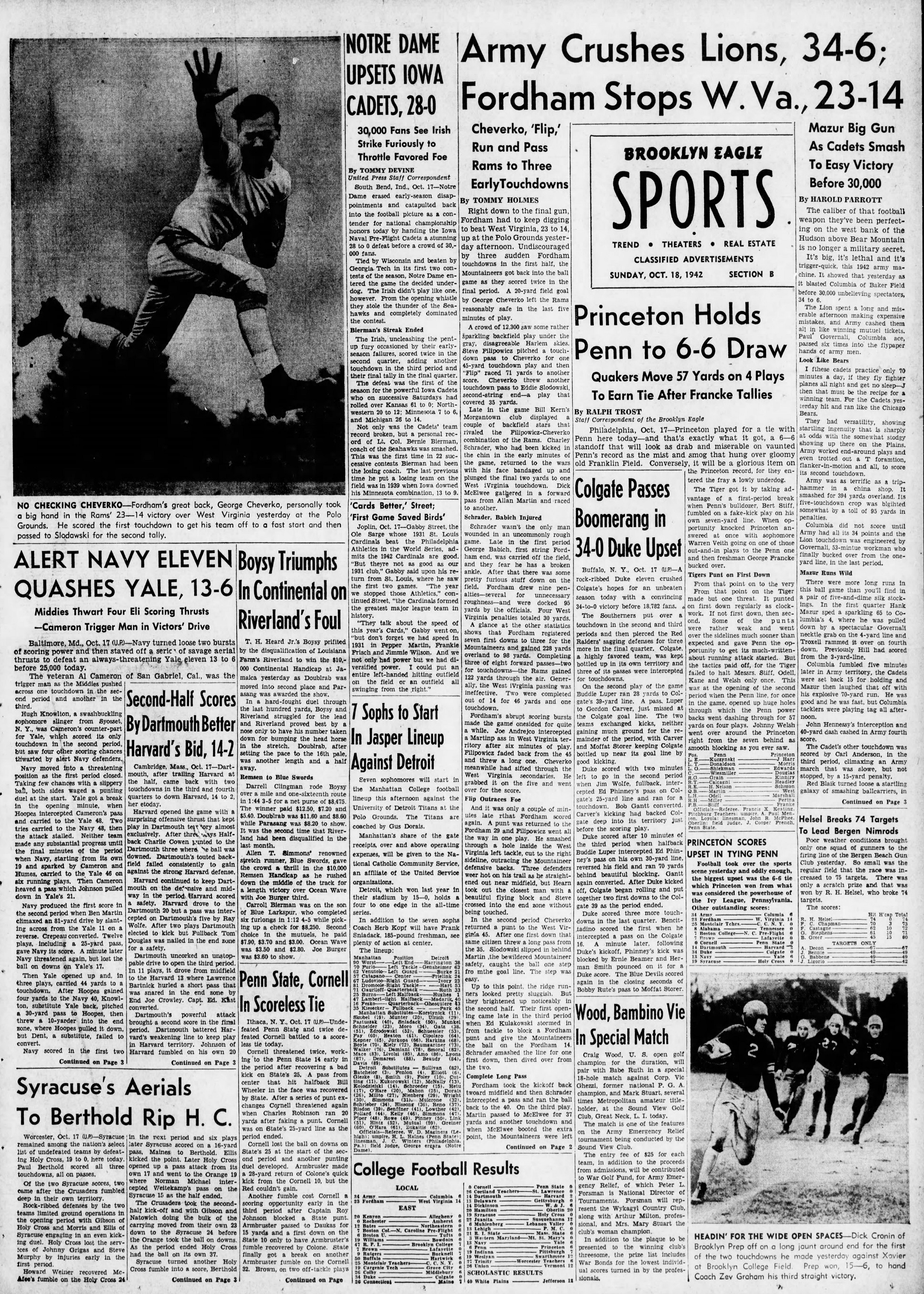 (College football? Yawn. I hate this time of year.)
The oddsmakers favor the Washington Redskins over the Football Dodgers today at Ebbets Field, in the first of two scheduled meetings of the clubs this season. The Dodgers are definite underdogs following their defeat last week by the Pittsburgh Steelers, as Washington scored a decisive win over the Cleveland Rams. The Dodgers will be further hobbled by an ankle injury suffered by left tackle Bruiser Kinard, who is in the starting lineup today, but is not expected to be able to play the full game.
Tommy Holmes sums up the Dodger collapse of 1942 by pointing to late-season sagging by the entire outfield. Pete Reiser's collapse following his collision with that St. Louis outfield wall was the most notable, with his batting average dropping 33 points between the accident and the end of the season. But the season also held no favors for Joe Medwick or Dixie Walker -- while Medwick flashed briefly with a 28-game hitting streak, his average for the season dropped from .318 in 1941 to .300 this year, and his power production was a complete bust -- Ducky poled only four home runs this season compared to 18 in the pennant-winning '41 campaign. As for Walker, he too was beset by a stream of injuries, which dropped his average from a crisp .311 to a mere .290. And the infield wasn't much better, with the decline of Dolph Camilli a major factor in the team's overall fade. Both his average and his power dropped, with an average of .251 and 26 home runs comparing unfavorably to his Most Valuable Player totals of .285 and 34. Camilli is still the finest defensive first baseman in the league -- but Johnny Mize of the Giants surpassed him this year with the bat. Billy Herman did all right for a man of 34, but Arky Vaughan, brought in to replace Cookie Lavagetto at third, never got hot. Only Pee Wee Reese managed to improve over his 1941 season.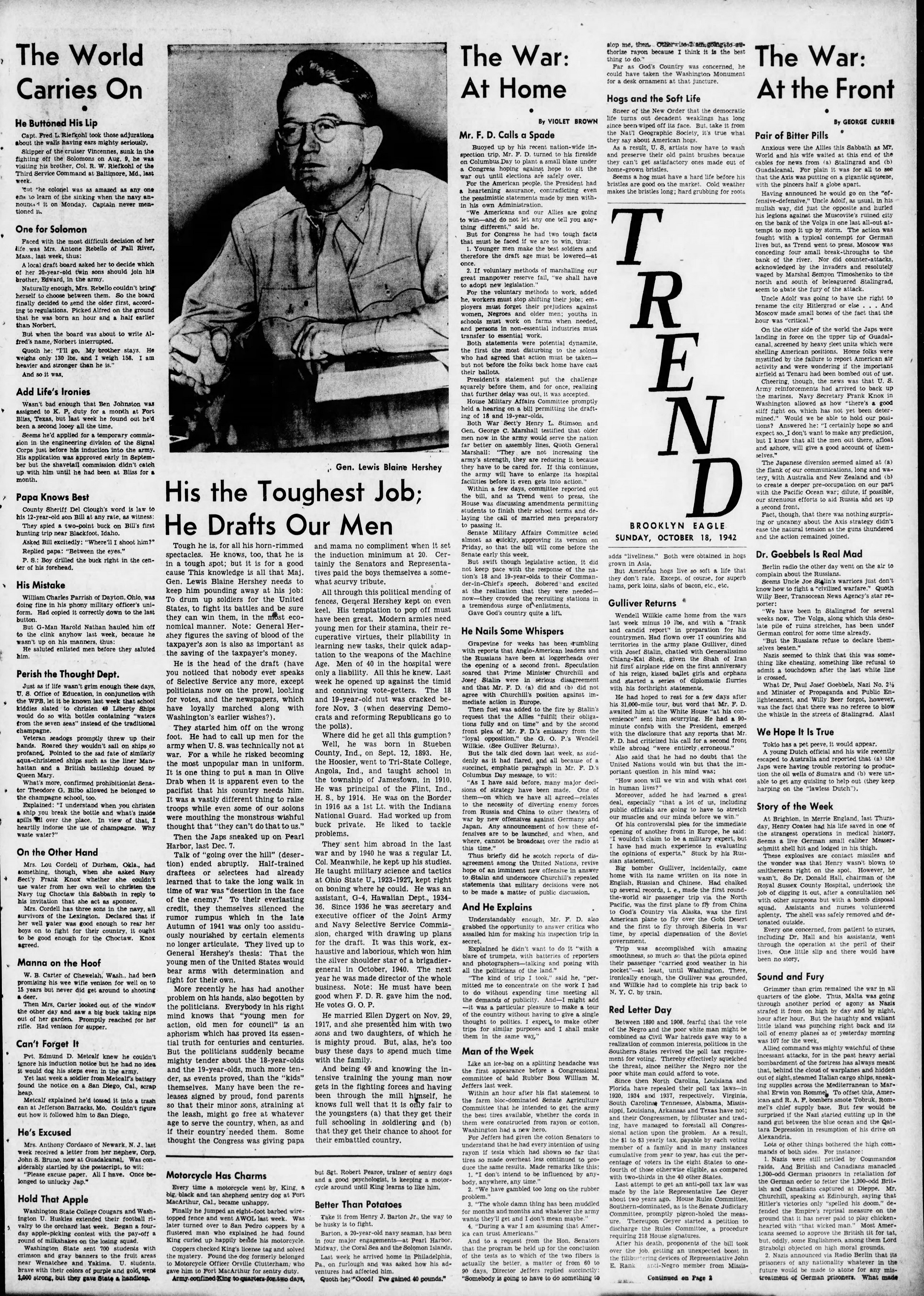 (He doesn't look very draftable himself.)
Screen actresses Claire Windsor and Judith Allen will open at the Flatbush Theatre this Thursday in a new production of the vintage bedroom farce "Getting Gertie's Garter." The play, by A. L. Woods and Avery Hopwood, was once considered shocking. It remains to be seen, in these days of Broadway striptease, how times have changed.
Judy Garland will perform her first grown-up role opposite Gene Kelly and George Murphy in "For Me and My Gal," opening Wednesday at Manhattan's Astor Theatre.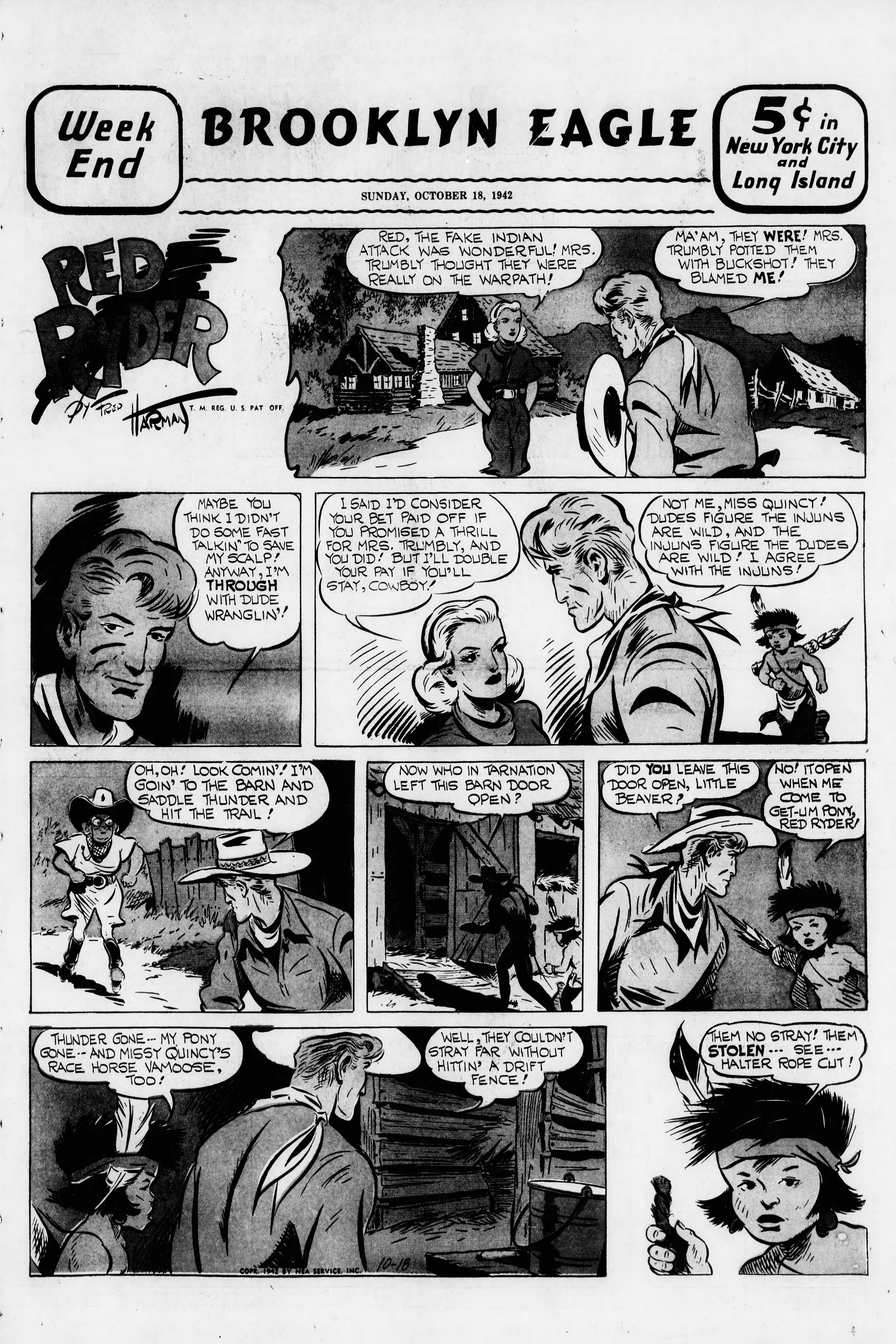 (THIS IS WHAT HAPPENS WHEN YOU DON'T PAY ATTENTION TO YOUR WORK)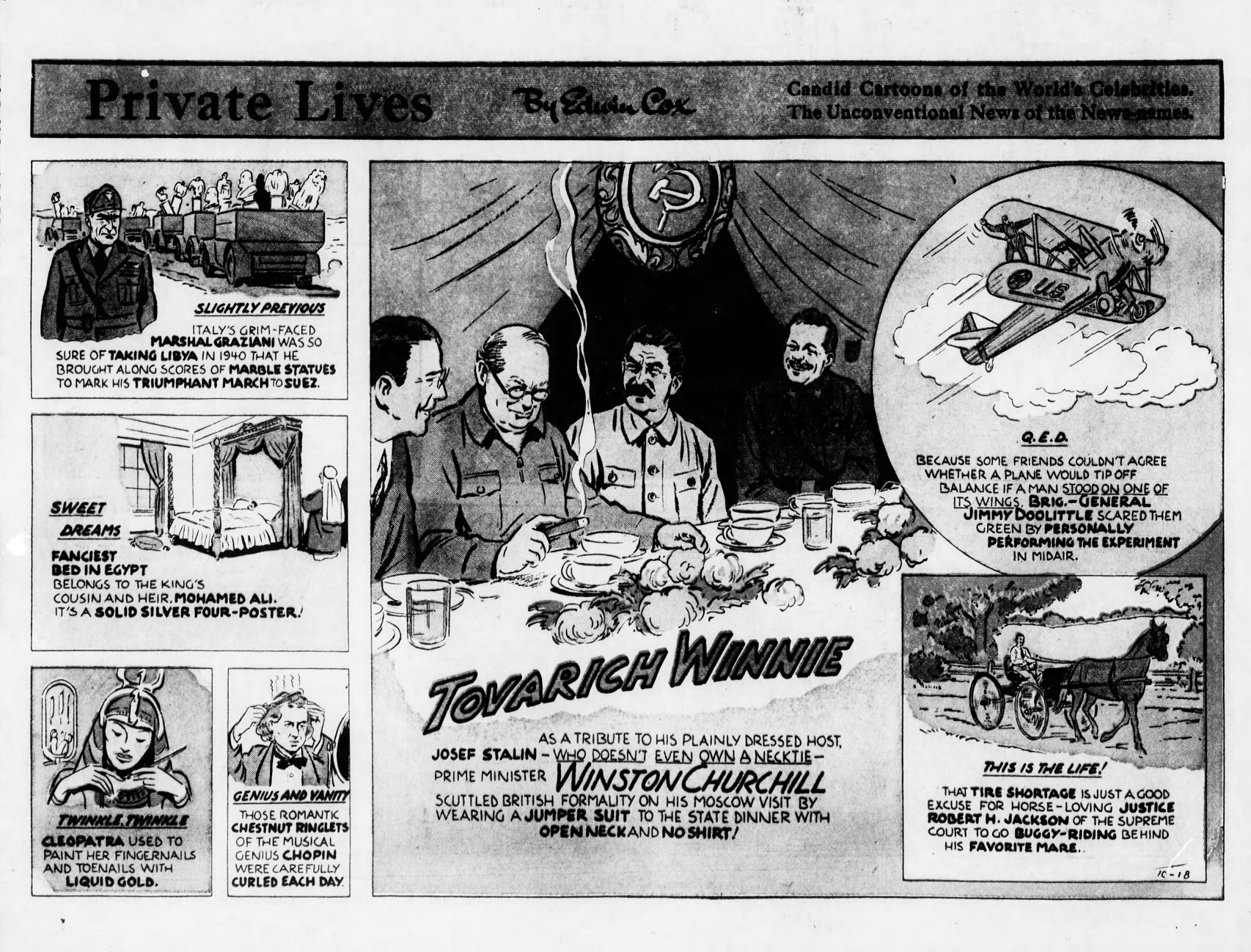 ("Can't I wear a tie? I look like a bullfrog without a tie." "No, sir. Premier Stalin does not care for neckties. We can't have a diplomatic incident." "An ascot then. A scarf." "No sir, I'm sorry. The protocol is quite clear." "Very well. But I warn you, young man, I shall keep my chin lowered the entire evening.")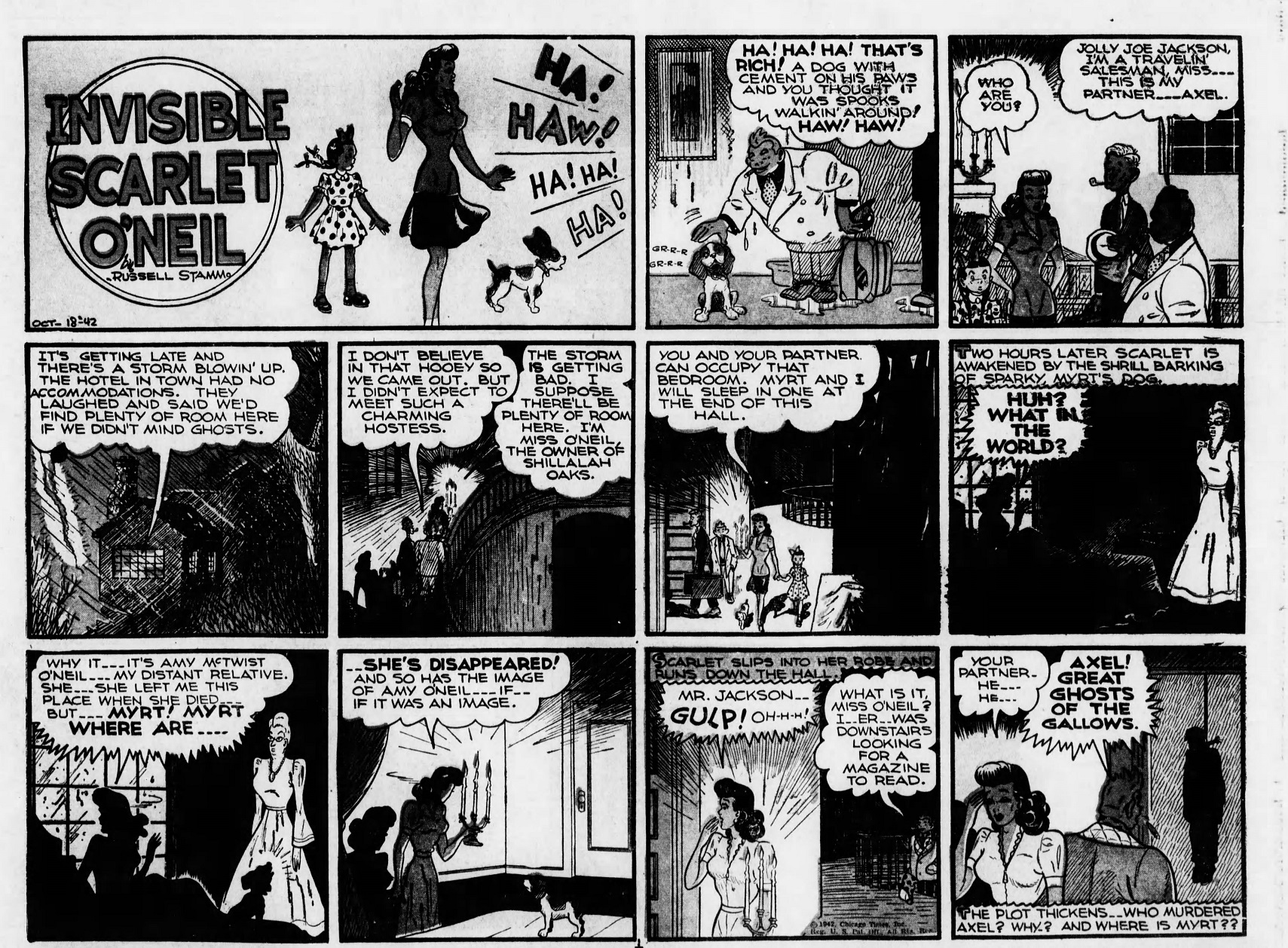 (WHAT? AXEL!! HERE??? Hope you can swim, kid.)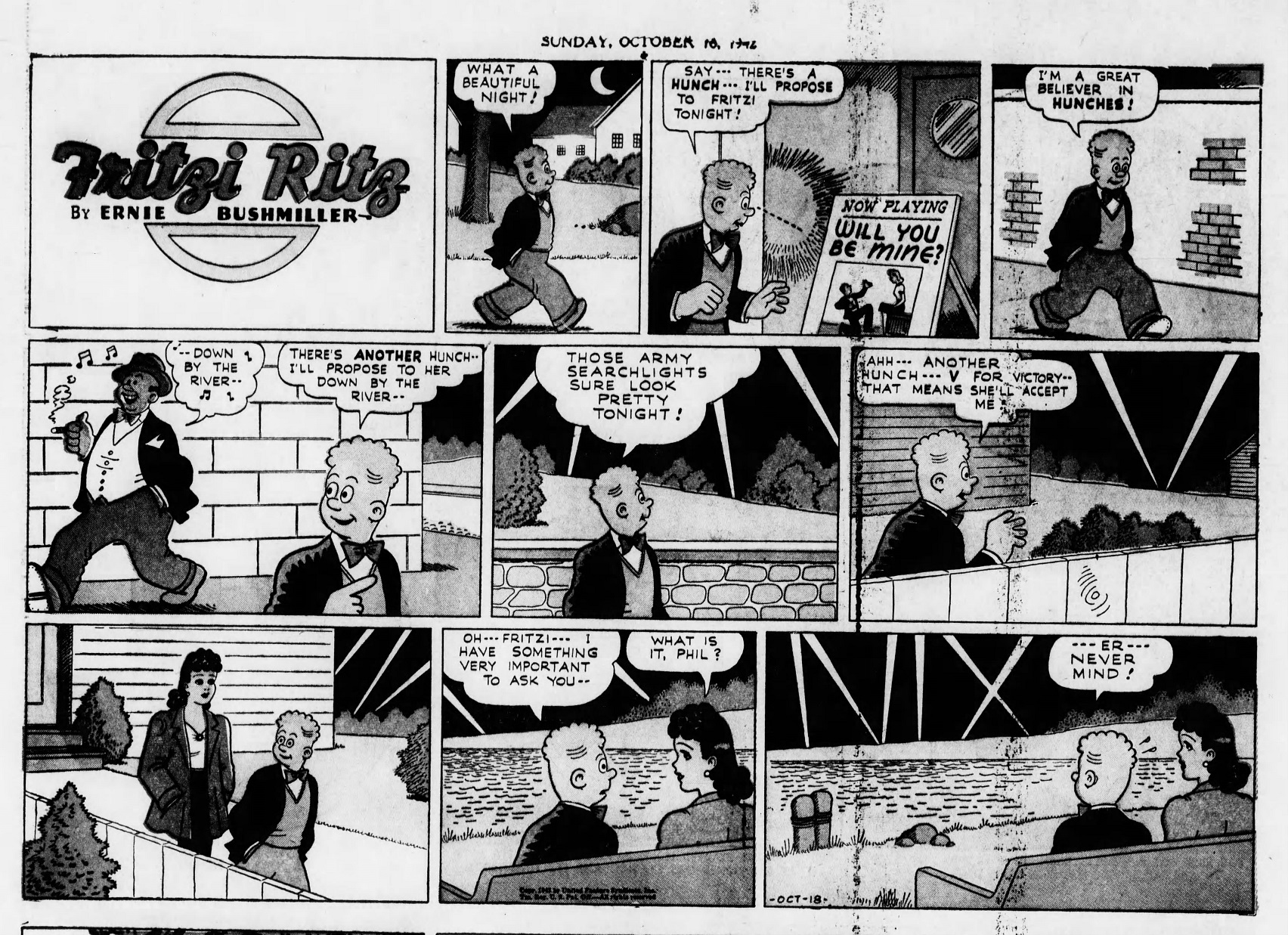 Mr. Bushmiller is a surprisingly cynical man.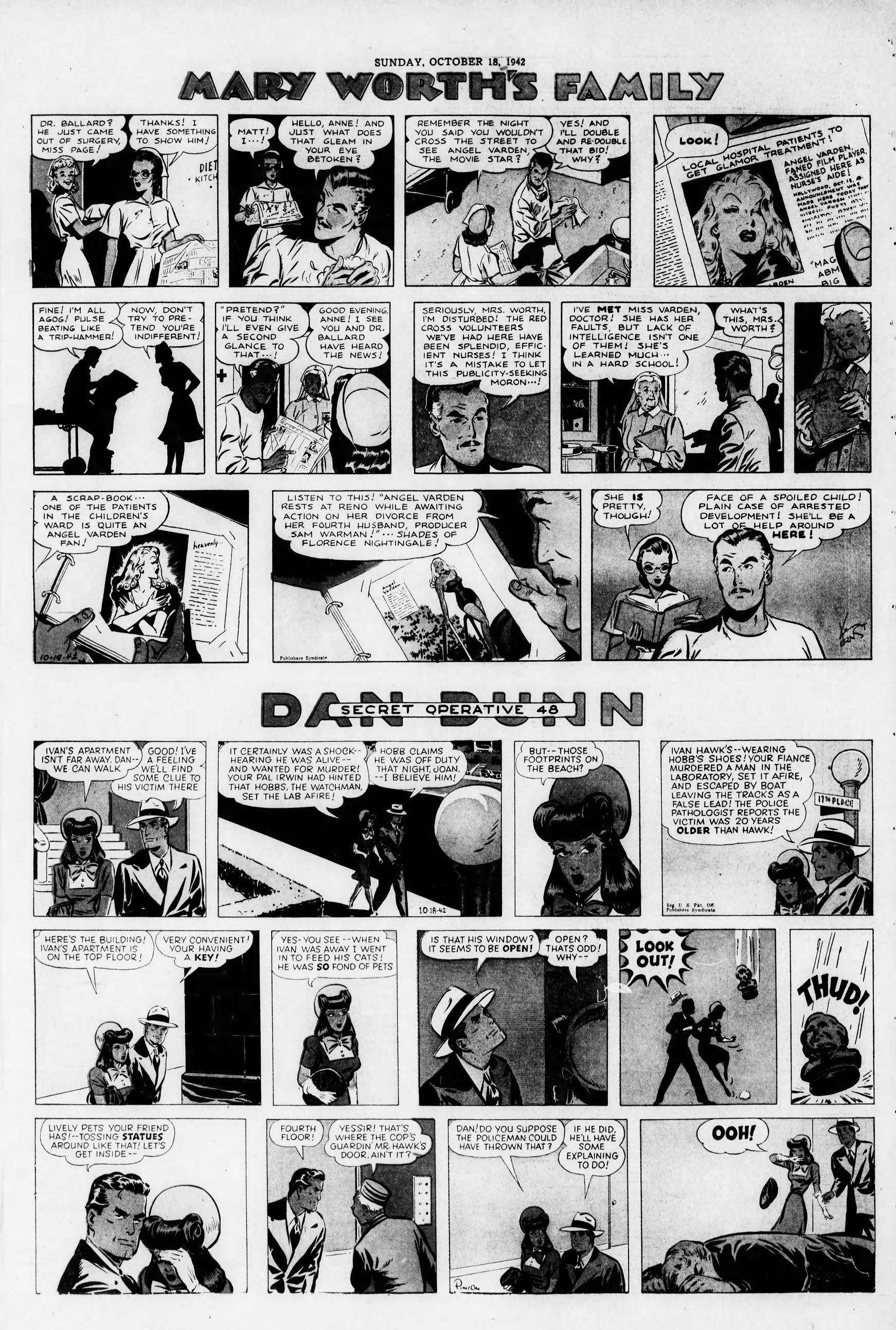 (Ahhh, Angel, eternal doyenne of Page Four. How we've missed you. And Great Falling Busts of Beethoven! Never mind the dead guy, somebody cheeck on the cats!)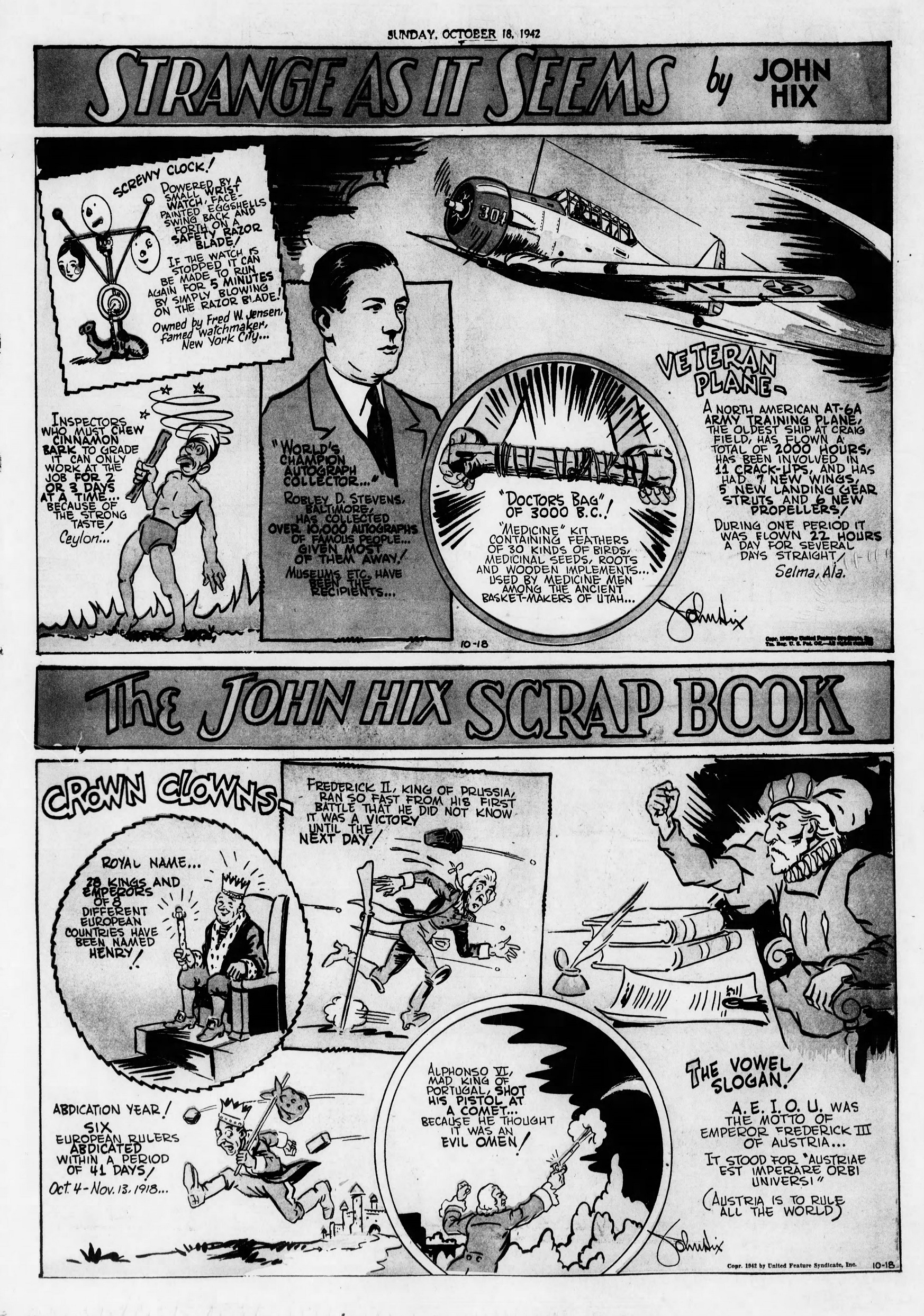 (Yeah, 1918 was a bad year for the king business, but it was burgeoning era for phony counts.)