("I can't wait to get home an' sleep in my own bed," sighs Joe. "C'mon, finish packin'. Wheah's Stella? Get her inna grip!" "I tol' ya, we oughta wait anot'eh night," replies Sally. "I wen' oveh t'is mawrnin' while you was sleepin' t' check, anna lan'loehd was inneah paint'na kitchen." "Paint'n?" reacts Joe, his eyes wide. "'At jernt ain' been painted since Cleveland was pres'd'nt." "He said Uncle Frank give'm t'ideeh. He says Uncle Frank ev'n got'm a deal onna paint. See, Uncle Frank's got a cousin runs a hawrdweah stoeh. Made'm a special price." "Good ol' Uncle Frank," marvels Joe. "Yep," nods Sally. "Jus' like a fa't'eh to us. I eveh tell ya how he got Mickey his fois' job? Drivin' a d'livery truck when he was jus' fifteen yeeahs ol'." "D'liverin' paint?" inquires Joe. "Nah," shrugs Sally. "Mickey neveh said, but I don' t'ink it was paint.")
American and Australian troops, their Papuan campaign completed with the mopping-up of straggling Japanese fugitives at Sanandana prepared last night for the next step in General Douglas MacArthur's victorious campaign. MacArthur's planes did not let up in their relentless offensive against Japanese shipping north of New Guinea. Today's communique reported that Allied bombers had destroyed four Japanese ships, aggregating 24,000 tons, in an attack on Rabaul Harbor, New Britain. The Japanese struck back aerially at Milne Bay, at New Guinea's tip, at Meruke, on the south coast of Dutch New Guinea, and at Darwin, Australia, but caused no damage.
In Eugene, Oregon, authorities are investigating the death of a 21-year-old woman who tumbled out of a lower berth aboard a sleeping car of a speeding Southern Pacific train with her throat cut. Mrs. Martha Virginia James, the wife of Navy Ensign Richard F. James, had been separated from her husband on the trip when the train was divided into two sections at Portland. The couple was en route from Seattle to Los Angeles under Navy orders, and authorities said there was no indication that the woman had associated with any other passengers aboard the train after she was separated from her husband. A Marine sleeping in the berth above that of Mrs. James, Private Harold R. Wilson, told detectives he was awakened by the sound of a "stifled scream" coming from the lower, and then heard the thud of Mrs. James' body as it rolled out of the berth and into the aisle. As he peered thru the curtain, Pvt. Wilson told police, he saw "a man in a pinstriped suit hurrying away." He further stated that the man may have been a Negro, but he was uncertain of this. Police found no such man aboard the train, and guessed that he might have gotten off the train at Tangent, Oregon, about 40 miles from Eugene. Police found $114 in cash in Mrs. James' purse, ruling out robbery as a motive.

(Say what you will about Butch, but he is an honest man. And the committee should definitely take a closer look at the Flynn & Goldwater firm's dealings with Mr. Rubinstein, a White Russian con man who poses as a Portuguese nobleman, and who is involved in any number of highly dubious activities.)
Bootleg phonograph records made by mysterious pseudonymous orchestras in violation of the American Federation of Musicians' current recording ban are now circulating in Brooklyn shops, and hepcats are keeping busy trying to figure out who the performers might actually be. The latest underground release by the "Classic Record Company," an enterprise of former Victor Records executive Eli Oberstein, is credited to one "Hal Goodman and his Orchestra," and features two selections written by Cole Porter for the current Ethel Merman Broadway revue "Something For The Boys." The first song, "Could It Be You?," opens with a high-pitched reed-and-brass arrangement typical of the Glenn Miller band before giving over to a male vocalist. Following the vocal, the orchestra continues in what appears to be a stock arrangement to the end of the song. The other side of the record features "He's A Right Guy," played in a rhumba arrangement, with a female vocalist and no instrumental solos at all.
Bombers named after Brooklyn neighborhoods will pound Berlin in a new bond-selling campaign kicked off yesterday by Borough President John Cashmore. Under the program, every neighborhood subscribing at least $350,000 in bond sales will have a Flying Fortress named after it -- "Flatbush," or "Bay Ridge," or "Brownsville," or "Bushwick," to name a few possibilities. Savings banks in each section of the borough will act as local headquarters for the drive, and model military planes made by local youths will be displayed in the windows of each bank to advertise the campaign.
The Eagle Editorialist demands an end to "Nazi-style outrages" against Brooklyn Jews, with the recent desecration of Congregation Ahavath Israel just the latest example. These outrages continue, notes the EE, despite the recent warning by Commissioner of Investigation William Herlands that incidents of Nazi-inspired, or even Nazi-directed anti-Semitism are on the increase thruout the city -- and especially in Brooklyn. The EE reprimands the police fand civic authorities for "investigating" but doing nothing beyond that to stop the "criminals and fanatics -- and those who incite and possess their moronic souls with the evil spirits of racial and religious hatred."
Reader Mary Clark writes in to say that while women may find it "safe and helpful" to wear overalls while working in defense jobs, she declares that the Bible forbids any interchange of garments between men and women. She cites Deuteronomy 22:5, which declares that those who do so are "abominations to the Lord."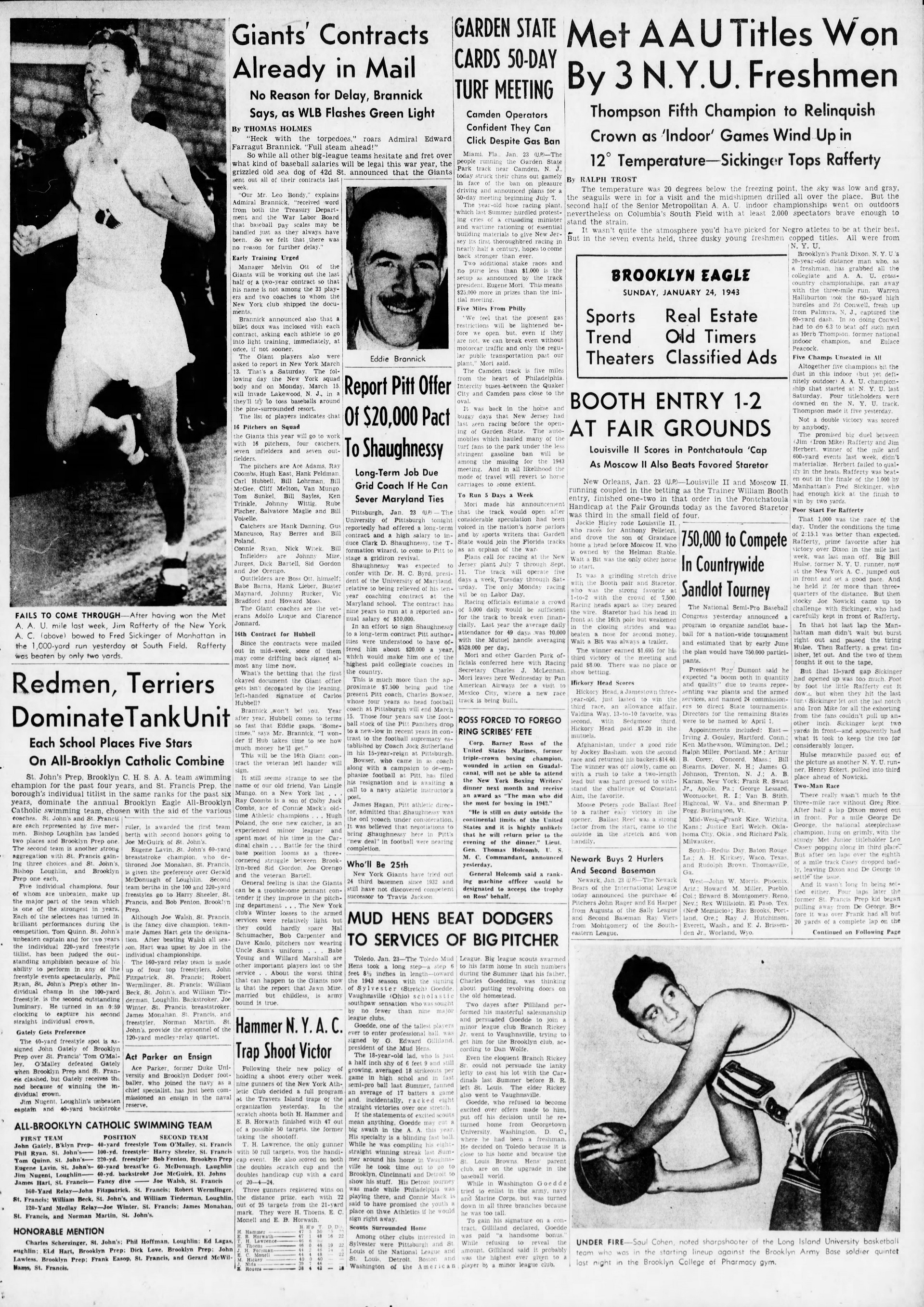 ("A half inch shy of 6' 9?" Hey kid, ever hear of elevator shoes?)
Old Timer Arthur V. Olmstead read recently the claim that the famous Civil War ironclad U. S. S. Monitor was "built in Manhattan." He produces extensive documentation in the form of letters from the Navy Department Office of Naval Records and Library to prove that the Monitor was built and launched at Greenpoint, Brooklyn on January 30, 1862, and was then towed to the New York Navy Yard where finishing work was done and the ship commissioned, and he further cites many encyclopedia articles in support of this statement.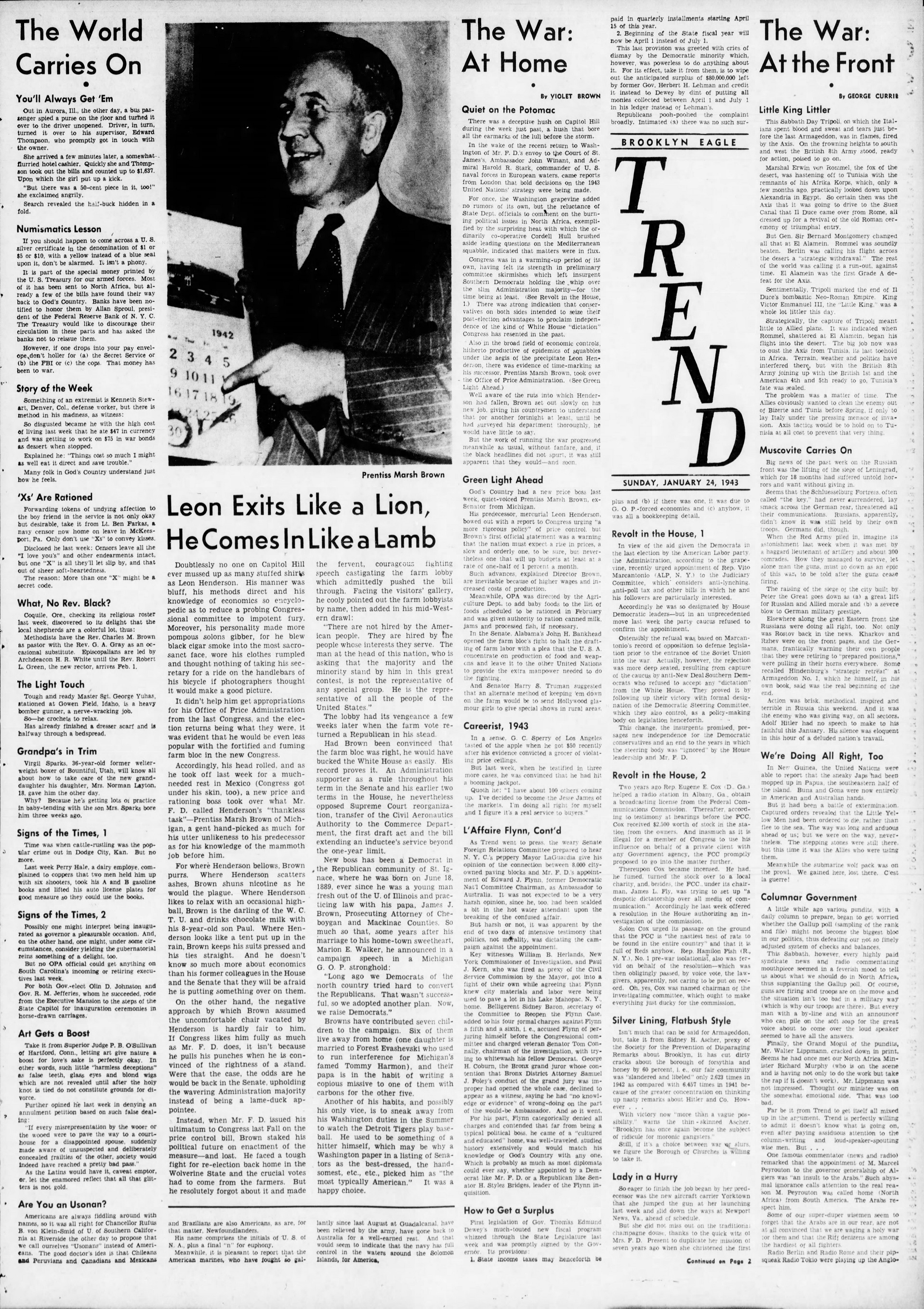 (Chocolate milk? I thought Leon banned that.)
Radio actor Raymond Edward Johnson makes his Broadway debut next week next Friday in the role of Thomas Jefferson, in Sidney Kingsley's new drama "The Patriot." Johnson distinguished himself on the air for years with his prominent roles in the dramas of Arch Oboler, and in a broadcast serialization of Somerset Maugham's "Of Human Bondage." But today's listeners might know him best as "Raymond," the kiddie-frightening murderous-voiced host behind the squeaking door of the "Inner Sanctum." Johnson began his acting career a decade ago, after growing tired of his previous jobs as a golf caddy, a soda jerk, a bookkeeper, and a bank teller in his home town of Kenosha, Wisconsin.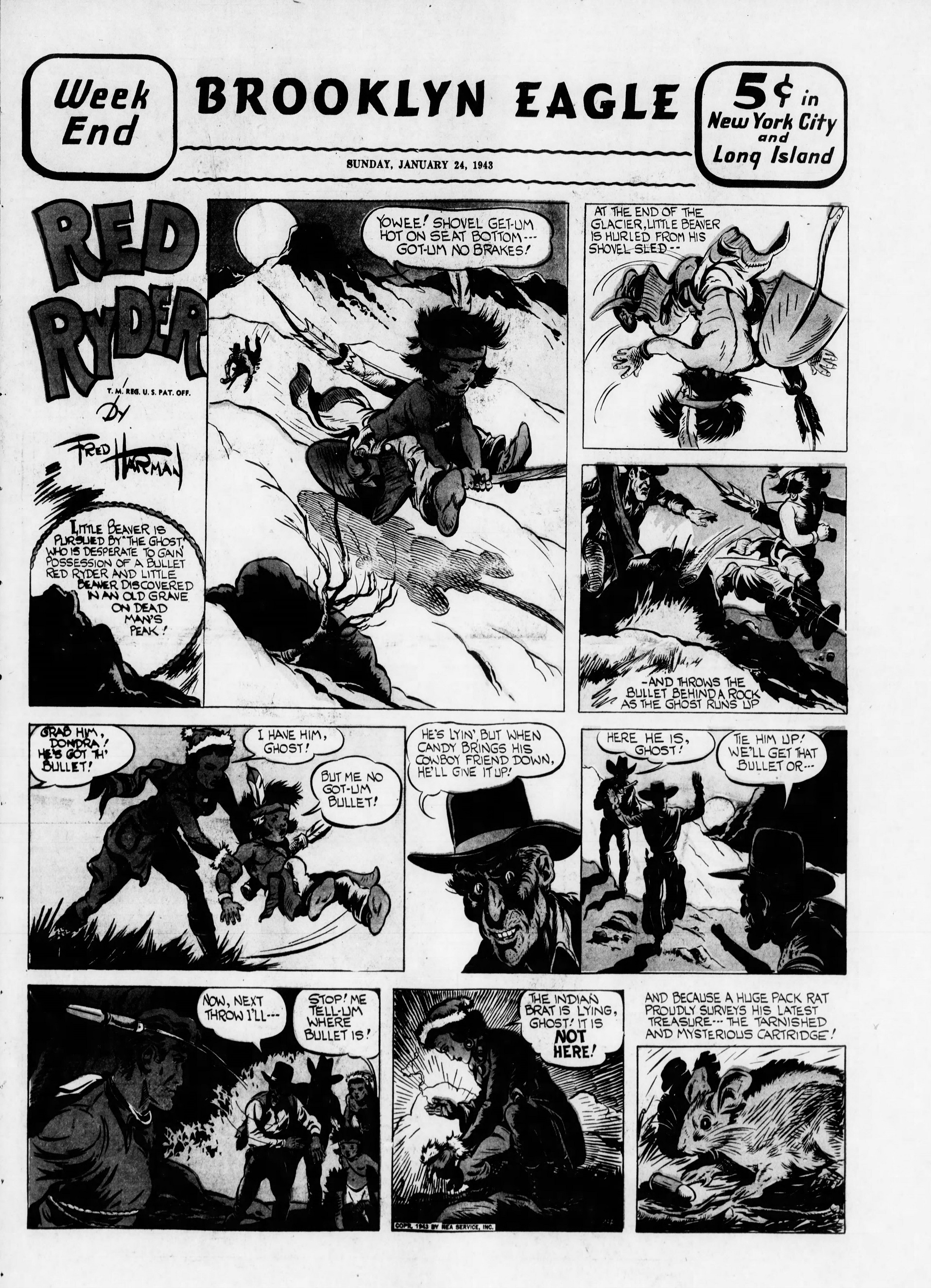 (LET"S HEAR IT FOR AMERICA'S NUMBER ONE HERO RAT!)
(Alice Marble would slap down Mr. Kovacs so hard if she wasn't otherwise occupied just now.)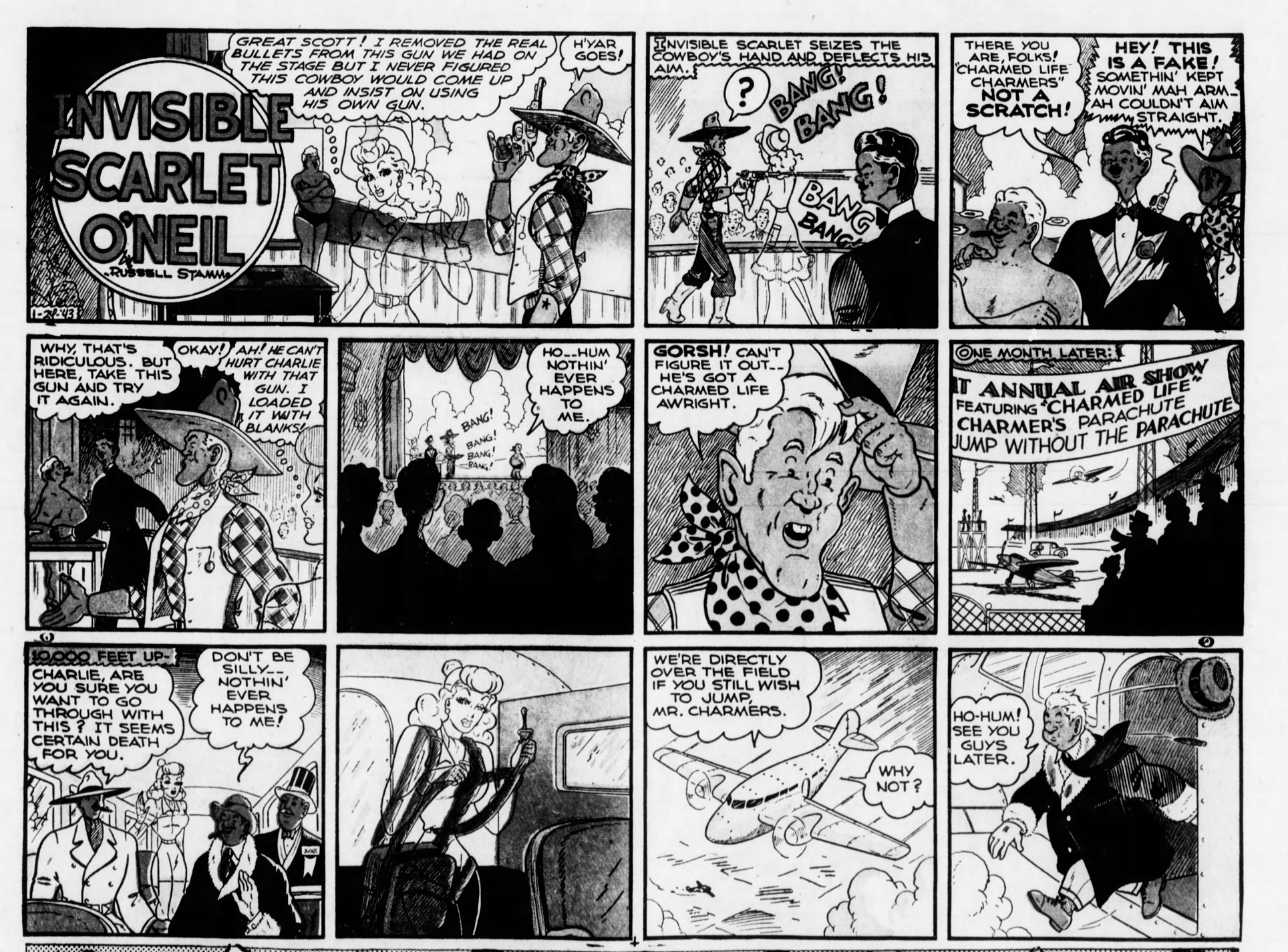 (Yeah, this is going to get old fast.)
(Gargantua resents this joke.)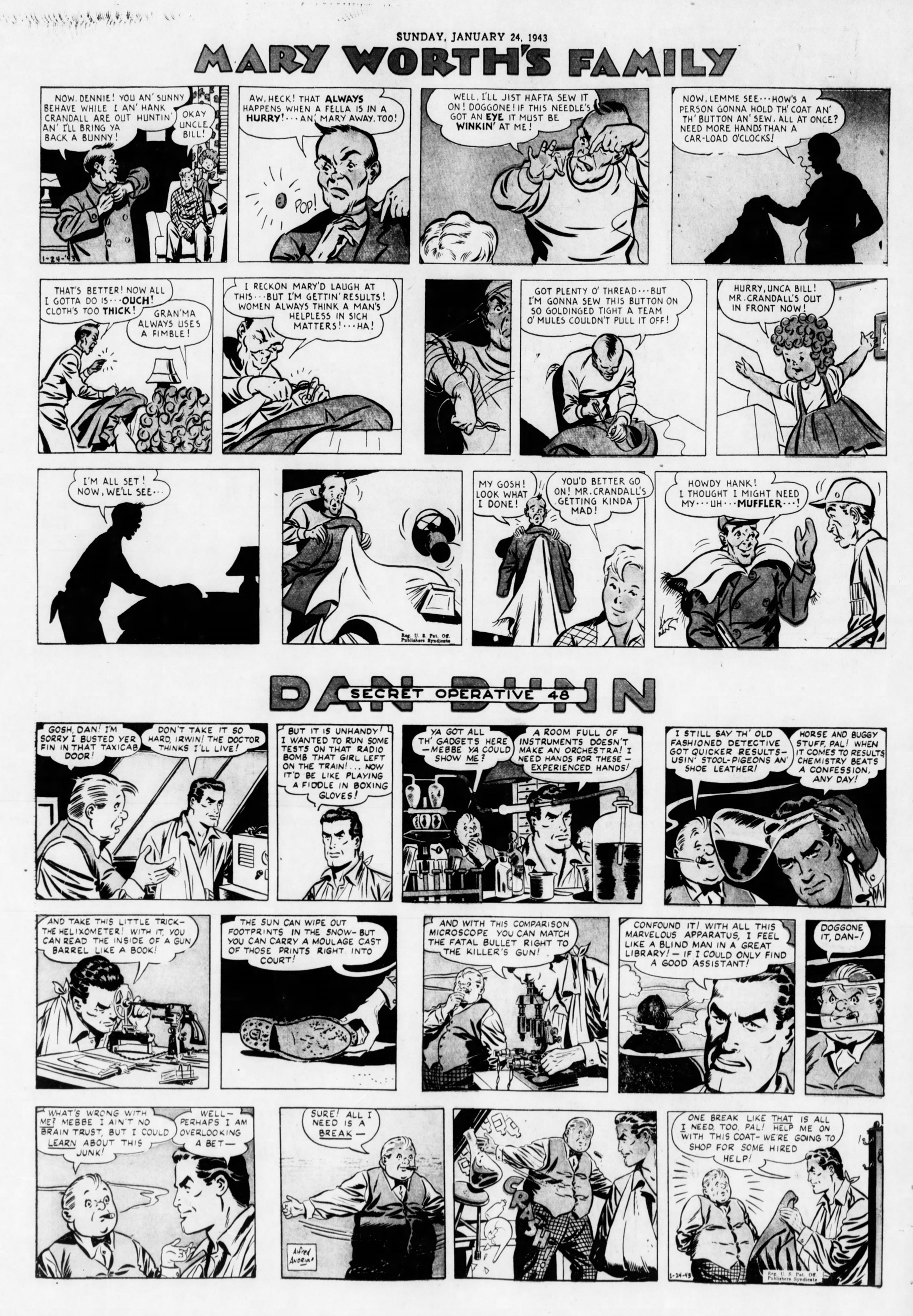 ("A bunny, Unca Bill? A DEAD BUNNY? WHAAAAAAA!" Oh, Mr. Andriola, it seems, REALLY HATES IRWIN even more than Pinson did. Better look into that opening at "Hugh Striver" before it's too late.)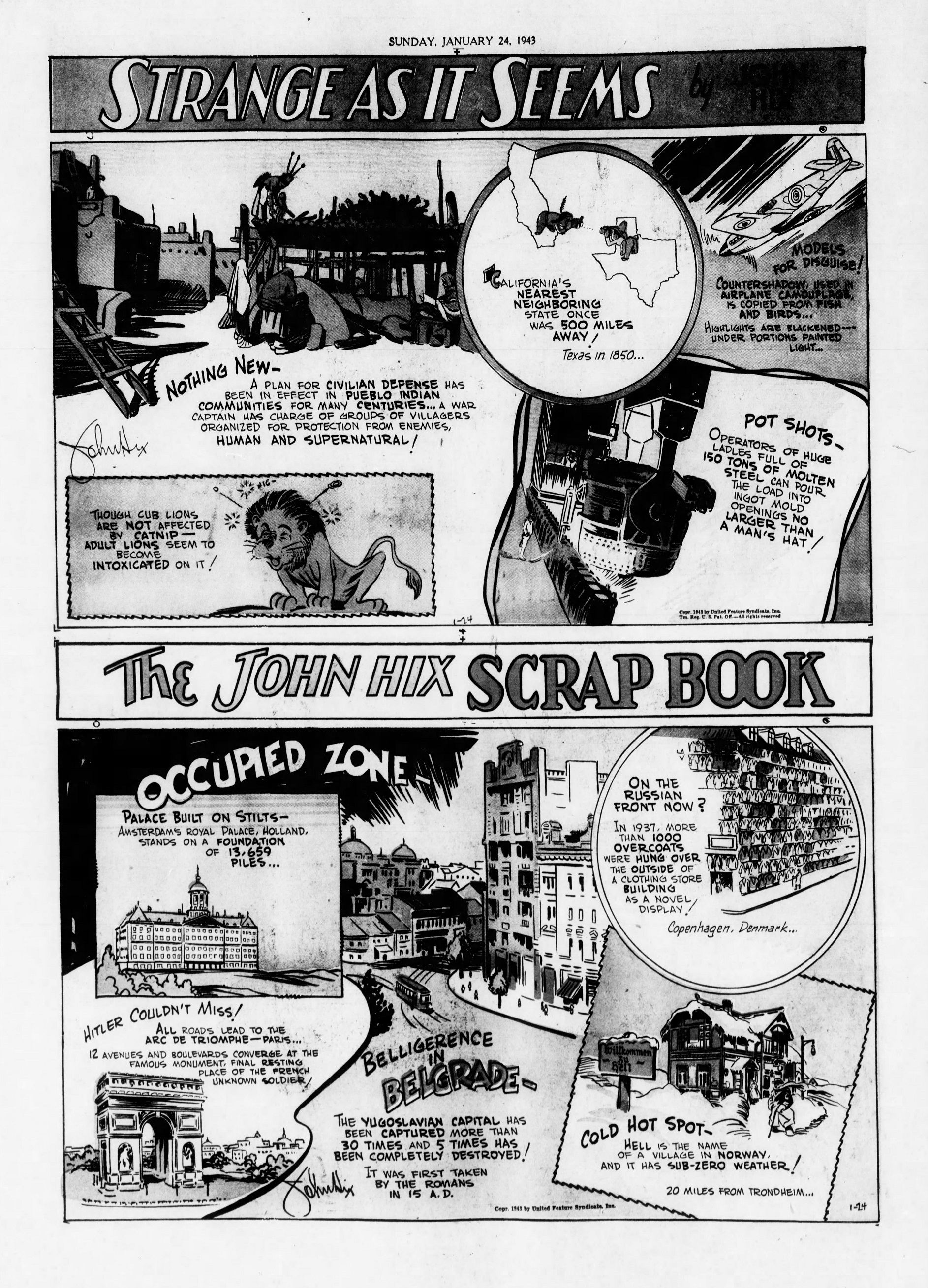 (Mr. Hix just wanted to draw a drunk lion today, that's all.)