This is a thread I promised myself I would do someday, if I ever got my hands on a Vanson Star Jacket again.
Turns out that occurred recently, and it's been a fun, but abrupt reminder of why this style of jacket simply does not work with my body type, at least at this time in my life.
But before we get to the nitty-gritty, let's talk about what a Star Jacket is. This is, as per Vanson's website - the upper half of a flat-track motorcycle suit. What is a "flat track suit?" Well that leads us to a larger question - What is flat tack racing?
It is in fact - Dirt track racing - at speeds up to 140 mph on the straights and 90 mph around curves. Dirt-style motorcycles with knobby tires, more upright of build, and this type of racing has existed in some for for over 100 years.
Here's an extensive article on this type of motorcycle racing -
https://www.americanflattrack.com/about
And here's what it looks like, from the same website:
I of course knew none of this when I first spotted a Vanson Star Jacket in 2001 in a small motorcycle shop outside of Chicago. I just thought it looked cool, and I knew Vanson was a quality product. As I recall, the shop had it priced around $300 and gave me a $50 discount for it with no hesitation. Funny, now that same jacket is $999 on Vanson's website.
So this one featured below recently came into my world. It's promptly restored both some passion for getting back on a bike, but it has also reminded me I am not a young man like I was in 2001. This jacket is really cool, even still today. The "star" is actually 2-additional layers of leather on top of the black competition weight. This jacket is rayon lined, with a simply "bead" collar. There is so much intricate leatherwork on the outside of this jacket, it really does not surprise me that it costs ~$250+ more than a Vanson Model E. There are also several nice patches sewed on, this all takes quite a bit of time to accomplish. THis jacket has two inside pockets (only) and 2-zippered vents at the back as can bee seen below.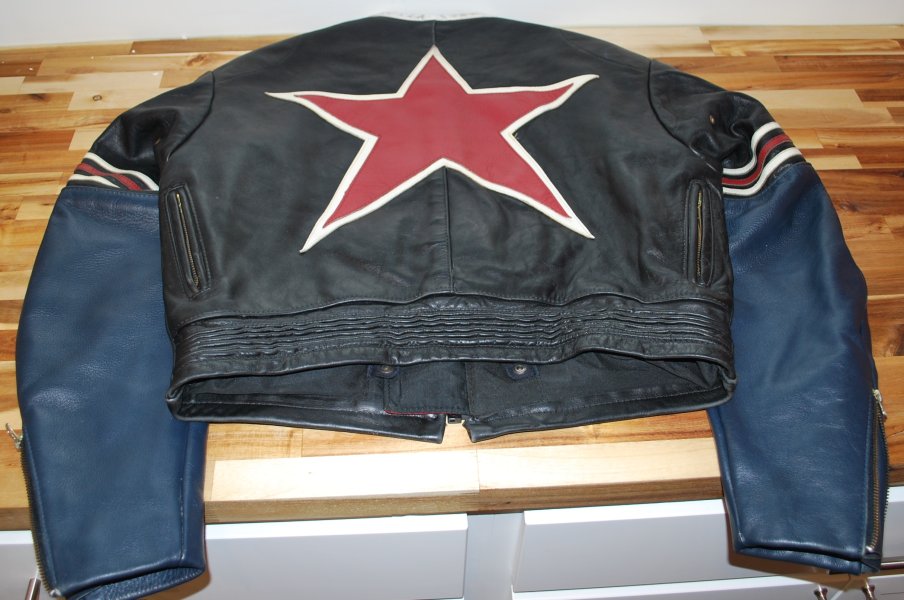 Looking at this photo after I put it on here, I do not really understand the "ribbed" back panel. There is not a zipper anywhere inside for attaching the track pants either, so somewhat of a mystery to me as to how this system really works.
I personally love the multi-color sleeves. The blue used here is really unique, more of a dark steel blue, and it's unique to this jacket as I understand. I think a model E Vanson in this same blue competition weight would be very sharp. This jacket is certainly older, not exactly sure the production date, but it's some really nice leather now that it is cleaned up.
If you look closely into these front photos you will still see some residue around some of the letters. This jacket was not clean when it arrived, and it's been through a wash cycle. I gave it a preliminary treatment for moisturizing after it was slowly dried out at room temperature. When the Urad products I purchased from Dena at Great Leather arrive later this week, I will give it a more full treatment. It does say something about the durability of old comp weight, as it came through all that and still looks and feels quite nice.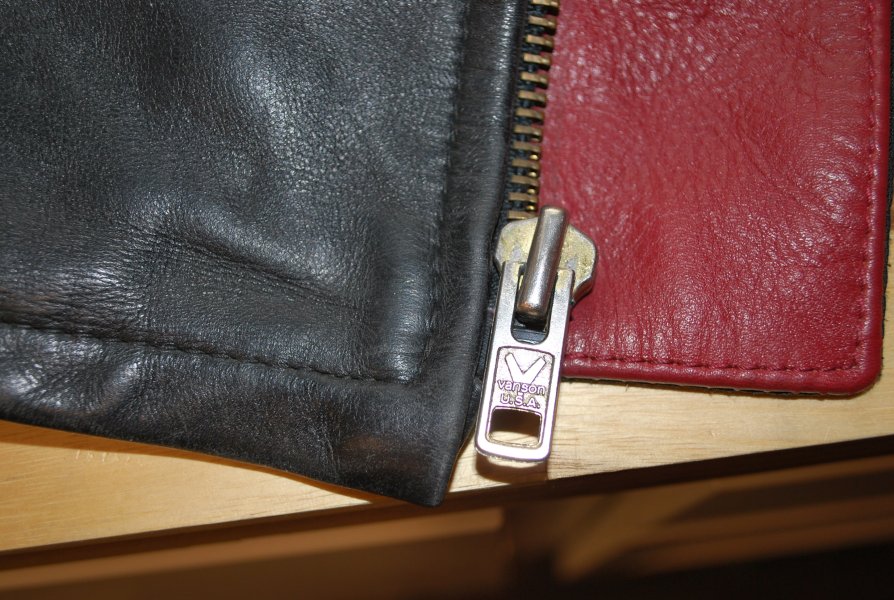 Here is where things get a bit funny. Being a Flat-Track top-suit design, it is incredibly short waisted. Check out these dimensions:
Back length - 20.5"
Front Length (straight down zipper to hem) - 18.5"
Shoulders - 19"
Pit to Pit - 23"
Sleeve (around curve, these are quite curved) - 26.5"
So how does that translate to me?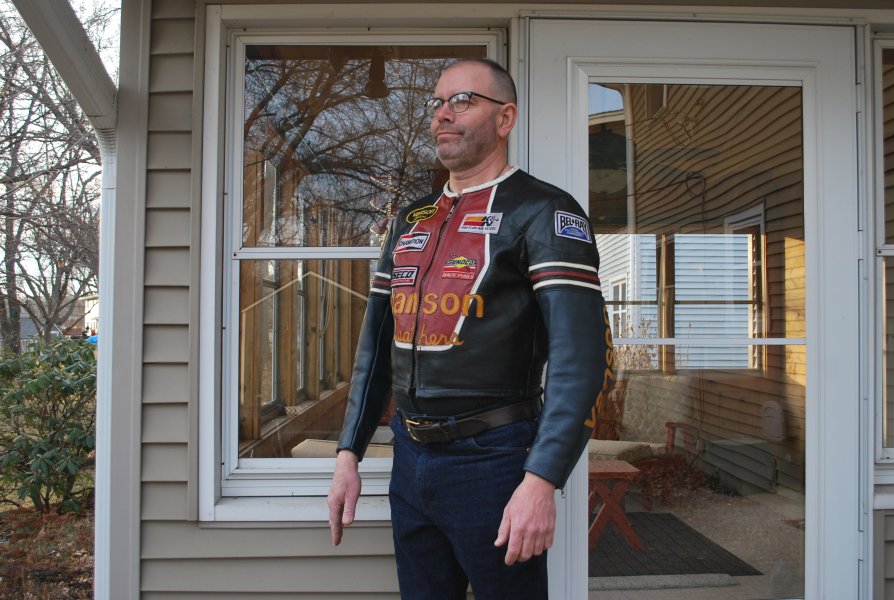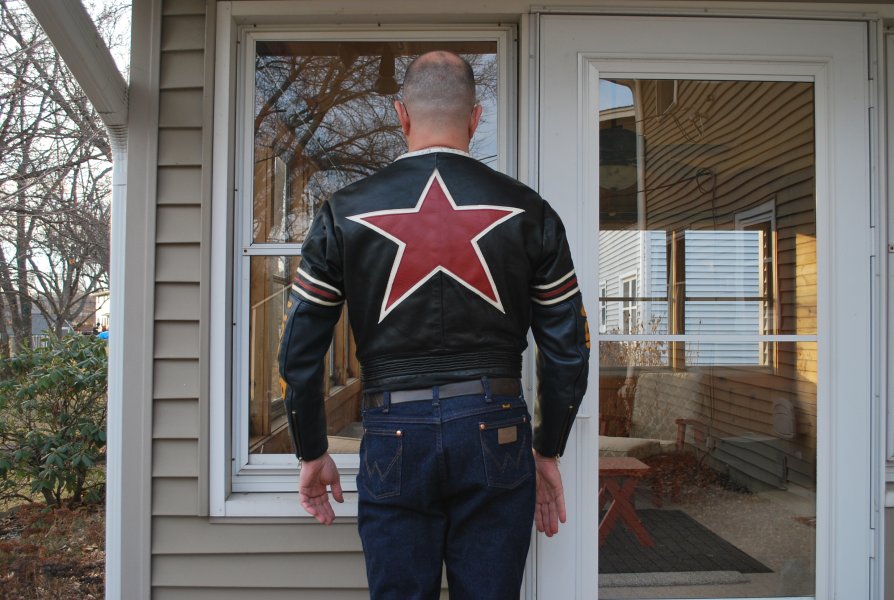 And I'll call this out a little closer here -- I am wearing the highest-wasted pair of jeans I own - Wrangler Cowboy cut. Check this out - see my tee shirt?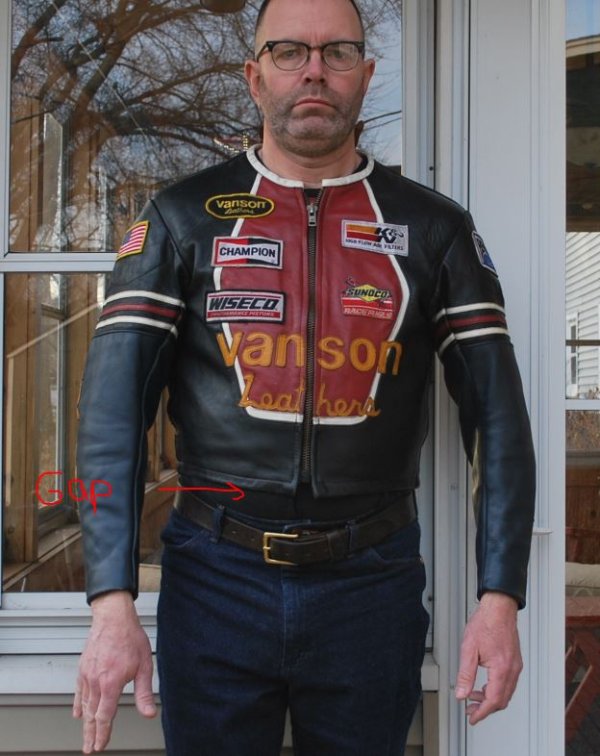 I simply will not go out in public looking this way. Maybe I'll invest in a track-racking motorcycle and start training up. However, I tend to doubt this is going to occur. I think it's been a fun experiment, and it gave me (and hopefully some of you all) a laugh or two along the way. I will be moving this Star along later this week after I get it fully treated. Expect to see it in the classified in a week or two.
Thanks for reading along!
Oh and in case you were wondering how it is un-zipped, well I did that too...