Act of Violence
from 1948 with Van Heflin, Robert Ryan, Janet Leigh, Phyllis Thaxter and Mary Astor
How is
Act of Violence
not better known? It's easy to understand why, in 1948, just a few years after World War II and with the economy booming, Americans didn't want to watch a movie about two veterans, broken by the war in very different ways, smashing into each other with shattering consequences, but over time, this movie's reputation should have grown.
With a revenge-driven story, tight directing by Fred Zinnemann, spartan settings and a small talented cast, this 1948 noir plays almost like a Western.
Van Heflin's character is a young, successful and well-respected contractor and war veteran who lives in a small Southern California town with his pretty wife, played by Janet Leigh, and their baby. Quickly, though, we see Van Heflin is being stalked by a newly arrived in town and menacing-looking man with a limp played by Robert Ryan.
At this point, even though we don't understand the motives, we're pulled into the hunt with our sympathies all for good-guy Heflin and not scary Ryan. But why is Ryan stalking Heflin?
Leigh, desperate to call the police, forces her husband Heflin to fess up. (This is not a spoiler as it comes up early, but knowing it will reduce the initial tension in the movie.) Heflin was Ryan's commanding officer in WWII where, when they were POWs, Heflin told their German captives about Ryan's plan to escape with other men.
Heflin also begged Ryan not to try the escape as he believed the men would all be killed. Heflin says he extracted a promise of leniency from the Germans for the men, but Heflin also admits he was rewarded with food in the starving prison camp. Of the six escapees, all were killed by the waiting-for-them and showing-no-leniency Germans except for Ryan, who was left with a crippled leg.
That is some tough stuff: was Heflin sincerely trying to save his men or did he really just want food for himself? Once he took the food, he muddled the morality, but life is a moral muddle. Ryan sees no muddle, though, as he - tightly wrapped in a trench coat, brandishing a large handgun and dragging one leg - is ruthlessly and single-mindedly trying to find and kill Heflin.
The rest of this taut cat-and-mouse thriller is Heflin running from Ryan as Heflin's wife, Leigh, tries to help her husband, while also coming to terms with the fact that her husband isn't the war hero she thought he was.
Ryan, too, has a woman - a girlfriend played by the wonderful Phyllis Thaxter - trying to save him as she knows revenge has poisoned Ryan. The implication is Ryan once showed her love, but his mission of vengeance is consuming whatever humanity he has left in him after the war.
Having fled his hometown and now hiding out and desperate in Los Angeles, Heflin meets a down-and-out woman played by Mary Astor who takes a liking to Heflin - she immediately starts calling him "handsome" - and introduces him to some shady friends of hers whom she says can help him "deal" with Ryan.
She has, maybe, ten minutes of screen time, but this is one of Mary Astor's best performances as, with minimal makeup, she looks down and out (yet still pretty in a weary-and-worn way) with the implication being she's an aging-out-of-the-profession prostitute. She takes over the few scenes she's in while creating a tough yet sympathetic character you won't easily forget.
The climax of the movie is as close to a Western-style dual as you can get at a 1948 California train station. It's not an easy ending - there are no white-hat heroes in this tale - which also helps to explain why
Act of Violence
didn't go over well in post-war America.
Today we understand war and veterans differently, but the cultural preference in 1948 was to see all the veterans as heroes who, having now returned, conveniently put the war behind them. But how many "heroes," back then, had mixed-up stories, maybe not as extreme, but similar to Heflin's? How many had grudges and grievances, again, maybe not as extreme as Ryan's, that they couldn't simply drop?
Act of Violence
asks questions most of America wasn't ready to face in 1948, but today the movie's unvarnished look at the scars war leaves on those who fight it, and the damage it does to those who love them when they return, is still relevant and painful.
With its incredibly talented cast - Ryan, Heflin, Leigh, Thaxter and Astor - all give moving performances and a spartan noir backdrop,
Act of Violence
is a gem of a movie, punching well above its modest budget, that deserves to be better known today.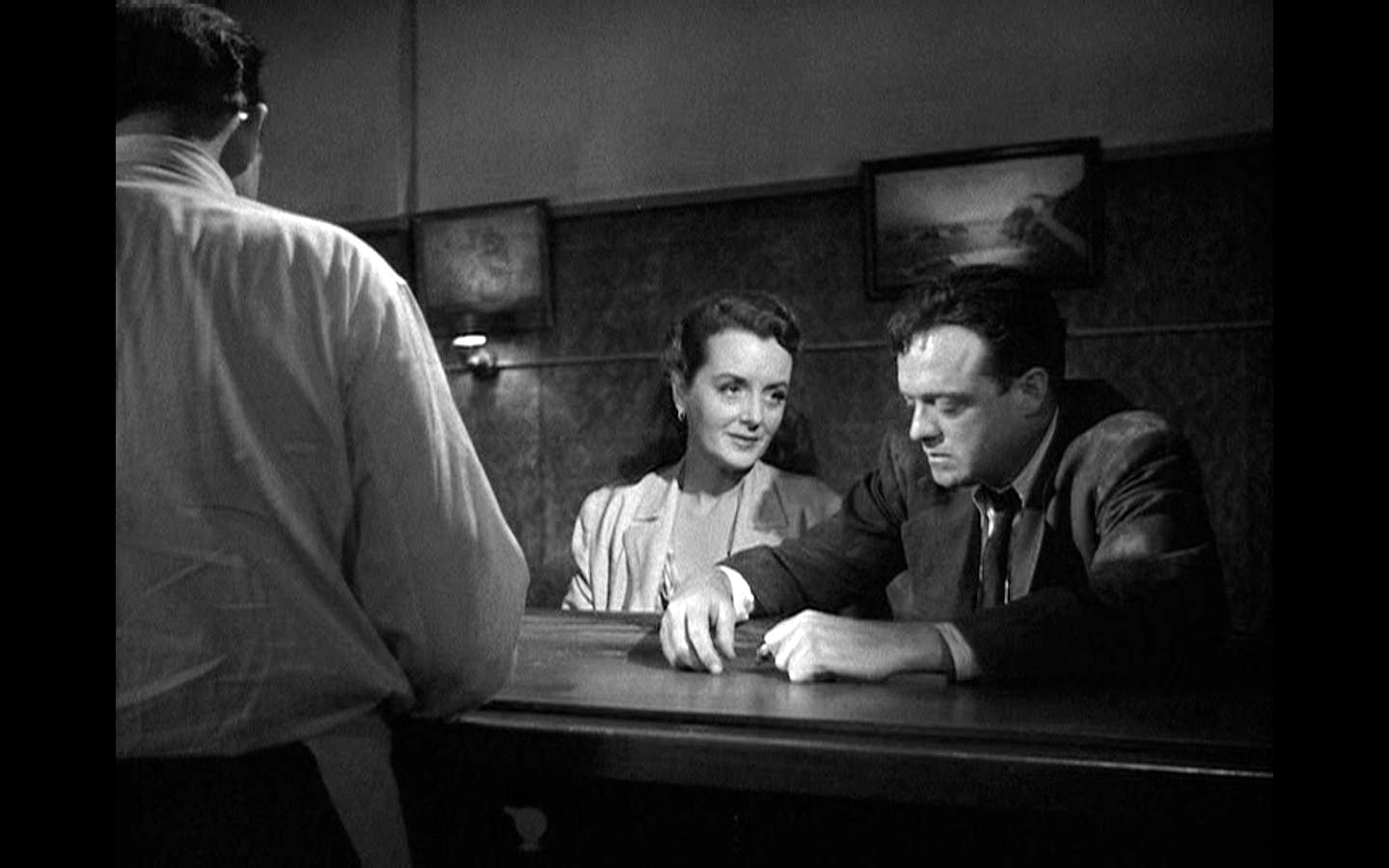 N.B. #1 In how many movies does pretty Phyllis Thaxter play, as she does in
Act of Violence
, a woman insecure with her looks (she's so worried about losing her husband to Patricia Neal in
The Breaking Point
that she dyes her hair blonde to compete)? Only in Hollywood, where the standard for beauty is at a fantasy-high level, could a woman like Thaxter regularly play a "plain Jane" character.
Phyllis Thaxter and Rober Ryan: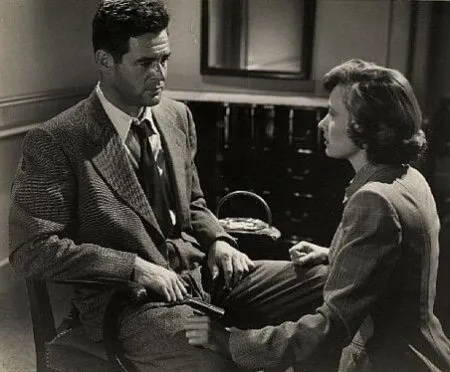 N.B. #2 Directors of Los Angeles located noir movies, like
Act of Violence
, smartly never miss the architectural opportunity of including a shot of Angels Flight, downtown LA's narrow-gauged, steep funicular railroad. Sure, it meets a transportation need, but the railroad's real contribution to the city is serving as a wonderful noir backdrop for all these cinematic tales of desperate people on the run in Los Angeles.
Angels Flight:
P.S.,
@Worf
, I think you would really like this one.