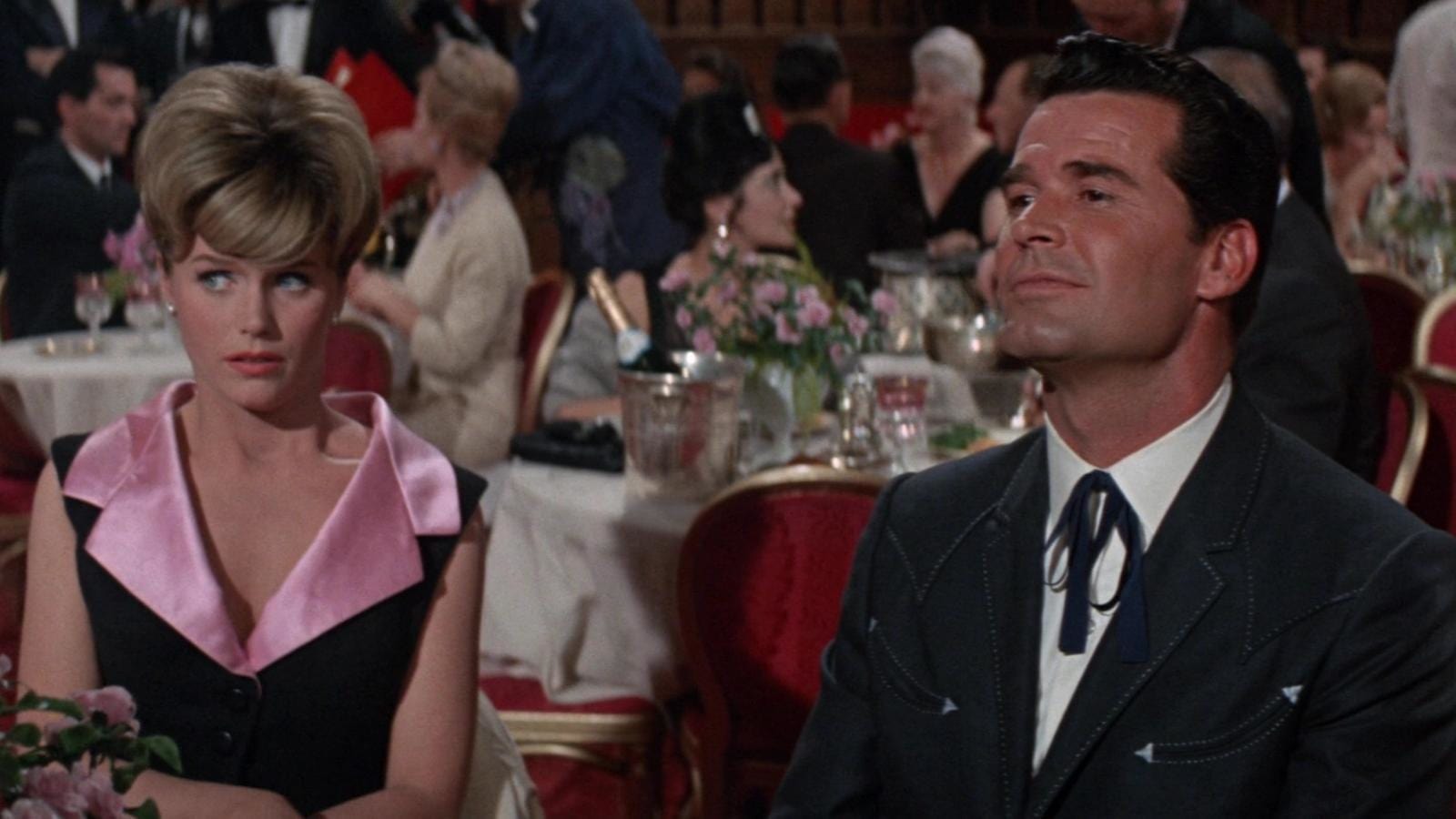 The Wheeler Dealers
from 1963 with James Garner, Lee Remick, Jim Backus and John Astin
"You don't go wheelin' 'n' dealin' for money. You do it for fun. Money's just the way you keep score."
The Wheeler Dealers
is not meant to be taken seriously; it's really a 1960s version of the 1930s screwball comedy right down to single men and women acting as if the universe would be sucked into a giant black hole if they even so much as slept in unlocked adjoining rooms.
Taken in the spirit of "this is all hyperbole,"
The Wheeler Dealers
is a pretty fun way to pass almost two hours. James Garner plays a Texas "wheeler dealer:" an oil wildcatter who spends his time raising money with fast talk about his crazy schemes that he either pulls off or creates enough tax write offs for it to work out in the end.
On his latest "capital raising" trip to New York City, he meets a young stock analyst played by Lee Remick who is trying to save her job by getting clients interested in a dog of a stock called Universal Widgets.
He's handsome; she's pretty, so the real point of the movie is getting these two together, but first a bunch of things have to get in their way. Garner's character is all for the getting together, so much so that he helps Remick drum up interest in stupid Universal Widgets, unfortunately, through what, effectively, is a pump-and-dump scheme.
The fun in this one is not the details of the exaggeratedly corrupt and silly "Wall Street" schemes, but watching Garner having fun "wheelin' 'n' dealin'," as straight-laced Remick stands by in shocked but intrigued amazement.
Garner buys modern art he knows nothing about and syndicates it out to his old oil buddies; he has Universal Widgets, now also syndicated out, ridiculously drilling for oil in its home state of Massachusetts and he buys a chi-chi New York City restaurant, effectively, with the restaurant's insurance company's money.
It's all nonsense, but Garner is good at it and is clearly enjoying his role. Remick, too, appears to be having fun as her character begins to like the "wheelin' 'n' dealin'." Helping it all work, the two stars have real on-screen chemistry, which has you rooting for them to get together.
Along for the ride is Jim Backus playing Remick's completely immoral boss at the brokerage firm and bumbling John Astin playing a government regulator envious-of-the-wheeler-dealers as these silly movies always need a few goofy character actors.
Stylewise, it's all early-sixties big cars, big hair for the women and tailored clothing for everyone, plus Hollywood was still amping up the color palette to compete with TV (think of the Doris Day and Rock Hudson battle-of-the-sexes movies and you got the look). It's fun time travel to a world that probably never really looked quite like that.
Despite the cartoon nature of Garner's "wheelin' 'n' dealin'," you'll recognize the core similarities to modern-day pump-and-dump schemes like we've recently seen in meme stocks and many corners of crypto.
The planned hype, calculated story building, intentional appeals to emotion and fear-of-missing-out narratives of those modern schemes are all here in Garner's gaming.
It's pretty amazing to see the blueprint of modern-day pump-and-dump schemes in a movie from 1963. As succinctly explained by Garner, "we got to build a bandwagon for these people [investors] to jump on."
In all of these movies, the story doesn't really make sense and the misunderstanding - Remick thinks Garner switched hotel rooms to be next the hers on purpose and, later, she thinks he sabotaged her career so that she'll marry him, he didn't do either - would easily be resolved in real life, but if you just go with it, it's silly fun.
If you've seen
Pillow Talk
,
Lover Come Back
and
That Touch of Mink
so many times you're worn out, then
The Wheeler Dealers
will be a fresh version of the same basic story and style, but with James Garner having a ball "wheelin 'n' dealin'" his way into pretty-as-heck Lee Remick's heart.