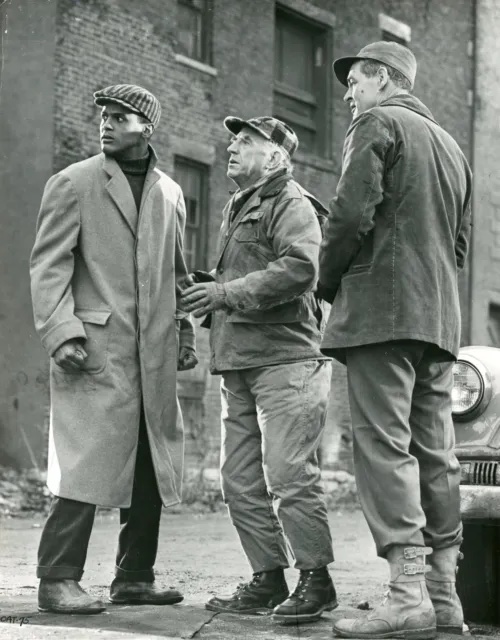 Odds Against Tomorrow
from 1959 with Harry Belafonte, Ed Begley, Robert Ryan and Shelley Winters
Odds Against Tomorrow
is a film-noir heist movie with vicious racial overtones that has lost none of its punch since its release.
A disgraced and pensionless ex-NYC cop, played by Ed Begley, recruits a tough and taciturn ex-con, played by Robert Ryan, and an urbane black singer with a large mob-owed gambling debt, played by Harry Belafonte, to knock off a small-town bank.
Director Robert Wise leveraged a screenplay by Abraham Polonsky based on a novel by William P. McGivern to create an incredibly taut movie about three people, whose lives are failing, taking a last shot at achieving personal redemption by pulling a huge heist.
Begley is an old man resentful that he was the fall guy for a political cover up; Ryan is a late middle-aged angry man who blames everyone else for his failures and Belafonte is a young, promising musician who's facing ruin from gambling debts.
Begley's team is immediately stressed as Ryan is an unabashed racist who starts taunting Belafonte from their first meeting. Yet as the saying goes, need breaks iron, so these two antagonists agree to work together with Begley for their own selfish motives.
The story is good, but as with most engaging movies, it's the people who matter and Wise gets the most out of his incredibly talented cast by rounding out his characters.
Ryan's girlfriend, played with emotionally needy perfection by Shelley Winters, is financially supporting proud Ryan, which is eating away at him. He's a despicable character, but he's complex and we come to understand him.
Belafonte is equally complicated as he could be comfortably successful, but his gambling addiction, perhaps driven by his passion for a luxurious lifestyle, has already caused his marriage to fail and now has him staring at ruin.
Begley we see is a bitter man trying to replace the pension he believes was stolen from him when the political machine he was part of needed somebody to go down and he was tagged.
By the time we see these men head up the Hudson to the bank they plan to rob, we also see that all their personal baggage is there with them, especially Ryan's arrant hatred of Belafonte simply because Belafonte is black.
It's a raw racism that doesn't require a "new theory" to explain it or special academic skills to see it because Ryan's hatred of blacks is so God-awful out loud. It gives Ryan, a man who is angry at his own failures, someone to feel superior to.
Begley appears not to care about race and tries to get Ryan to let it go for the good of the heist, while Belafonte ignores the goading up to a point. These are three actors who understand their craft.
The subtle beauty here is that Belafonte is no hero, as he would be portrayed today. Instead, he's a compulsive gambler and criminal, but we still feel great anger at the indignities he, regardless of his personal shortcomings, must endure from racist Ryan.
The planning stage of the heist is good as is the heist itself. Both are gripping and have a
The Asphalt Jungle
- the progenitor of the modern heist movie - feel as, in particular, you can't help somewhat identifying with the crooks.
The movie's beautiful black and white cinematography, kudos again to Wise, has a spartan look and feel that echoes the stark choices faced by its protagonists. Plus today, the on-location shots make for wonderful time travel to late 1950s New York.
When the movie is almost over, fans of the original
Star Trek
TV show will notice a powerful "Let That Be Your Last Battlefield" moment foreshadowing the epiphany in that episode's famous half-white-half-black-face storyline.
Wise shows that tackling racism in a movie can be handled much-more effectively by weaving a message into a broader story than by overtly preaching denunciation. Modern virtue-signalling screenwriters and directors could learn a lot from Wise.
Odds Against Tomorrow
is a powerful, engaging and atypical film-noir/racism mashup released at the end of the original noir era. Impressively, its forward-looking message still resonates today.