Super Moderator
Bartender
What is now known as the "A-1" style of leather jacket came into vogue in the 1920s. The A-1 was adopted in 1927. By that point this style, adopted from golfers and sportsmen, had already been on the market for the better part of a decade.
The separable bottom zipper wasn't invented until 1927, and wasn't seen on jackets until around 1930. Zippers were seen on specialized full flight suits (which didn't require a separable bottom) and on pullover shirt style jackets (mostly for children), but for the most part, but in the 1920s, buttons were king. In 1930, once the kinks had been worked out of the 1927-patent separable-bottom zipper, and the design entered production, they started being applied to jackets, both leather and cloth, in a big way.
As the 1920s progressed, ads for leather jackets became much more common. Presumably this mirrors their ascension in popularity in mainstream fashion. (That is to say outside of specialty aviation/motorcycle suppliers). Suede was a common material, but it is seen less and less in ads over the course of the decade. This style was marketed heavily towards golfers and for other outdoor pursuits. Early ads reference that before its boom in popularity, it came from hunters/outdoorsmen.
1923
These styles were made and advertised for both men and women. The styling was nearly identical, the biggest difference being the direction of the buttoning.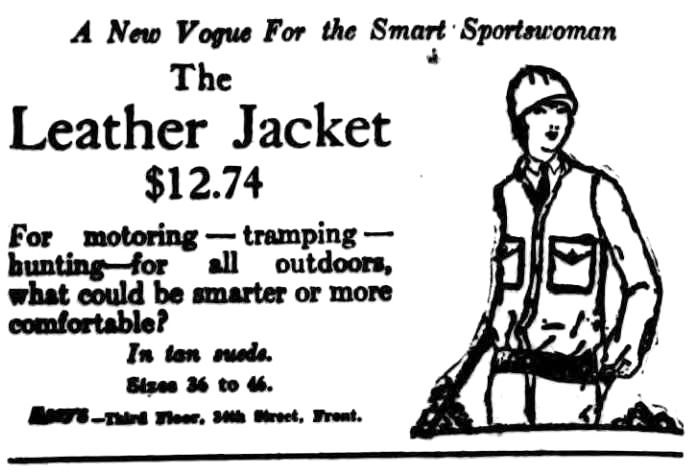 1924
By this point, leather jackets were already established for motoring, aviation, and motorcycling. Generally, the 3/4 length double breasted style was favored.
Waist length jackets with knit collars, cuffs and waistbands began hitting the scene after World War I. This Vanity Fair piece discusses the introduction of this type of full-button-fronted jacket. Available in gray, taupe, green and all shades of brown. Early on, many of these jackets were made of suede.

1925
Attached collar and long body length. Fancy knit pattern to the cuffs. "The Leather Jacket is no longer the exclusive property of the huntsman". Blue suede.
1925
Suede, yet again. Shown in outdoors, hunting, ice skating and golfing contexts. Tan and Gray.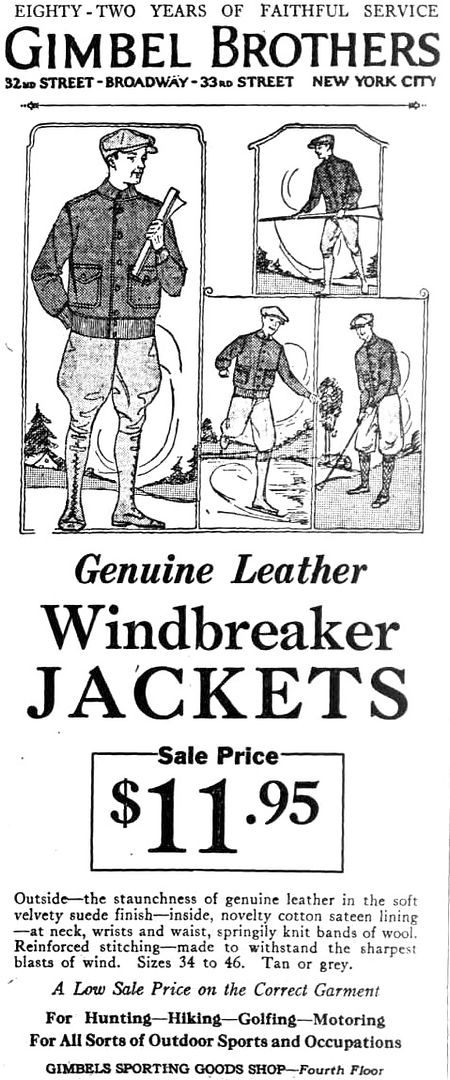 1926
A sleeved vest style, also aimed at the golf market. Cloth jackets of this style had been marketed to the golfing crowd since the 1900s. It has a shirt style collar, despite the vest styling. Knit cuffs.
Last edited: