Hello everyone,
Im quite of a new member here and this is my first real posting on this awesome forum. Recently i purchased this peacoat which at first i thought its just one of those 60s or 70s peacoats that you can many times sea in Eastern Europe (thats where im from). But at a closer inspection and few opinions of my friends im quite positive that is 1920s or earlier peacoat. Some even said it could be rare 1890s peacoat.
The condition on the coat is great. The wool is fully intact and there is no moth holes whatsoever. All the buttons are present, although there is some dirt (that is probably easy to clean) on third button on the right side which is pictured on picture 9 and in the message under on the 4th picture. The collar and cuffs are made out of astrakhan fur, collar being well preserved, the cuffs do have some damage as seen on pic 6 and 7. That in my opinion is also the only con of the coat. Lining is very nice and there are no tears on it. Obviously pocket liners are a little dirty. The size on the jacket is also quite big, i suppose its around EU52 or European large. The measurements are following:
Back, pit to pit: 54cm/21.25 inch
Chest, pit to pit: 55cm/21.65 inch
Shoulder to shoulder: 46cm/18 inch
Sleeves from shoulder seam to cuff 65,5cm/25.75 inch
Full length: 91cm/35.8 inch
For this very moment the coat is NFS but after i gather enough information i will most likely put it up for sale or even more likely, offer it for trade for clothes of the 1930s that would fit me since i dont see myself really wearing it much. I pictured what i thought was the most important, but if i missed something that could help you date it do let me know. I am curious to hear your opinion on age as well as value since im brand new to vintage selling and dont really know much about prices yet - so im hoping for community to help me out here! Thanks in advance for all your answers!
Kind regards,
Nejc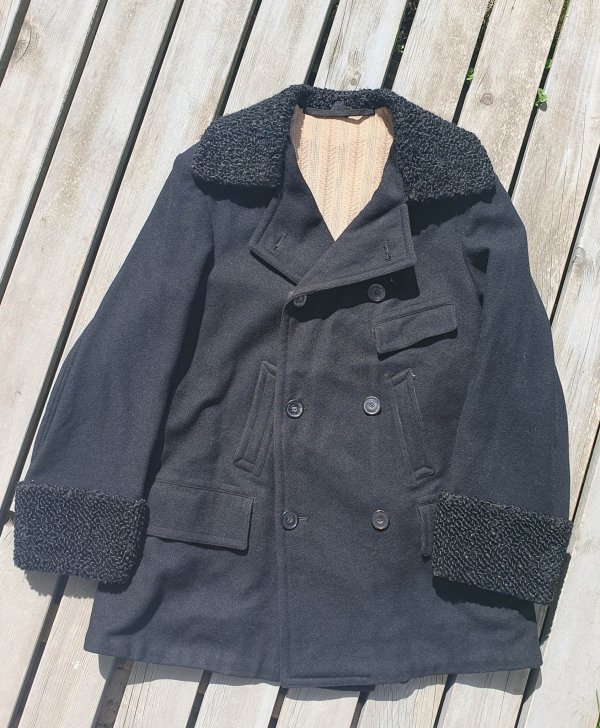 Last edited: