I started creating these Notes/Lessons/Experiences on an Audio Production forum. I'm not sure how they'll go over or how long I'll continue but I figured I'd place them here too because, who knows, someone might be interested. They are a bit technical but it does give you a sense of how you execute an modern "Radio" Drama.
Intro:
From 1985 through 2015 I produced, directed and wrote a series of about sixty Audio Dramas for Random House Audio Publishing. These productions had run times stretching from one to three hours, casts of four or five up to over twenty actors, and sound effects created both live in studio and, later, in the field and on realistic locations.
Locating a Studio and setting up a Session
We liked to record in a space big enough to allow some of the reflections to drop off, big enough and well treated enough to pass for the outside (you can always add reverb to simulate the indoors) but one that still didn't sound "dead." "Dead" sucks up volume, "dead" is usually uneven in its frequency absorption and, oddly, "dead" doesn't sound like the outdoors which is actually full of subtle and complex reverberation. So the challenge was to find a studio that was big, reasonably inexpensive, and a nice balance between too live and too dead.
To audition studios, we would take two mics, set up back to back, and a portable recorder. We would find a good sounding spot in the studio, often asking the studio engineers about what they thought the "sweet spot" was, and then Paul, our producer/editor and I would read parts of the script in everything from a whisper to a shout.
We would then listen to the various studios we had visited through head phones (to minimize any additional room acoustics) paying particular attention to the sound of the mic that was NOT being spoken into at any particular moment. If the sound of our reading through the "off" mic sounded "smooth" and natural then we had discovered a studio that was a contender. It is hard to explain exactly what this sound is, but when we listened to several studios back to back it was always obvious.
In this picture our Producer and Engineer set up mics to test the space ...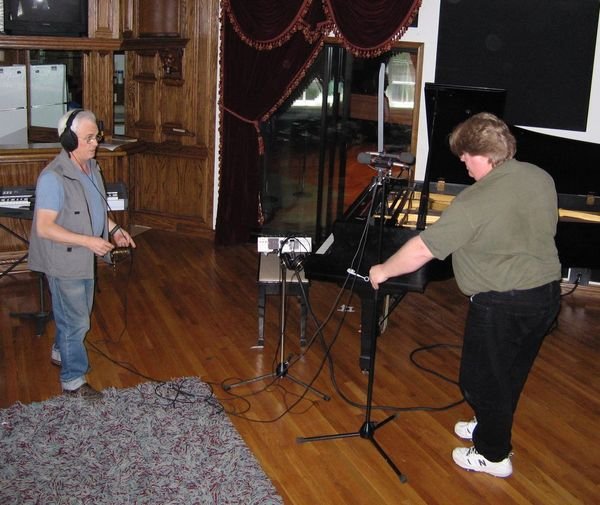 When we record a show in a studio, we would set up our mics in an X pattern about 5 feet from each other facing out. There would be no baffling or isolation between them and as little as possible that would keep the actors from making eye contact or seeing one another's movements. We never used headphones. I dislike it when actors start playing to the sound of their own voice.
Although we would often mute the mics not being used as we cut the dialog sometimes that is impossible, like when two actors speak over each other. When we had to have more than one mic open at once we needed the "smoothest" presentation possible from mic to mic. Often if we needed an actor to sound like they were far away we would use the recording from someone else's mic to give it that "off mic" distant feeling.
The bottom line is to be aware of the studios that sound the best and the spots in a studio that sound the best and use them to your advantage. Testing with exactly the same equipment in each space is required to minimize error.
Here's the X pattern of mics. We use double wide music stands that have been coated with Line-X to minimize any resonance. The "cans have been taken off the track lights and the piano was stuffed with moving blankets for the same reason.