I'm finally taking the plunge on a shearling jacket. I've always wanted one and finally got permission from the "Boss" to purchase
ONE
. I guess I wore her down to the ground, because she told me that if she agrees, then I have to stop talking about it. (no chance, but I agreed with my fingers crossed!)
Anyway, I'm getting an Aero through Thurston Bros, just because it's much simpler and I can get a fit jacket. Carrie spent so much time with me on the phone, while I was sounding like a kid choosing a Tonka truck. My choices are the pre-war Irvin or the AN-J-4.
Pre-war RAF Irvin
Pro's (in my opinion):
Classic style
Brown fur coloring
Eyeball catching, you don't see many of these
Zippers on the sleeves
Belt around waist
Cool zipper pulls
Cons:
No pockets
Exposed fur in wrists and waist
No leather reinforcements in sleeves
#5 zipper, wish it was a #10
AN-J-4
Pro's:
Rarely seen shearling jacket
Pockets for gloves, iPhone, etc.
Horsehide reinforcement in sleeves and waist
No fur at waist or wrist
Cons:
No belt for tight cinching
Off white fur, could get dirty quickly
Underarm gusset not sheepskin
#5 Talon zipper
No leather reinforcements in sleeves
I'm leaning towards the AN-J-4 because it looks like it can take more punishment, even though either jacket will be babied and wiped with a diaper. I live in the Northeast, so I should get use out of them when it snows.
I would like to know your opinions, while I have time to make a decision.
The Irvin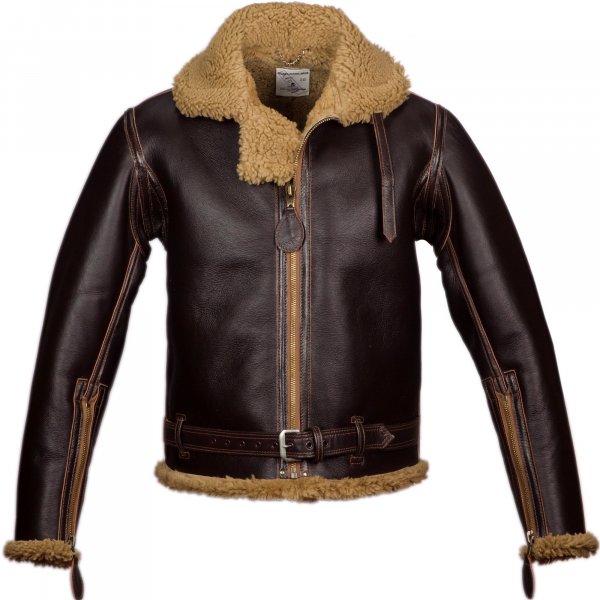 The AN-J-4