I got a call from my buddy John McLaughlin in Milwaukee ( Brass Rooster) telling me that he and his lovely wife Kate were in the basement of a building in NYC, digging through boxes of never used felts hoods that were made for the Mallory and Merrimac hat companies in 1952 and 1953. OK, you have my attention, now what?
John & Kate were given permission to buy what they wanted before the owner sent the rest off to another Milliner and wanted to know if I wanted to participate in the deal.
REALLY???
YOU HAVE TO ASK??? LOL
SO, I was able to buy in conjunction with John & Kate 100 bodies that are "content unknown". Some feel like beaver but most likely are not, but ALL of them are 61 or 62 years old and completely stabilized felt. For those who are new to the hobby, this means that the felt has felted itself to the maximum density and cannot get any denser. All of them are featherweight , lighter than anything I have worked with, and totally unique. I posted a picture of the first hat to be made for a client in the "Official" VS thread but this story needed to be told here. It has been in the works since March and have been dying to tell everyone. This has been a hatters dream, the big score.
Colors ( not complete)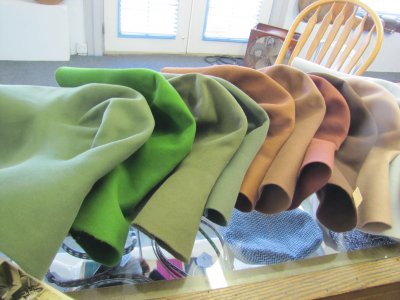 I need to Thank John and Kate for including me in on this and please know that they also have these bodies and will be coming out with what I believe they are calling the "Vintage 100". Look for VS and Brass Rooster collaborations in the future.