Just a word of warning about Tilley hats:
the new ones could give you cancer.
I bought a Tilley LTM6 "Nylamtium" (plastic) hat. The materials for this hat must run to a couple of dollars, the rest is pure profit underpinned with lots of marketing. Gone are the days when their hats were made of heavy, durable cotton duck and English brass grommets; now they're just cheap petrochemicals. The fact that they can sell them for the same price is testimony to the wonders of marketing, as I said.
Unfortunately, the sun shines brightly through the aeration section in the crown of the hat, bathing my balding head in UV. For me, this hat is a cancer risk. See the problem here: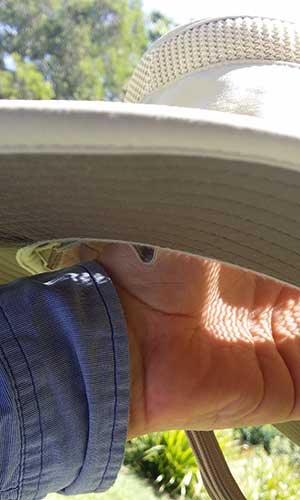 I contacted Tilley about the sun shining through the crown onto my head, and they threw a variety of excuses at me:
"Nobody has complained before" — this is a typical (and usually dishonest) response to a buyer complaint, in my experience
"Our hats are UPF tested by an outside lab. These hats have been given a UPF50+ rating" ... but if you check the tests, you find that the hat FABRIC was tested, NOT the hats themselves. More dishonesty.
"Visible light can penetrate the mesh, but none of the sun's harmful rays" — They must think their customers are idiots. The strong light coming through the crown is FULL of UV rays.
In short, the hats are, in my opinion, a health disaster for cancer-prone, balding men, and should be either removed from sale, or sold with a UV warning, or have the "Maximum UV SPF50+" advertising barred.
Astonishingly, Amazon is full of 5-star customers reviews, many by men like me, balding and with a history of cancer, praising the hat for protecting their bald heads. The reviews there are either false or people are more stupid than I ever suspected.
Since the packaging and paperwork for this purchase was discarded by my wife, I am stuck with it. She has offered to sew a sleeve inside the hat crown to stop the UV penetration, and I may go that route.
And regarding their "lifetime warranty", when I tried to replace my lost old cotton Tilley using the warranty, they refused, saying "The hat replacement policy only covers hats that are actually worn out, and the hat insurance would replace the hat at half-price within the first 2 years of purchase." Which begs the question: why put "Insured against loss for life" inside the hat when it's a lie?