After wearing an Akubra Bushman for a few months I've really come to love these wide brimmed open crown hats, I had been looking for an old Stetson Boss raw Edge or similar before realising how similar these style of Akubras can be to those old all weather wide brimmed majesties.
I've come to the realisation that the Sombrero can be styled very closely to those old Stetsons of the 1920s or whereabouts, and have decided to order one very soon, but I really don't think the supplied cow hide hat band does that hat justice or any favours!
Although less practical for hard wear in all weathers than a leather band, I really dig the look of the mid size grosgrain cloth bands as seen on those early Western hats, and was wondering if anyone had suggestions regarding where I can get hold of one, similar to the linked photos. A replica of the old Stetson frayed band would be even better, if someone here makes these with vintage ribbon I'd be very interested (in beige, that bronze/gold colour found on the BOP, or very light brown/green for example).
Thanks in advance for any help, or for photos of your or other replacement bands you've seen other than leather ones - I'm aiming for a fairly simple or elegant look.
This vintage cowboy hat was made by the G.W. Alexander hat company of Reading, PA. However, at least some of the components of the hat are sourced from the John B. Stetson company of Philadelphia,…

vintagehaberdashers.com
I have a weakness for early westerns. I don't know why- too many cowboy movies as a kid? The allure of the open range? This is an early Stetson Boss of the plains, probably dating from the 19…

vintagehaberdashers.com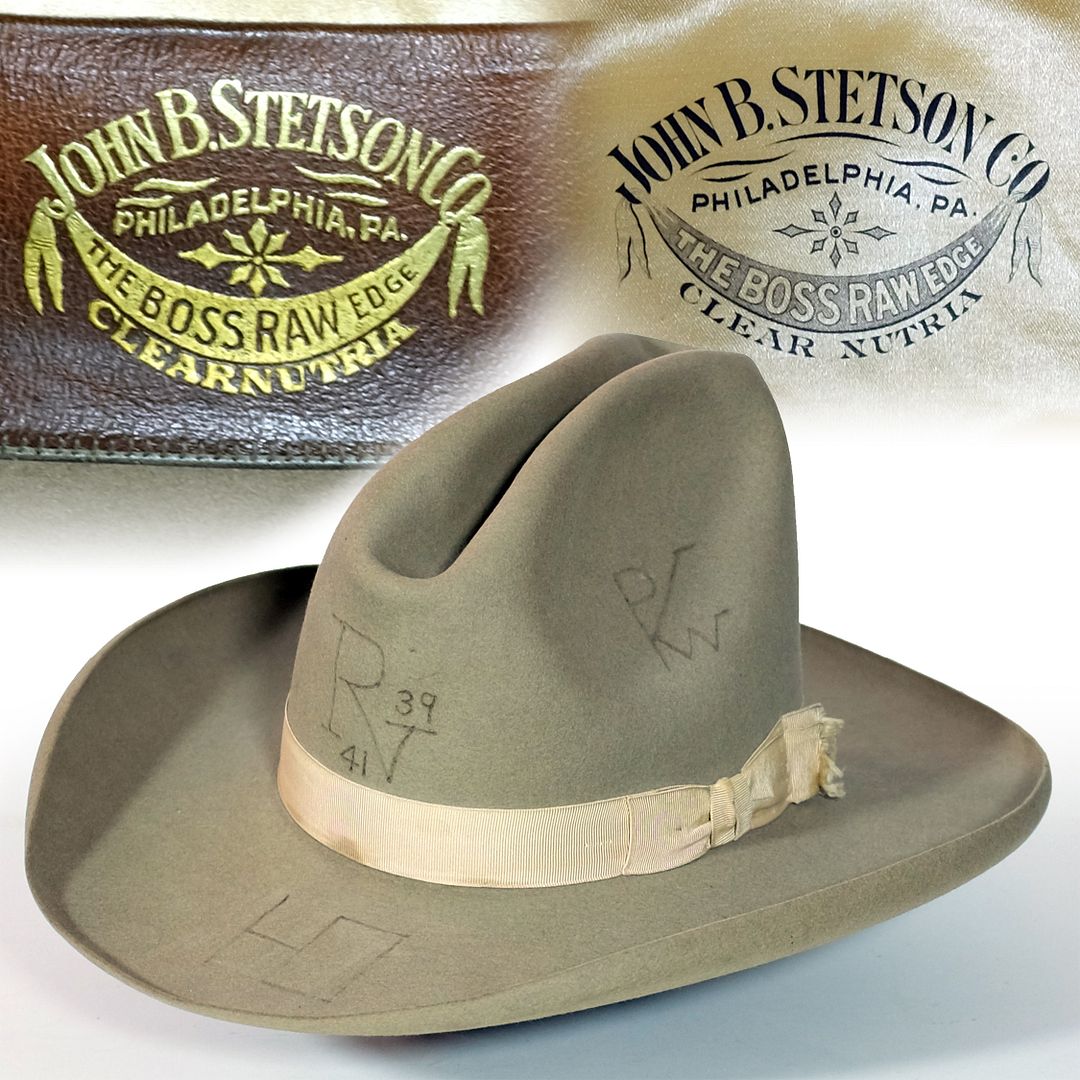 This vintage hat was made in the 1920s by the John B. Stetson Company of Philadelphia, PA from clear nutria felt with a "Boss Raw Edge" brim treatment for the Vic Hanny Co. of Phoenix, …

vintagehaberdashers.com
Last edited: