Its been a while since I did a review... But here goes...
I've been wearing this jacket often since I received it, and initial impressions stand up. Its a beaut!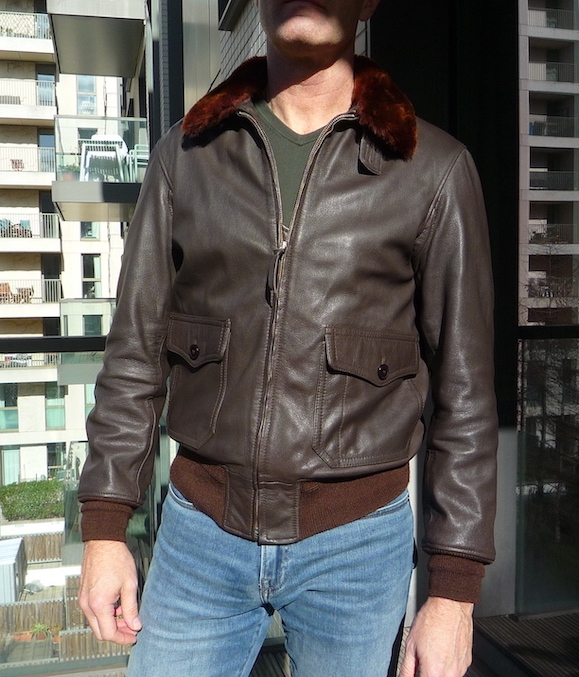 Patterned after AVI's original WW2 Gordon & Ferguson M-422A, the jacket looks right and fits comfortably.
AVI have done a good job of incorporating most of the G&F detailing into their M-422A.
After a couple of weeks of wear, incl. a downpour, the goat is breaking in nicely, with grain starting to pop and creasing developing.
It certainly blocks the wind, and when layered with a light jumper, and the collar up... Ive been quite comfy in some recent UK storms.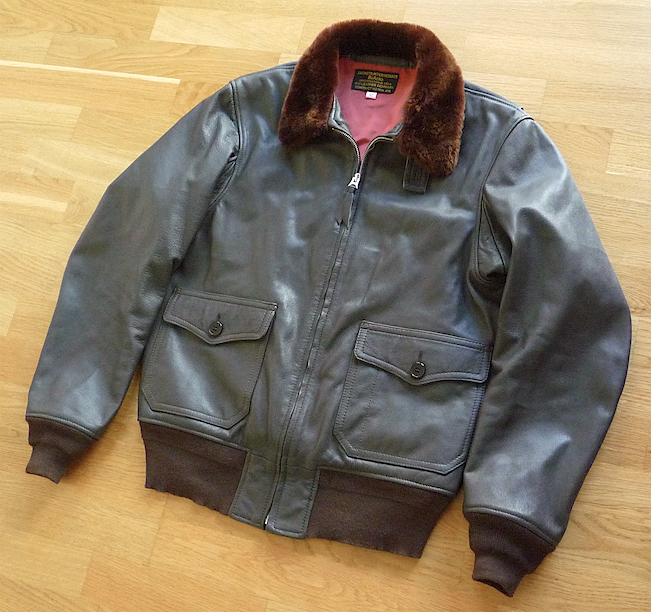 This is a size 42 with a touch of length added to sleeves, I'm 40" chest, 5'10 and athletic build. It feels trim, yet comfy and I can wear a light sweater under.
I could possibly even go up to a 44 for that more roomy WW2 AVG-look. So, the general 'rule' would be to go up from your chest size.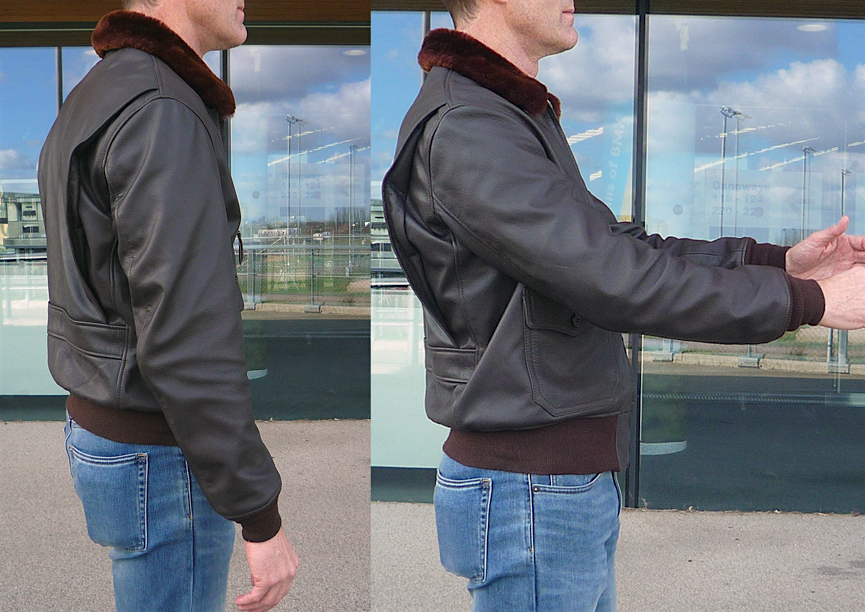 Details follow originals: Seal goatskin, genuine mouton fur collar (BETTER than some high end jackets), knitted cuffs (good - from MASH???), single ply rib-rack waistband, inside pocket, salmon-red rayon lining like most original G&Fs, repro Talon zipper and most of G&F's pattern nuances, larger left pocket etc. All the main details are there.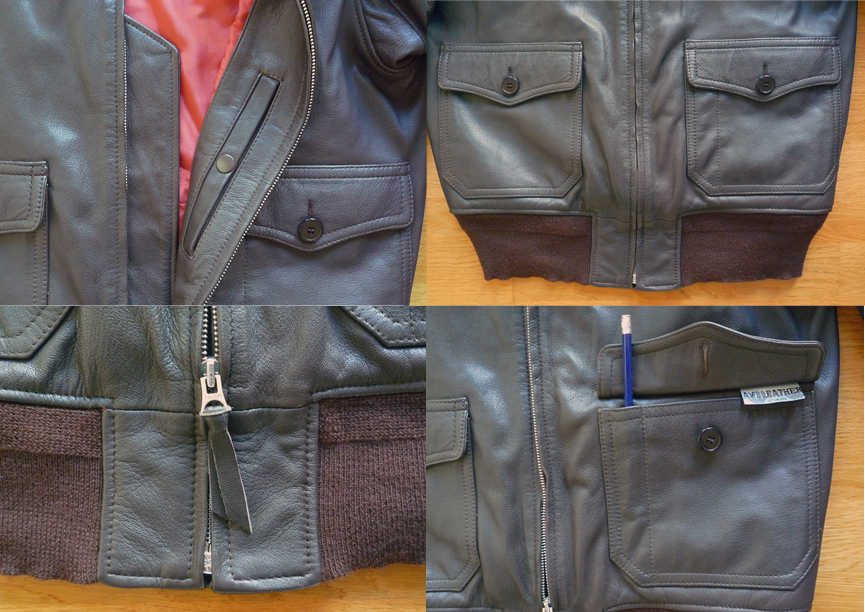 After some constructive feedback from forum members, AVI updated some details; hang tab and label moved up, hang tab stitched through the collar seam,
second row of stitching below the collar, the left pocket being wider (another G&F nuance).
All things considered, the jacket is pretty well replicated and packs a lot of detailing for the price.
Theres always room for improvement, but thats mostly in material & hardware and then you start adding up the costs...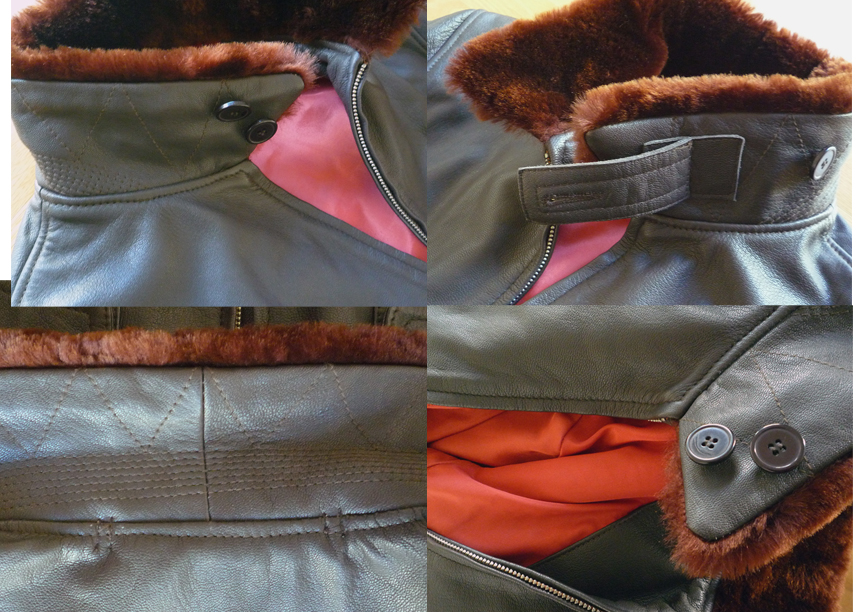 A note on the goatskin. The leather might 'feel' a bit on the thin side in some places, but the overall thickness is pretty close to some of the top-end maker's goat samples I have, 1.1mm +/-?
(My original FO M-422A was on the thin side, as was my ELC M-422A, compared to the Headwind HL Block repro I had, Cockpit's G-1s and the HH A-2s I'm used too).
I think what makes it 'feel' this way, is that this leather is soft and supple, compared to the 'high end' goat used by the premium manufacturers, which feels a bit stiffer/ sturdier, more robust maybe... and has a different finish. So, this might be relative depending what you're comparing it too. Either way, its supple, 'gives', is relatively light and has some great grain and character.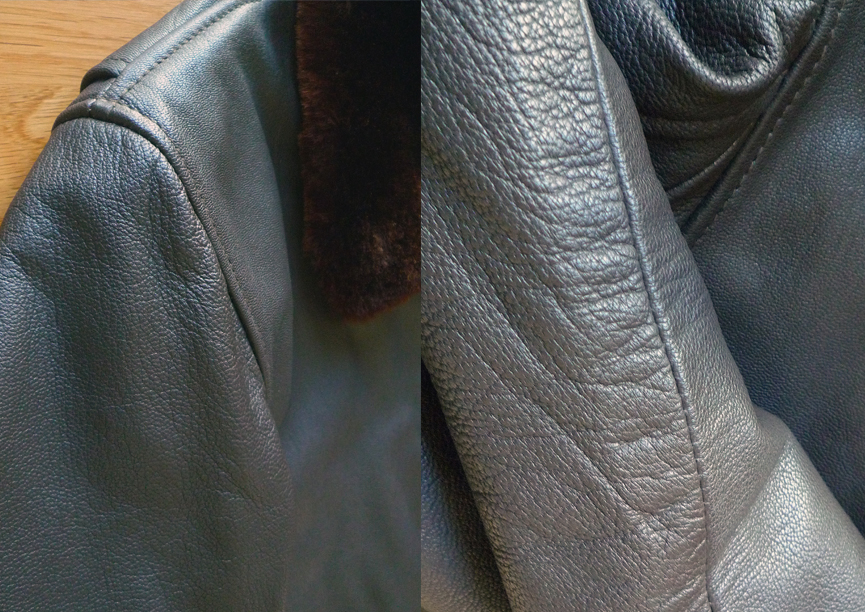 Anyway, I guess what I'm saying is, the goat AVI is using makes for a light, comfy jacket, and is fine at this price point, but its not the same stuff used by the high end makers.
I think if they could find that 2019 goat or at least find some that is a touch thicker... just 0.1mm thicker maybe, it would be a bonus. But thats me.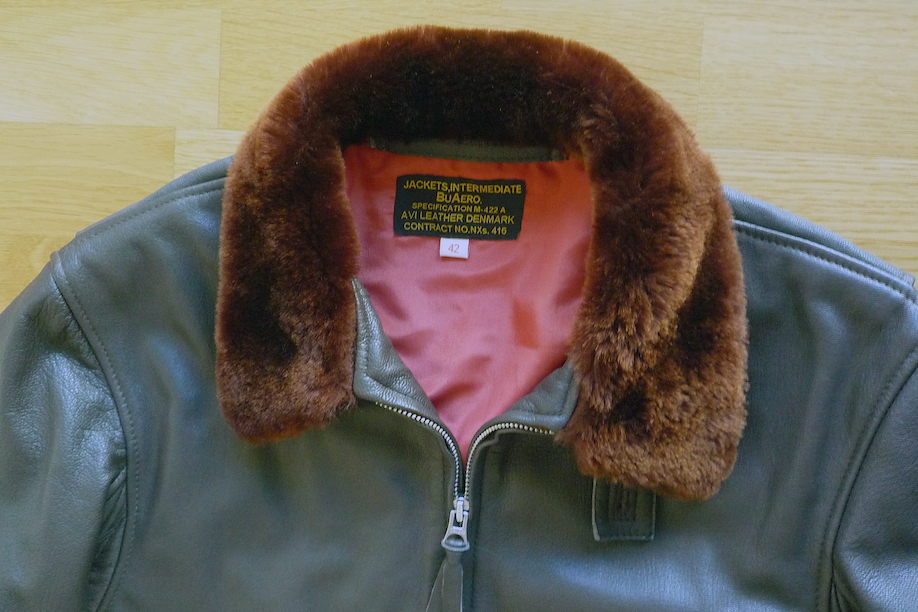 Label. I understand they have valid reasons for not adding a repro G&F label, and really, it doesn't detract from the jacket itself.
I also understand that the painted USN on the back of the collar is an option.
Theres a 'notes' box when you order, to request added length or an other customisations... So I guess this is where you could request that also.
The last thing I want to mention, is that this is no entry level/ beginners jacket. No Sir. This is a good 'budget-priced' original maker repro.
The general detailing is very good! The pattern, the mouton fur collar, collar profile, is excellent.... This is actually a lot of jacket for the money.
I feel its worth remembering that this is a 299 Euros (give or take, dep on where you are based).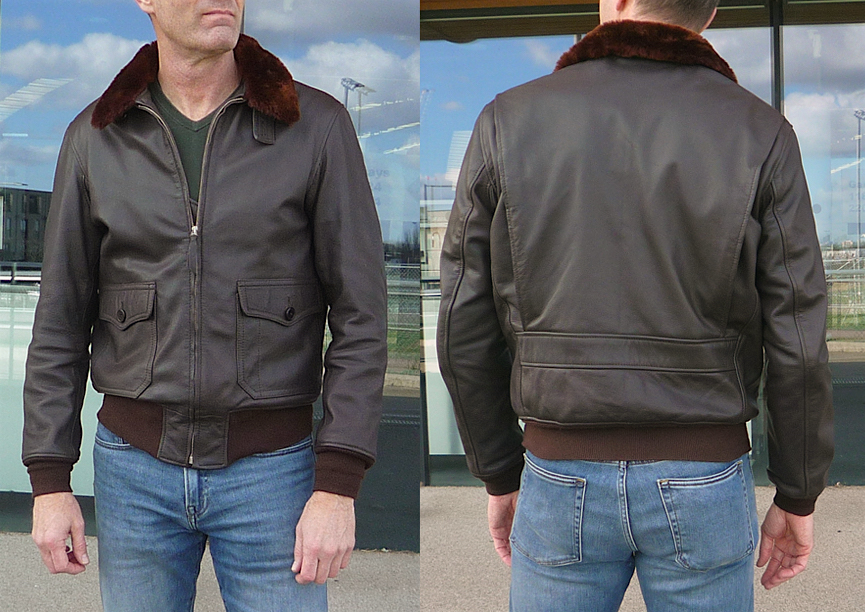 Of course, it cant compare side-by-side with the top-end makers, as far as detailing and materials go, but then its a third of the price (or more)!
If you want that level of accuracy and detailing, you know who to speak too.
And... if you own an original... This may be a decent compliment that you can wear daily, without worrying about it.
Finally, a big thanks to Morten at AVI.
Customer service has been excellent. Always answers emails, always keen to try and improve and I look forward to seeing what comes next.
Thanks for reading
p.s. Feel free to post pics of your AVI M-442A here also....
Here are some legends of the AVG wearing their M-422/As…