Heres my latest acquisition, one of Platon's Dubow 27798 A-2s, in seal brown horsehide.
This one is a 42 (* see below), I am 5'10 trim, and it fits relatively well.
I could not go smaller, considering the Dubow pattern... (I recently tried on a new BK 1755 in a 40 and it was too small and short. Period. Awesome jacket though, one of the best repro A-2s I've ever seen).
Please excuse the pics. I will get around to taking better ones, but they do give a good indication of fit, and this one below... of colour,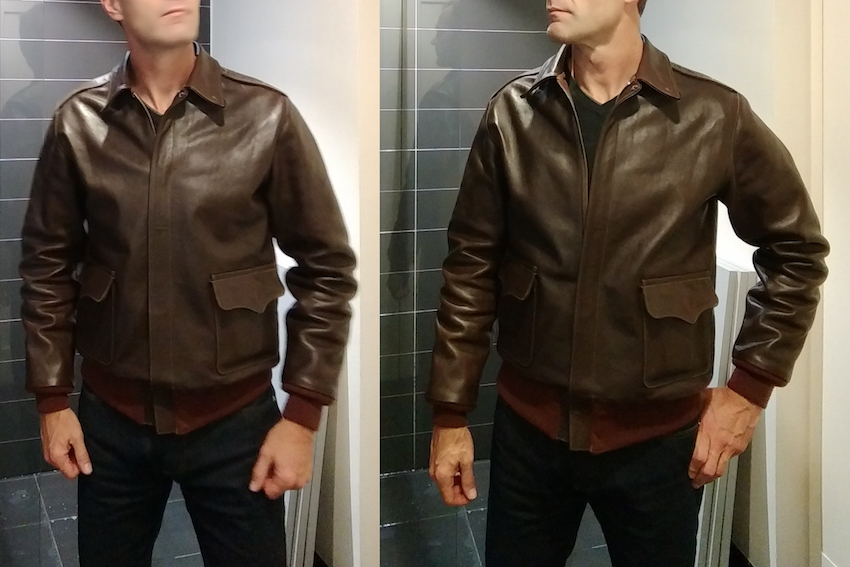 This is a 'new' pattern for me, it has slightly narrower shoulders and a slightly wider waist, easy torso… The back panel of this pattern is a bit smaller for a given size, compared to other contracts I am familiar with, but the front panels make up for it. Theres a bit of squeeze when lifting arms, but its not uncomfortable. All typical of the Dubow I believe.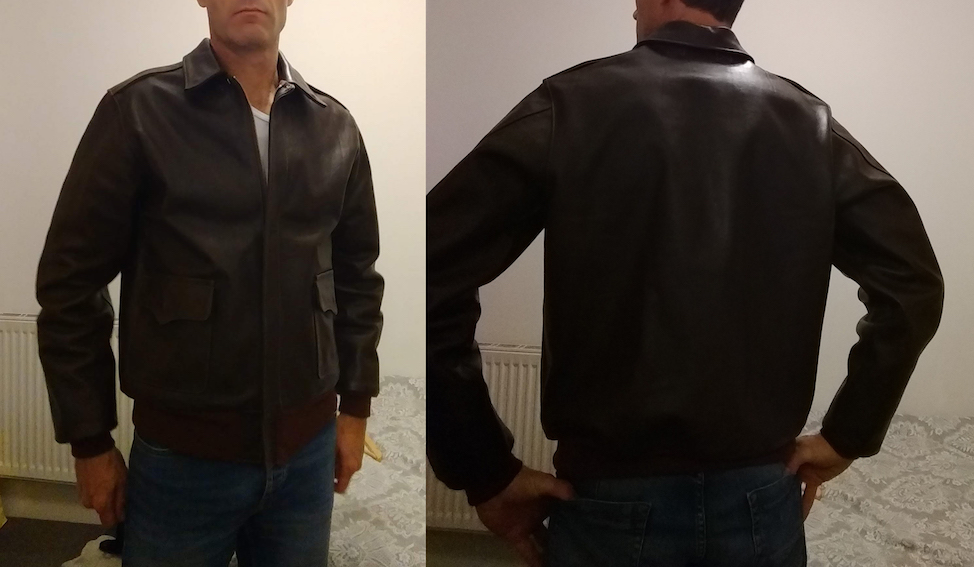 The quality and workmanship are outstanding. Very neat and tidy.
Components and hardware are tops, as advertised and expected. I love the zipper, hell it looks good. Knit appears period correct (same as those found on BK jackets ???). I am not the world's biggest fan of the contrasting berry, red knits, but these are not overly so... more berry-brown and subtle… so interestingly enough, they are growing on me.
I love the olive drab stitching, contrasting with the seal hide. Again, authentic enough and just looks great.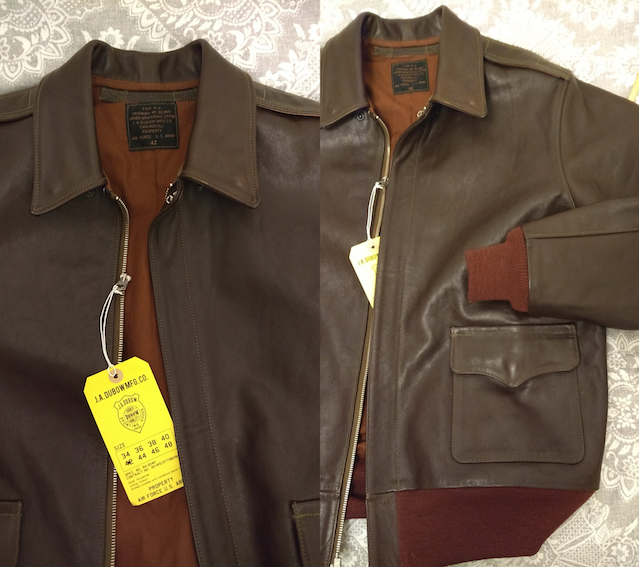 The leather feels like its the right weight and drapes well. Its not stiff, but wants to be worn and broken in. The colour is a mid seal brown... There are some variations in hue, in different panels, slightly mismatched, which I think adds character… Same for grain. Some areas have that pebbly grain popping through, other ares are a bit smoother. I recon this is going age and wear in beautifully.

* Now… This is a VERY special jacket. It is a long version. Before anyone gets excited… These are not generally available.
I spoke to Platon right in the beginning when they launched and he agreed to make me a 42 with some length added to body and sleeves.
Then there were delays and they changed their policy on this due to production and cost factors, but he held to his word, and in the end made this for me as a one-off.
Glad he did, as a std length 42 would have been too short for me for sure.
So, this is quite possible, the ONLY jacket like this in the world. Gold!

All in all, I am happy with the jacket… but I am a little unsure of the fit. I tend to be more broader shouldered/ trimmer torso, V-framed. This pattern is more A or H-framed. Plus I have a couple of jackets on the way, and do not plan on collecting jackets.
If you are 5'10, 5'11 or taller this could be perfect. PM me, I may move it. Would want to recoup monies spent at least, so this could be a winner for someone.

For the monies paid these are outstanding buys imo… The entire 'package' compares very well to any ELC, BK, Aero or even GW jacket (and I've owned numerous jackets from all… except BK, but I'm rectifying that
).
If you're in the market for a top-tier A-2… And this IS a top-tier A-2! Get one. Just double check and compare the std measurements with your favourite A-2 and make sure this pattern will work for you.
Large broad shoulders and trim waist… this may be a tricky pattern. That said, its still classic WW2 look-fit-authentic.
All depends of personal fit preferences and requirements also.
Thanks for reading!

Measurements for 42 long Approx:
Shoulders - 17.5" to 17.75"
Pit to pit front - 22.5" to 23"
Pit to pit back - 22"
Sleeve, from shoulder to end of cuff - 26.25"
Back length - 26"