I've been living and working in China for the last 5 years, and as far as I know, I'm the only person on this forum that posts from China. I figured it might be helpful to share some of my personal experiences regarding the leather jackets I've purchased while living here. An honest and accurate account of what I've come across in China; the good and the bad experiences.
This thread was created as an informative guide for those interested in leather jackets in China. I do hope it is helpful. Enjoy the read, and onward …
Fabric Markets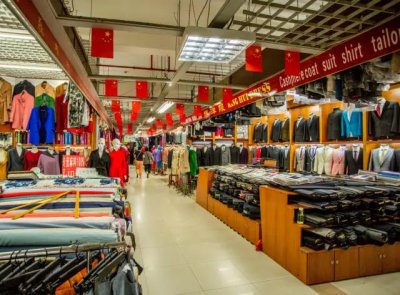 Most medium and large cities in China will have a fabric market tucked away somewhere, with tailors ready to fill custom orders for clothes, sheets, drapes, and the like. Some can fill a rush order in a few hours, but most need a few days or weeks to get a job done. Leather tailors can be found here, but not very many.
In the winter of 2014, I bought my first ever custom leather jacket on an impulse in Shiliupu Fabric Market in Shanghai. I was walking through the market and saw a stall with several leather jackets that looked like they were of decent quality, so I stopped in to check it out, and ended up making a custom order for 1800 RMB (~$300).
That jacket ended up being a total disaster. It arrived at my apartment 2 weeks later, and it was at least 4 sizes too big. The zippers were the wrong color. It had a pointed back yoke, which I did not order. I took the jacket back to Shiliupu, and after about 15 minutes of argument, I got the tailor to size it down and replace the zippers, free of charge. I wore it sporadically over that winter until the leather started cracking and flaking off, then I just tossed it. Sorry, I have no pictures of that jacket. It's something I'd rather forget.
Taobao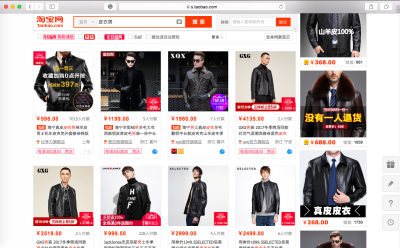 The next place I turned for a leather jacket was Taobao, the massive online marketplace in China. For those of you unfamiliar, Taobao is akin to Amazon, Rakuten, Lazada, or Gmarket. If a clothing business is online in China, you will likely find it here. You can find just about any kind of leather jacket on Taobao: vintage Buco, made-to-order custom jackets, overseas dealers, and all of the chain store brands. Don't fret about the language barrier; using a translator app works fine. There are plenty of other pages and forums on the internet about Taobao, so I'd rather not go into detail about it here.
I was able to find 2 "custom leather jackets (定制皮夹克)" that fit my measurements on Taobao, so I snatched them both. Mind you, these were stock jackets and weren't tailored to my specs. I paid $200 each for them, and they were actually decent for the price. Quality-wise, they were similar to something you might find off-the-rack or on Amazon for around the same price. I got what I paid for, but it wasn't really what I was really looking for. I kept them for about a year before putting them up for sale on Xianyu (see below).
Vintage and Second-Hand Jackets
There isn't a huge demand for vintage or second-hand goods in China. My Chinese friends look at me kind of weird when I tell them I want to buy something used. I've never actually seen a thrift, vintage, or second-hand shop in person here, but you can certainly find them online. A search for "二手 Schott" on Taobao will yield loads of results and lead you to many different vintage shops.
Your Taobao searches will inevitably lead you to Xianyu (闲鱼), which is the second-hand marketplace of Taobao. You'll know you're in Xianyu by the big yellow fish on the product page. Xianyu is its own independent app and website, but it is also a sub-market of Taobao. Any user can list a new or second-hand item for sale on Xianyu and set an asking price, kind of similar to eBay. The big difference being that you don't bid the price up … but you can negotiate the price down.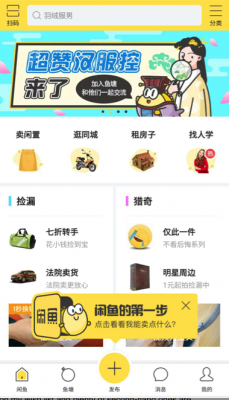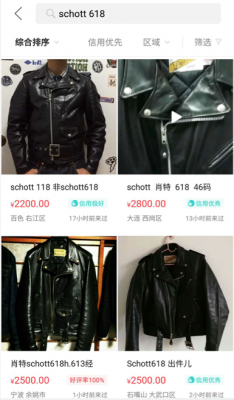 At any given moment on Xianyu, you can find tons of new, used, vintage, and custom leather jackets for sale. Just do a search for Schott, Aero, Vanson, RRL, etc and see for yourself. I've been very tempted to buy a few jackets on Xianyu, but haven't committed to any yet. But I have bought and sold plenty of other items here, and can vouch that the experience is very similar to eBay.
Custom Leather Shops
There are loads of leather shops on Taobao that will make custom jackets, shoes, boots, bags, belts, and wallets. Search the word "Horween皮" on Taobao and hundreds of products from these shops will pop up. I've personally bought a few stock items from these shops, and it's hit and miss, TBH. I got a great leather bag for work for $60, but I've also gotten 2 wallets that weren't so good.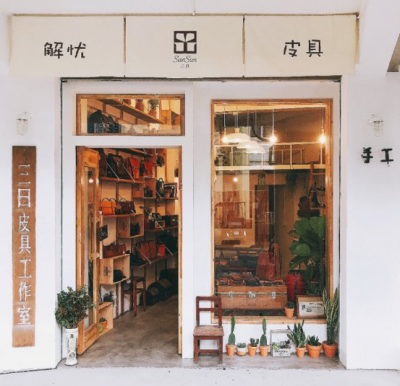 I periodically come across random custom leather shops just walking around in China. They're on busy tourist streets and tucked away in back alleys all over the place. Typically they're selling custom bags and wallets. I've seen guidebooks that have warned against these places, but I'm sure some of them must be OK since the locals seem to shop there. You might find a gem in one of these, but use your own judgment and discretion.
Tony Leathers in Shanghai
One custom leather jacket shop worth mentioning is Tony Leathers in Shanghai, simply because it has the best styling, quality, and reputation I've yet seen in China. Their used leather jackets are bought and sold regularly on Xianyu (search for "武装战线 皮衣"). You can have a glance at their shop at
https://langlitz.taobao.com
. I know, it's a questionable name and web address for the shop, but Welcome to China. They sell bespoke leather jackets and custom reproductions of classic motorcycle, flight, and military leather jackets for around 3000 RMB (~$450).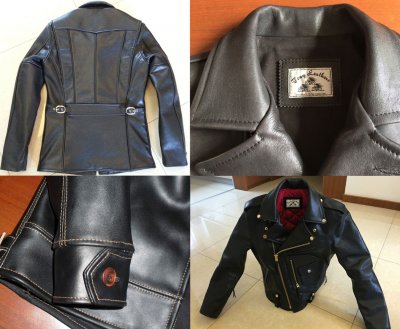 Tony Leather is definitely on my short list for my next custom leather jacket, but I am holding out until I visit Shanghai again. My communication with them has been fairly good so far, but I'm just afraid something will get lost in translation if I do everything online. I'd like to personally see their products and get measured in their shop. I suppose I'll do another post when that happens.
Ray Kwoh / 玩累了的孩子 (A Tired Child) in Guangzhou
Another fairly popular leather shop that boasts some big styles and labels is
玩累了的孩子 (A Tired Child)
. I know, that's a terrible name for a clothing maker in China, but give their products a browse at
https://shop33305506.taobao.com
. This shop doesn't make bespoke items, but they do have a sizable catalog that offers made-to-order clothes, shoes, bags, belts, and jackets fashioned from Harris Tweed, Horween, Shinki, and other choice materials. I haven't purchased anything from them yet either, but several of their shoes are in my Taobao shopping cart.
Custom Shops That Can Facilitate Orders From Outside of China : My First Custom Aero
In the summer of 2017, I decided to go ahead and splurge the cash for my first custom Aero. I contacted two shops in China that sold Aero jackets: Vintage by N&S, and Ozzy Leather. Vintage by N&S was too difficult to get a hold of. Ozzy Leather had someone who spoke English and chatted with me over Taobao for quite a while. They carried many of the reputable custom brands such Aero, Schott, and Vanson, and they said I could order stock or custom items direct from their Canadian shop (Bison Trading), or do the purchase through their shop in China.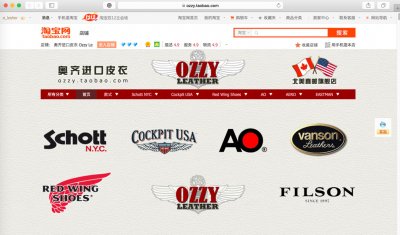 I contacted Thurston Bros in the US, and they said they could ship custom orders to China too. I ultimately ordered my custom Board Racer directly from Aero, just so I wouldn't have to ship my new jacket all over the world to receive it. I go into detail about that order on this thread:
http://www.thefedoralounge.com/threads/first-aero-modified-board-racer-dark-seal-vicenza-…-arrived-in-china.91864/#post-2318308
.
When I finally received my Aero, I wasn't happy with the Alpaca lining, so Aero sent me a new cotton drill lining for free. I had my local dry cleaners find someone to install it for 300 RMB (~$50), and I'm very happy with it now.

My biggest gripe with ordering jackets from outside of China is the fact that the import taxes can be painfully high. I'm talking upwards of $300 for a single jacket.
I may as well inform you on the hurdles associated with importing jackets into China ….
Customs: This is a highly volatile situation in China. Officially, they can charge 30% of the value of an incoming parcel.
Shipping: It usually takes 2-6 weeks for parcels to come in or out of China. Couriers typically call you and want to talk to you in Chinese to pick up parcels, so make sure your correct phone number is on the parcel.
Payments: Very few vendors and very few people use Visa, MasterCard, or PayPal in China. The banks function on UnionPay. Alipay and WeChat Pay are the preferred methods of payment.
Conclusion
Well, this ends my account of leather jackets in China. So far. I'll update it again later if I come across any more noteworthy finds while I'm here. I hope you all found it helpful and informative. Mind you, these are just my personal experiences, and I'm sure others out there have had different ones. Thanks for reading and feel free to contribute below.
Cheers and 再见,
TheJuniper