Michaelson, as promised, a little show-and-tell:
During my one month holiday back in the Good 'Ole U.S. of A., I received this watch that my parents had been saving for me since the death of my Grandfather last year.
It's a Longines wristwatch, housed in white gold with four diamonds on the face. It's in perfect running order with only casual wear on the metal. Not even a scratch on the crystal. My Grandfather was a man of taste!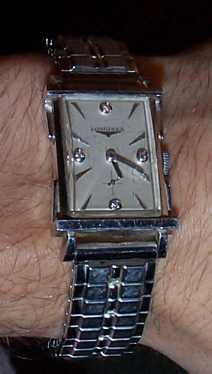 Michaelson, any idea on a year for this watch?
Kind regards,
Indy
+ Ad Maiorem Dei Gloriam +
Copy of post by Indy Magnoli
Last edited by a moderator: