Reflections of my recent Gannon Playboy;

The silverbelly felt sounds common until I open the hat box. The silverbelly with a matching mid-ribbon is not boring or even common. The hat, while silverbelly, has enough gray tones to the felt to have it pair up well with almost all outside attire. The hat came open crown and it is easy to crease. It creases either into narrow thin creases or the gentle rolls of a thicker felt. On rare occasions do I choose to create narrow creases, dents or peaks. This felt is well pounced and as thin as I wanted. The felt is close to my 50's Stetson Playboys. Not the thin 40's hats, but the 50's. To my experience I have to be more cautious with the older versions so as not to create shadows of old creases or to break or thin the felt bringing the hat to an early demise. Over time I see the felt being able to be re-creased time and again without those felt lines or remnants of old creases.

Vent - CHEERS! The vent is eye catching and is a welcome warm weather feature. To my experience the vents do not have air passing through it to create a breeze for my bald pate. I have stood at the lakes edge during strong winds and faced the vents into the wind to see if I could feel air moving. Only in the harshest of winds could I feel the air moving. What I do notice is that some of the humid air created by my wearing and efforting in the hat is released through the vents. The vents make the hat more comfortable on my head. By a lot - no, but enough that I can notice during a long hike or walkabout and during outside efforts.

It has been said many times in this thread that Michael Gannon's felt skills are improving. I resoundingly echo the improvement comments.

Ribbon, wind cord, brim - exactly what I wished for. The craftsmanship is top notch. It stands supremely tall when compared to other customs, vintage hats I have on my hat rack. I asked for the decorative ribbon in the sweat band. I love it. Eye appeal out the whazoo. The ribbon work is not a faithful re-creation of the Playboy, but an interpretation. It is excellent and fits the hat.

The hat has a removable liner. Mr.Gannon provided a tip in (cut-out logo) that I can glue or tape in. This is what I plan to do when my neighborhoods weather warms up and the vents begin to be a useful characteristic.

The hat is outstanding! I am glad to be a client in good standing with Mr.Gannon.

Cheers, Eric
Upcoming: Gannon Beachcomer

I am in que for a very unique hat. I am taking inspiration from a 40's Stetson Beachcomer, the 40's Stetson Buckaneer and the 40's Stetson Hempstead.

Commisioned is a Winchester Bone beaver felt hat with spiral stitching, vent, tip in liner and a pug ribbon. Here are mock-ups of the ribbon options I am considering. Mr.Gannon has gone to big efforts with the pleated ribbon work.

I have been hesitant to share the ideas of this hat. It is not going to be a subtle hat for me. Additionally, Mr.Gannon has agreed to some big efforts. This will certainly be a departure from his previous hats.

My expectations are high. I do enjoy my vintage hats, but Imy wearing habits are bringing them to an early demise.

Thanks for letting me share my upcoming hat. I hope it inspires you to create your dream hat. Cheers to all, Eric -
Wow! I think several of us will take inspiration from this hat…some of us might just copy it completely! Can't wait to see it.
I've spent hours over the last couple of days, perusing these pages without getting closer to a decision on felt colour. I don't have a grey hat, but I think both steel and granite are darker than what I had in mind.

In some shots I've seen, the Sahara looks greyish, but I suspect that's just a trick of the light.

I also love the look of Eric's

@Short Balding Guy

silvermist hats. Do I see a hint of blue in the silvermist, Eric?

One thing I have decided on is beaver felt with brim binding. I suspect I'll go for tone-on-tone binding with some degree of contrast in the ribbon.
Eric, you are indeed, inspiration central! I am definitely incorporating some of your ideas into my next Gannon! And, to restate the obvious, my most recent Gannon (an open crown, wide-brimmed western) is a better hat than my first Gannon, but I'd still stack my first one up toe-to-toe with a lot of other hats, new or vintage. Thanks for continuing to inspire us, Eric.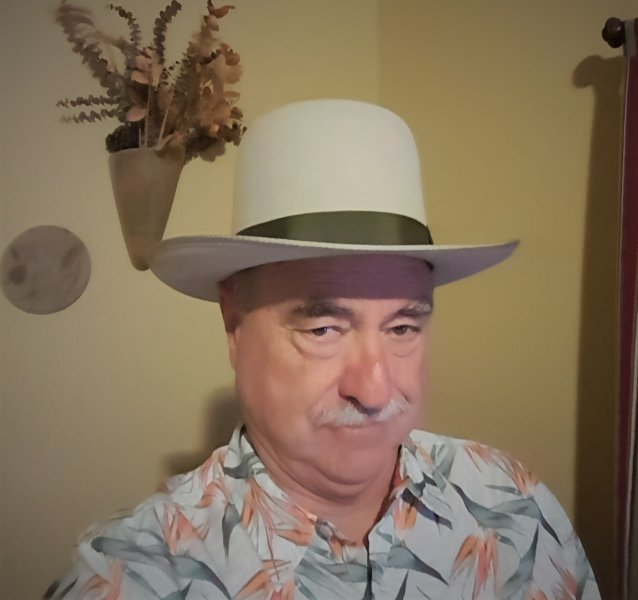 A few years back I, too, was looking for a mid-grey hat. Steel was definitely too dark for me, so I went with the Granite. To my eyes, it is right in the middle of grey. I used a Commando ribbon (light purple) and the hat goes really well with light or dark attire.