After a nearly six month wait, my Aero Seven arrived from Thurston last week.
So many threads and people here helped me along with my decision-making process. Thanks to all here in the FL community as well as to Carrie and Wade. Here are some early thoughts and comments to help anyone else going down the same road.
I am very happy with how this turned out, BTW ....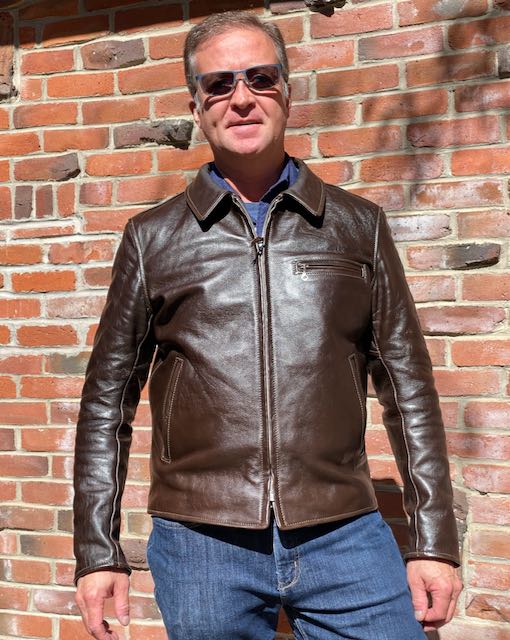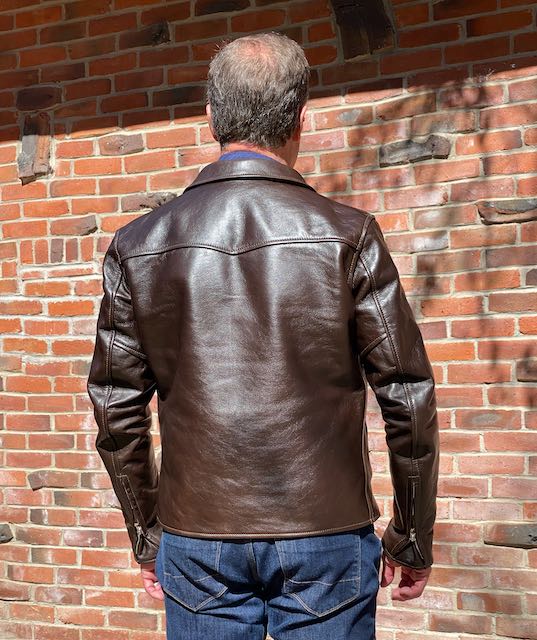 I ended up going with:
Size 44
Dark Seal Vicenza with preference towards smoother, more uniform graining.
New York Tartan (lightweight)
Highwayman collar
Slight v back panel
Nickel zips
No zips on hand warmers
Sleeve zippers on back of arm (like Sheene)
Main zipper starts 1.5" from bottom (like Sheene)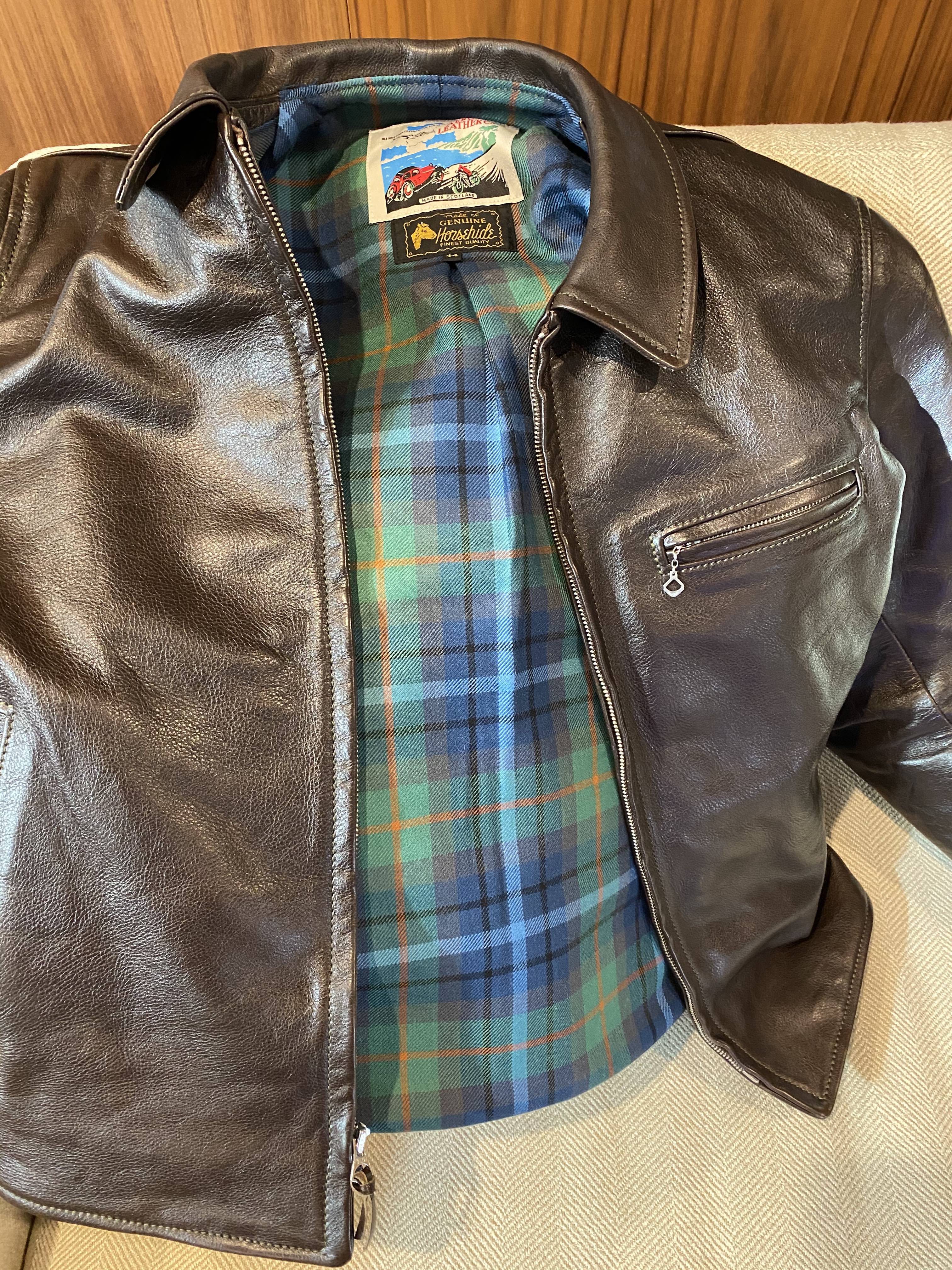 So, initial impressions...
1. Carrie's advice on everything was spot on.
2. FIT. The Seven/Board Racer works well for my tube shaped upper body. I sized up one full size from my normal 42" (usually tailored) jacket sizing. At 5'10" tall, 185 lbs, with a 41 chest and 34 waist, the 44 Carrie recommended fits exactly the way I wanted. I normally wear a 34" sleeve dress shirt. Carrie advised a 26" sleeve length and 26.25" back length (I like them a little lower than most here). The first 42" fit jacket felt like a strait jacket and I was concerned that the 44" fit jacket she sent next was too bulky but Carrie assured me that the fit jacket was bunching up due to the initial stiffness of the Badalassi leather and that it would be a perfect fit in the Vicenza. She was spot on.
3. Design choices. I like everything I chose here with particular focus on the Highwayman collar and deletion of zippers on the hand warmers. (Thanks Fanch!!!).
4. High armholes. This is the one aspect that I am having to get used too. They are quite tight at present and tend to dig into the front of my shoulders when my arms are elevated, such as when driving with hands at 10 and 2. Hopefully, this will begin to ease.
Anyone have any advice on how to hasten this along??????
5. Breaking In. After 4-5 days of regular wear (my wife laughs at me when I walk into the kitchen for morning coffee wearing sweat pants, slippers and my leather jacket but I know this is perfectly acceptable here), it has started to mold quite nicely to my body.
The sleeve barrels are substantially tighter than any other jacket I have worn but can see myself getting used to them. I cannot layer more than a lightweight wool/silk sweater, but that was my goal.
6. Sleeve length/Body length. The sleeves have creased to bring the sleeves up a bit from where they hit when the jacket was new in the photos above. They are about at the perfect length for my preference right now but could rise another 1/4 - 1/2" and still be acceptable.
The body length is a full 1/2" longer than Carrie normally would target but I wanted to make sure the jacket came to just above my rear pockets. Perfect fit now with a little breaking in.
7. Main Zipper Position. I agonized over this for days. The 44" fit jacket had the standard Board Racer zipper start position about 3" up from the bottom hem. I understand the design rationale behind this placement but the zipper on the fit jacket caused the lower panels to flare out quite unattractively on my frame. So, Carrie advised starting the zipper as is done on the Sheene (about 1.5" from the bottom. This works perfectly as it starts just below my belt line. There is no splay, my belt remains hidden, and I have actually not had any problem at all with the jacket riding up when seated. Highly recommend this modification.
Thanks to all for your help, both direct and indirect, and I would be more than willing to help anyone else out with this process.