Greetings from Estonia!
I've been planning my first "proper" jacket purchase.
Got most of my desired measurements down pretty nicely. (17.75 shoulder, 20.25 ptp, 17.25 waist, 17.75 hip, 25.25 sleeve, 23.25 back)
Decided on what kind of leather I want. (veg/combo aniline midweight waxy/oily smooth brown with lots variation / highs-lows)
Main thing left is to decide the model and maker.
In terms of makers my main choices are currently SB, Aero and 5*. Communicating with all of them and seeing how it goes. Pros and cons to each, I know. Ruling out US makers and Japan makers due to proximity. Also ruled out Thedi because the patterns / style is not what I'm looking for, although I have no doubts about their quality.
Main topic of this thread - model / style of the jacket.
Currently I have narrowed it down to two options:
- Minimalist cross-zip with no epaulets, no belt, ideally half belt back for waist adjustments, hand warmer pockets and one chest pocket. SB Pacific / Detroit. Aero Hooch Hauler / Bootlegger.
- Short / belt length button up with V collar. SB Klondike. Aero Maxwell / Moonshiner.
All clear with the cross-zips, for me they seem to be very well suited for the kind of 2-3" taper from ptp to waist/hem that I would like.
My main question is about the button ups.
From what I gathered the kind of button up style I'm thinking about are called short car coats? Some other similar models I've look into have been Himel Canuck, RRL Barringer car coat, Freewheelers Brakeman, Y'2 car coat. The mentioned models from SB and Aero. I guess the Aero Teamster also falls into this category albeit being a bit longer.
One thing that most of them seem to have in common is that they are usually slightly longer - below jean back pocket openings. I would ideally like mine to fall slightly below the belt so that I could still stick (at least) my thumbs into my front pockets without lifting the jacket up too much.
Another thing that they seem to have in common is being very straight cut / boxy. Not taper from ptp to the hem. I have not seen too many examples of them being tapered, but those that I have seen look pretty nice.
I'll add some photos that I have found in the forum or online to illustrate a bit what I mean. I don't know/remember who the photos belong to, so if the owner would like me to remove their photo - please tell me.
Examples of tapered / shorter ones that I've seen: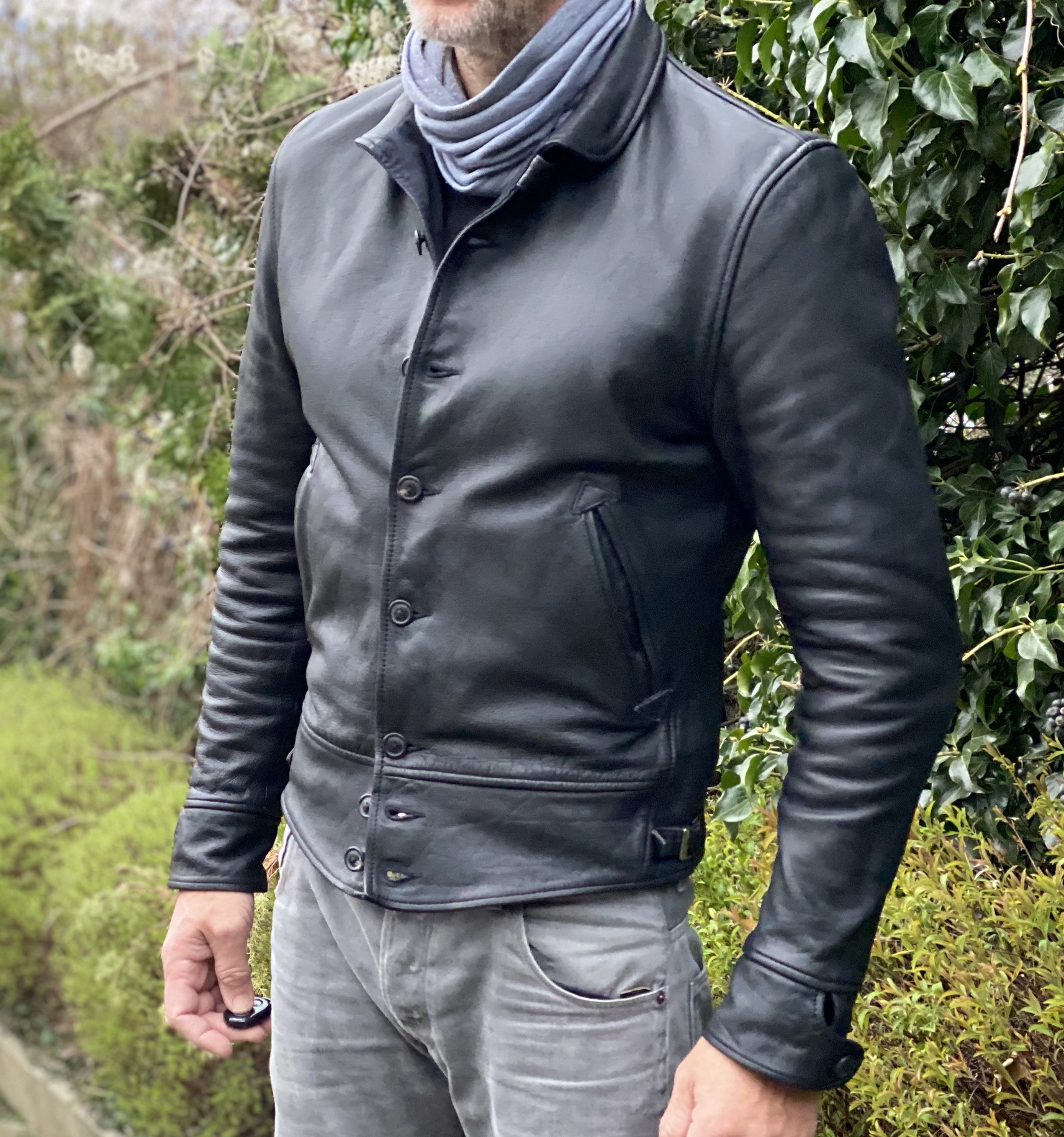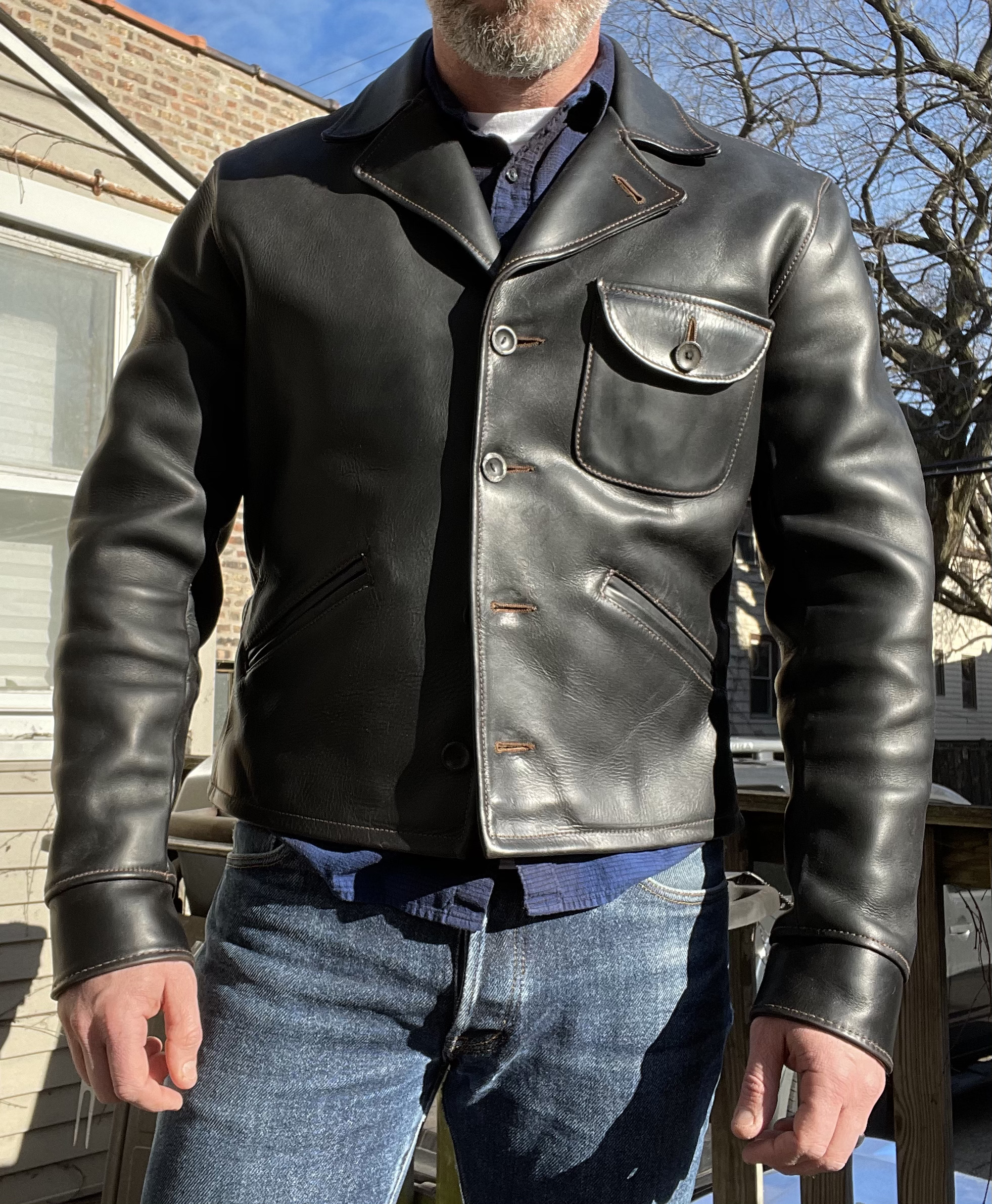 But most tend to my boxier/straighter and longer: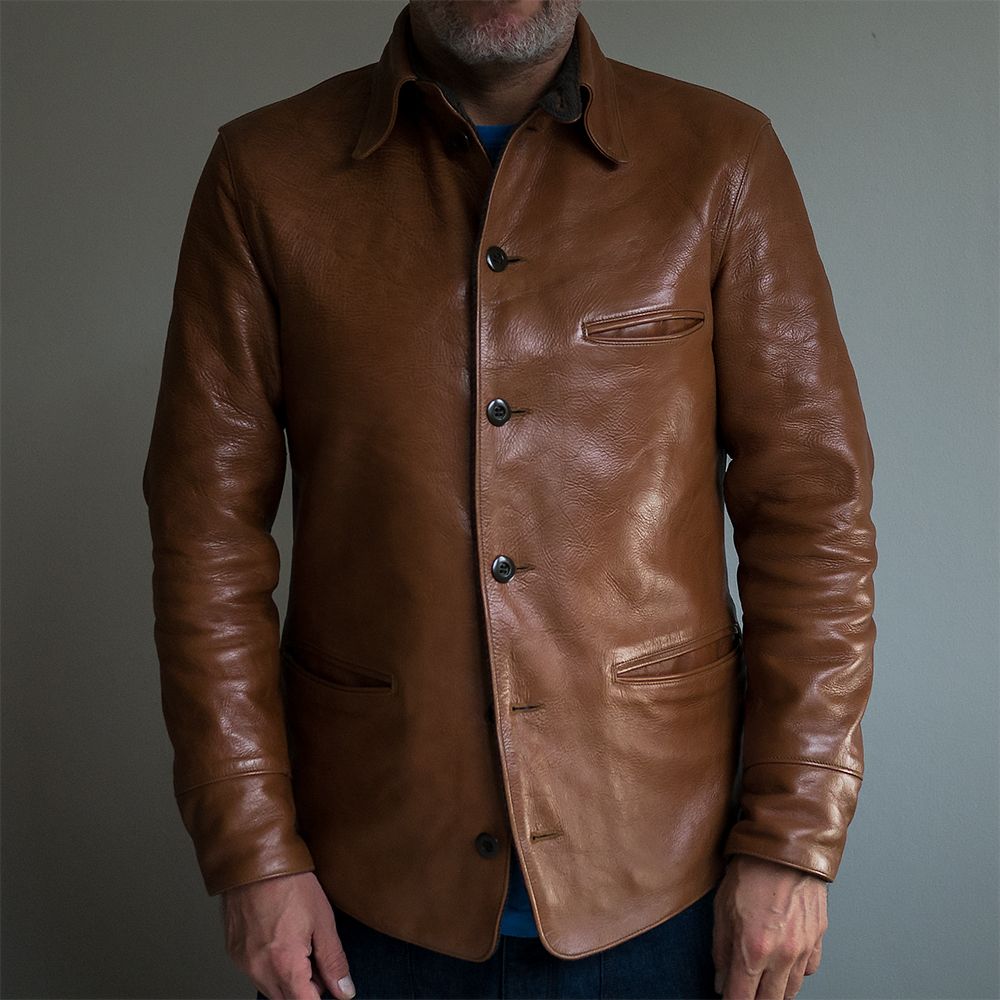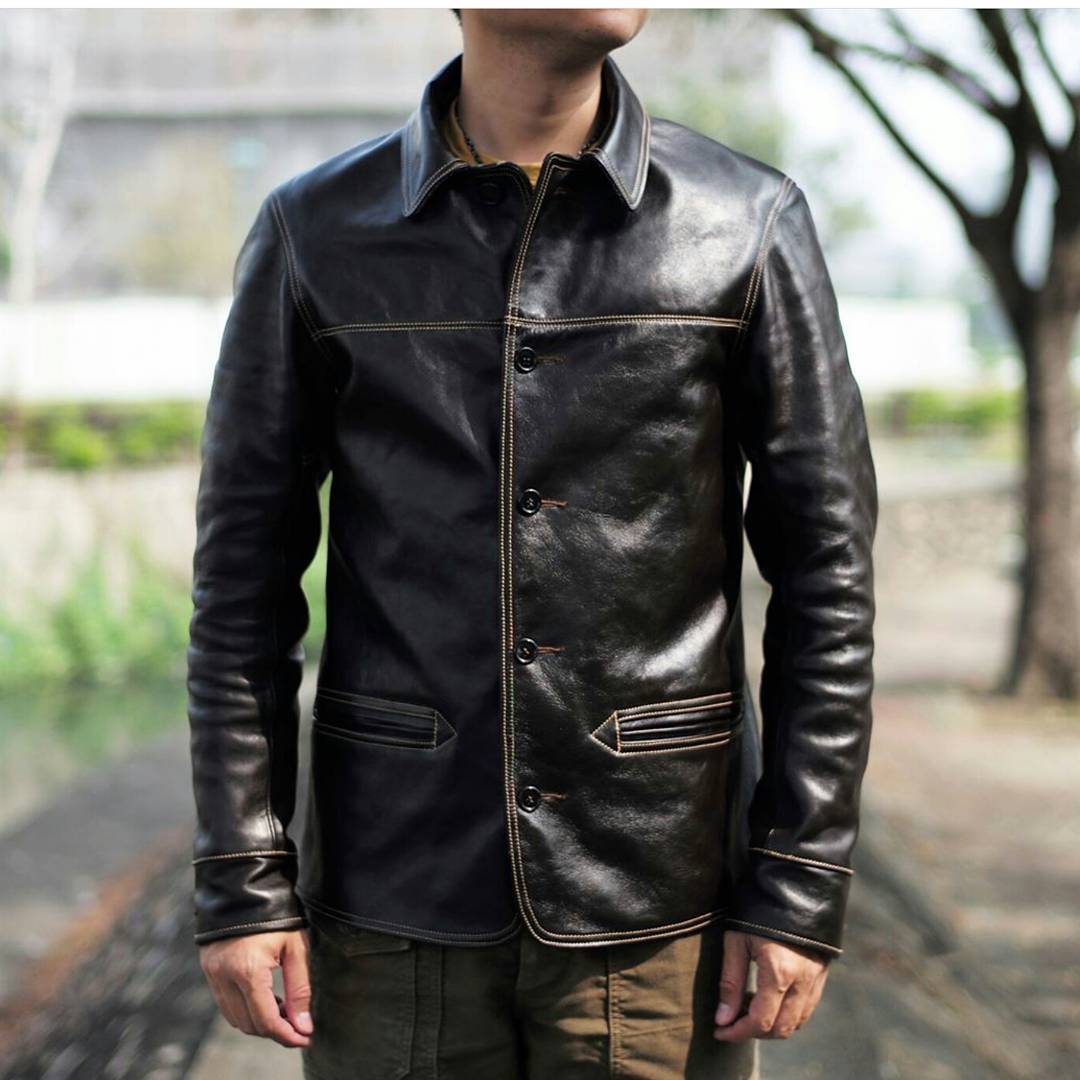 I have a lot more example gathered, but I guess you catch my drift.
So, what do you think about making a slightly-below-belt length button up that has a nice taper from ptp to the hem?
Also considering that I'm not going with thin / super soft leather but rather a midweight medium stiffness leather. Ideally HH.
Extra questions:
- Number of buttons - seems like 3-4 excluding the top one seems a good number?
- Location of button button - most models that I've seen have the bottom button quite a bit away from the hem. To me it seems like it would be useful to have one a bit closed to the hem so that you can properly keep the bottom closed. But I guess it depends on how you wear it.