As mentioned yesterday in WAYWT, I picked up a 613SH yesterday from the factory sale. [Before you get your hopes up, and line up to get one at 70% off, the 613SH was not a clearance sale item; I bought it from stock. There were CXL 613s in the clearance area though…]
Jason Schott, David Schott, their other family members (not public-facing so I won't name them), and the rest of the staff were just fantastic.
Schott 613SH, still stiff and crisp from the factory floor this morning.
There isn't all that much information about this jacket online, apart from a few scraps spread across TFL and the Schott forums, so I'm hoping to rectify this.
It's been a long path to the jacket and– in the end– it was the vehement contempt for Schott and their leather from much of the site (with some notable exceptions like
@Monitor
and
@Carlos840
) that convinced me [by reaction] that I wanted
the
Perfecto, rather than just a Perfecto-inspired jacket from elsewhere. I had sort of tacitly accepted the Schott stigma for years, then realized I had no actual basis for it– having avoided the brand as a result.
I first tried on couple of models (the 618HH and 619) at a shop but while they were enough to make it quite clear that these were the peer of more expensive brands I'd gone for first, neither was quite the jacket I was looking for (though my experience trying them out gave me a frame for sizing reference that was valuable when I was looking at spec sheets for other Schotts.)
The 613S seemed to be the ticket, because it had the 'retro Perfecto' features without being a pure fashion jacket (626), pre-distressed (PER70), or alpha-sized (519, 626, the entire PER line). I'm not against those jackets, but I wanted my first Perfecto to do it all, and this covered it.
A quick initial note: despite it often being described as a 'slim' model as shorthand, the 613S doesn't fit more slimly than the 613/618 overall. It's a more rectangular back panel, like that on the pre-80s jackets, but completely comparable in fit. Schott's advice to size up one from your measured chest size is well taken. (It is
not
'size up for the stereotypical slouchy American fit'.) I'm a 40 in most jackets and coats, including slim ones, but went 42 for this.
The chest measures an inch wider than 'fits' on comparable DRs, but doesn't
feel
so, probably because it has the 5.5oz quilted lining and I'm comparing to jackets with fabric liners.
I took a few phone photos in the morning light to highlight the jacket while it is still essentially new. (It was completely uncreased and unworn when it was pulled out of a bag at the factory and handed to me.) Not that anyone will see, but the 613S(H) has the label that Perfecto jackets had from the late 60s to about 71.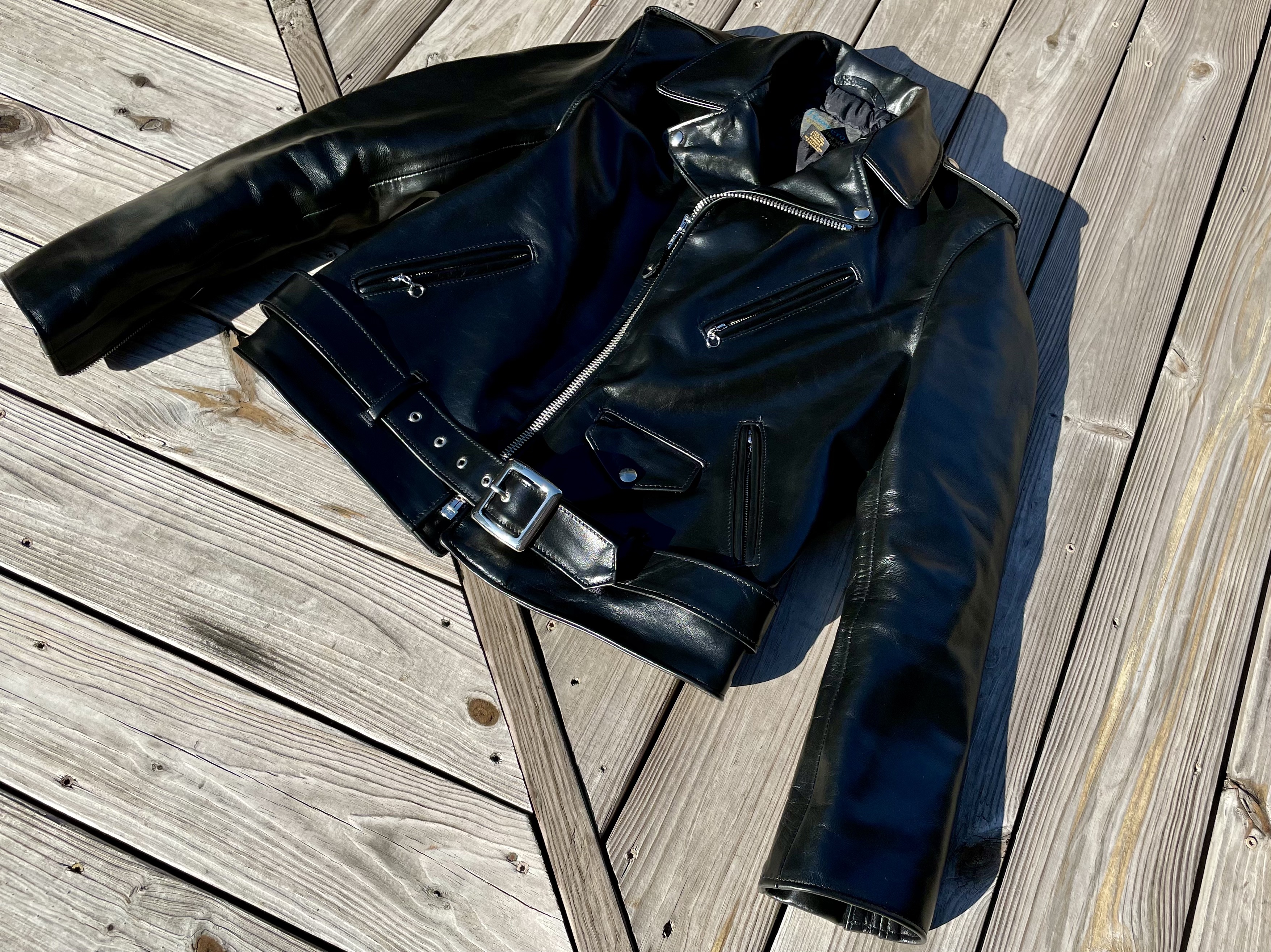 It's true that the jacket just has a 4.5" drop, but this problem (which I was a little concerned about) has proved to not be much of one in wear. It doesn't feel baggy when worn open, and when worn closed the belt will cinch it an additional four inches.
Speaking of the belt, it has a nice solid buckle. I'd planned to switch it out for a mitered one but this feels so good in hand that I'm in no rush.
It's stitched under the kidney panel, which does a good job of holding the jacket close. I made this one black and white so the leather's grain shows a bit better.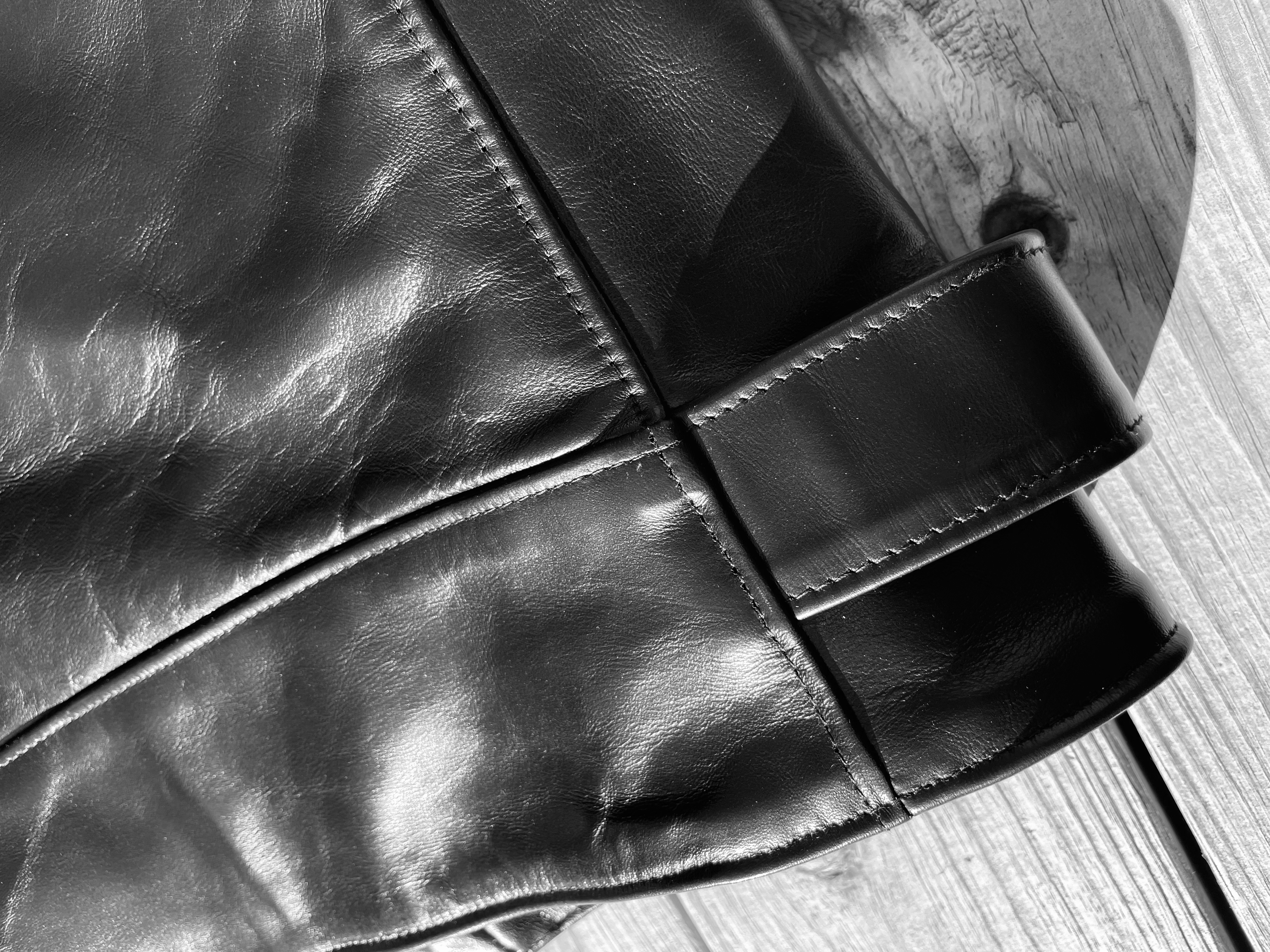 I think a lot of people are under the impression that Schott's steerhide and horsehide are practically corrected grain, because it's not very scrotal-looking, but there's natural grain (separate from creases) that's quite comparable to the horsehide used by others like Eastman.
I don't have the thick leather fixation that many online do, but this jacket is substantial and will take a lot of breaking in. It's noticeably thicker than CXL, which I didn't wear there (I didn't want to wear a leather jacket there and have it accidentally taken while I was trying something on) but I compared firsthand with a CXL jacket that was there.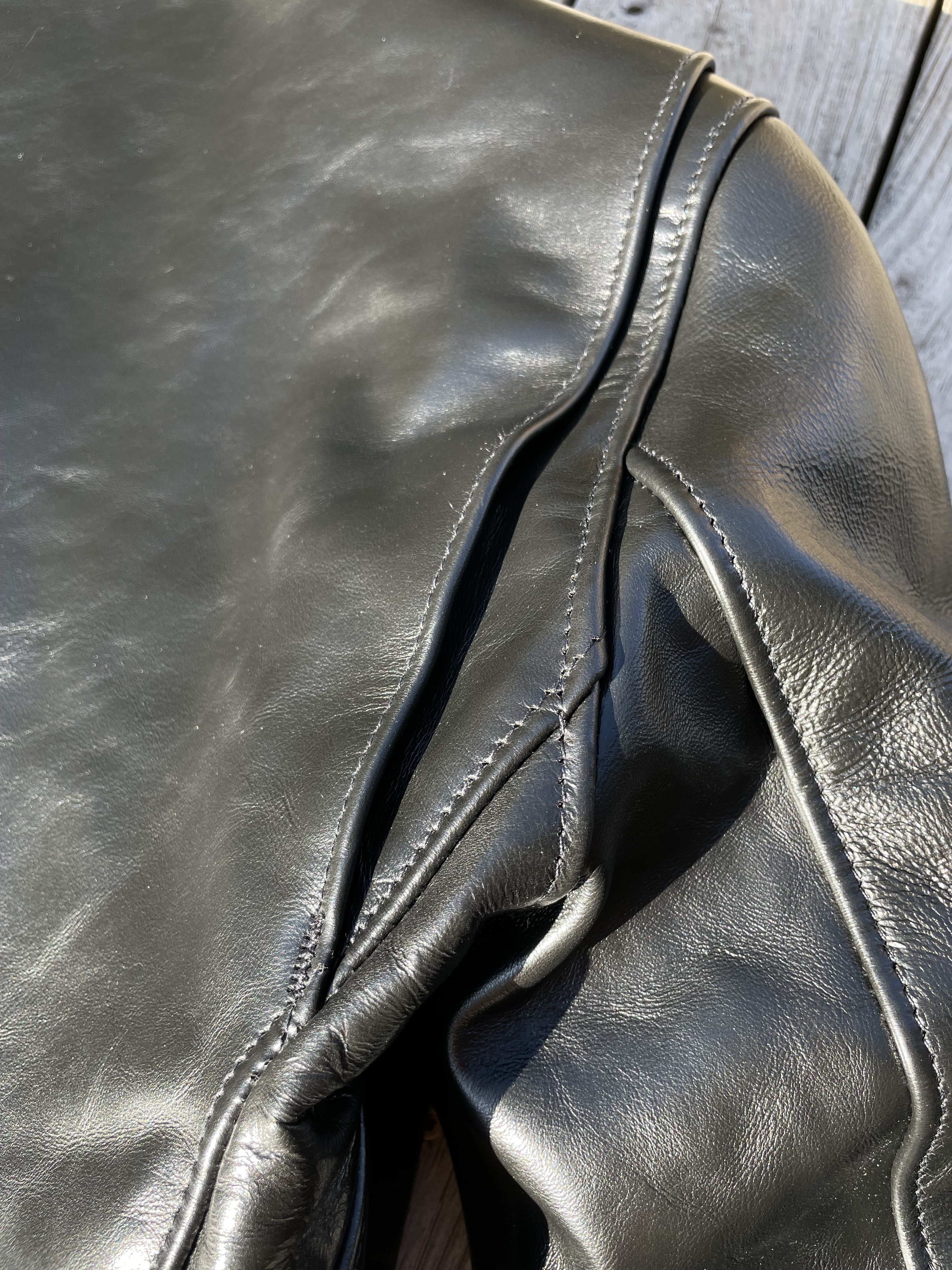 The bi-swing is highly functional. I have a lot of range of movement in this pattern and, while the underarm footballs of the modern 613/618 would give me further reach, this is definitely not just an aesthetic shoulder detail. If you look in the mirror while raising and stretching out your arms, you can see them at work. The arms are also oriented such that one is very much in comfortable position with them forward.
I'm happy to take more pictures and answer questions as this jacket gets broken in more. The 613S(H) needs a lot more attention from the 'enthusiast' community. It checks boxes that jackets twice the price do not, without being in any way a compromise.
I'm still excited for my upcoming Ridley… but had I had a chance to try the Schotts first, I wonder if I would have gone for something totally different as an Aero order, because while I love and respect Aero, I don't know that it would necessarily be better
as a double rider
.
This is where it lands compared to my Japanese jackets as well, I think. They're finer in some respects, but I don't know that I'd necessarily say they're
better
, since there is clearly excellent construction and pattern work here. I continue to enjoy both.
Last edited: