Arrived fresh from Japan this morning. One of my grail jackets that I was extremely nervous I would never get my hands on due to TFH going defunct/restructured. Very thankful to Fedora Lounge for turning me on to buyee to proxy this jacket to my doorstep. All-in the jacket ran me about $1k USD which I think is a steal for a NWT TFH jacket. Oddly enough FedEx didn't charge me customs nor did they get a signature when dropping it off.
Now, on to the jacket! This is the SRJ-06 in what seems to be a pretty uncommon color of a light brown. Typically you'll see this in black since I believe that is all Self Edge and R&H carried for it. There was another jacket from Self Edge in this color a few years ago that I loved. The jacket is sized 38. For reference I'm 5'10" 145lb athletic build. I fit the prototypical TFH fit with broad shoulders and a tapered waist.
The leather is veg tanned horsehide which I'm guessing is shinki. Very beautiful color. The leather itself is fairly stiff and thick and needs to be broken in. My only other analogs of Japanese leather constructed into a jacket were buttery. This is not that. The hardware aims to be more period correct but I'd probably prefer something a bit beefier. Compared to my IH hardware this seems like child's play. The interior is a selvage flannel. If you are familiar with TFH's "Winter Wear" flannel this is it. It is thick, it is slubby, it has character and it is warm. Overall this jacket runs pretty hot.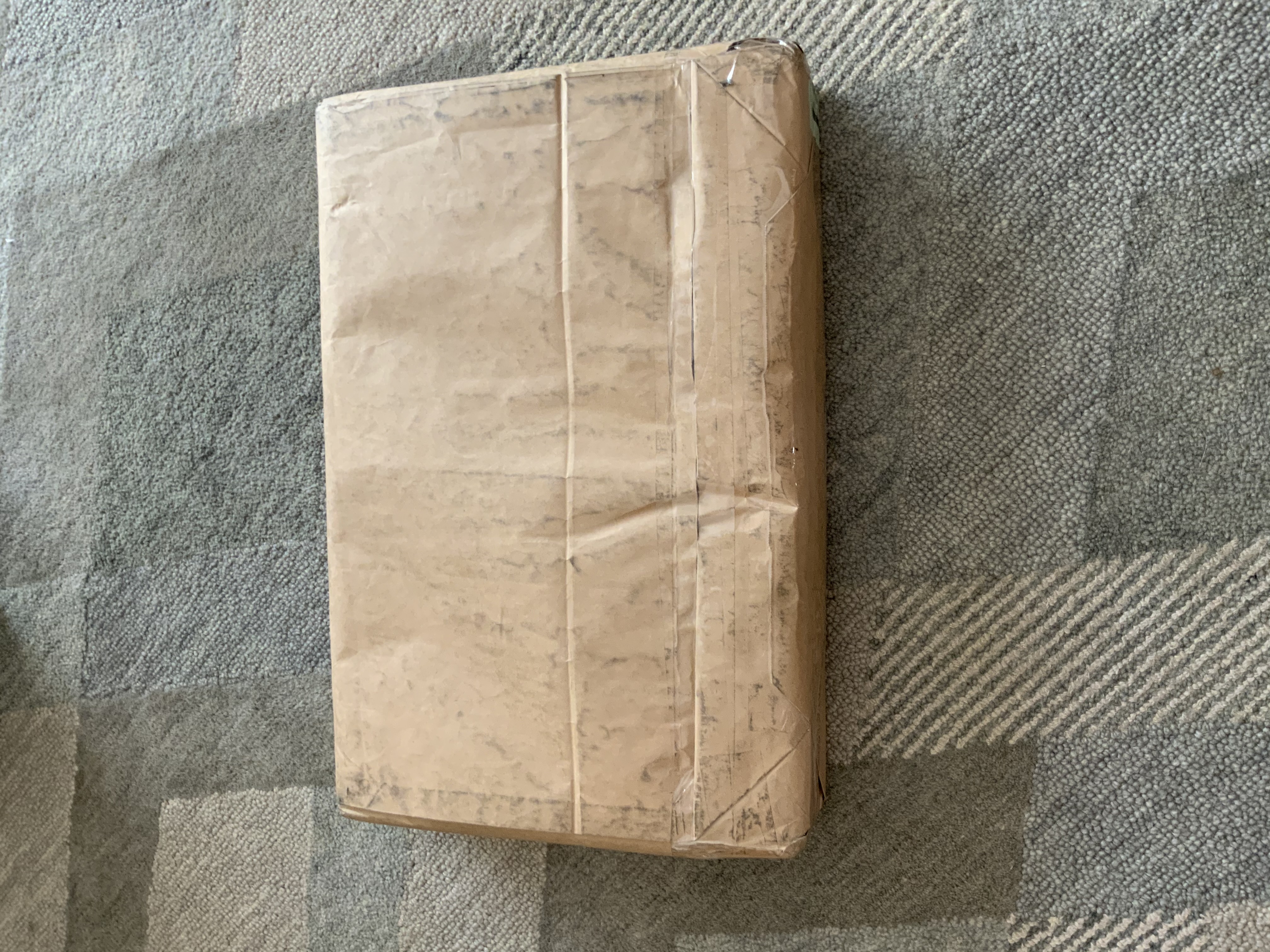 The jacket arrived in a fairly non-descript package from Buyee. I did not opt for the "protective packaging" option so this is the standard. It was really well wrapped.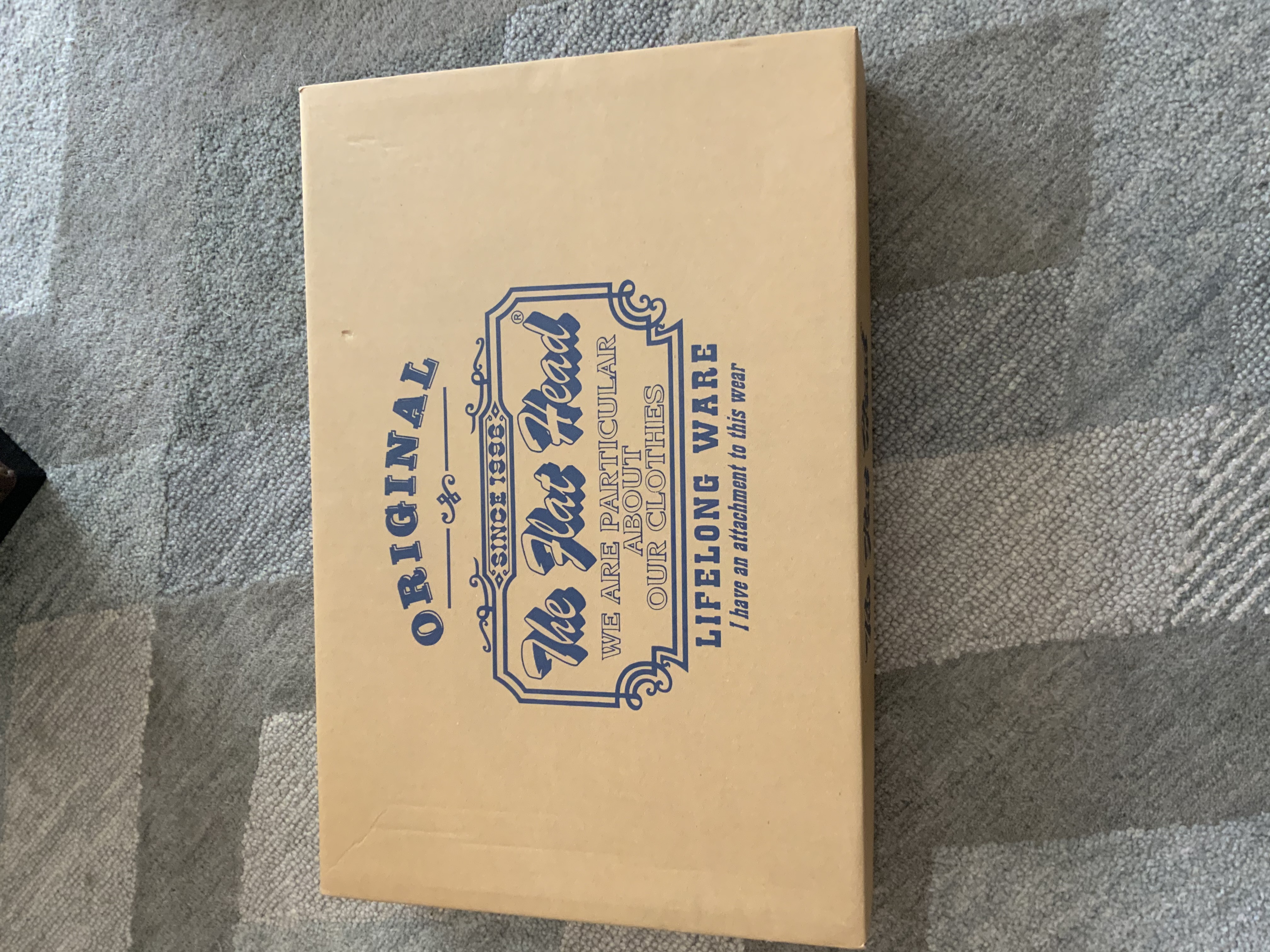 It came with the original box as well as was indicated on the auction site.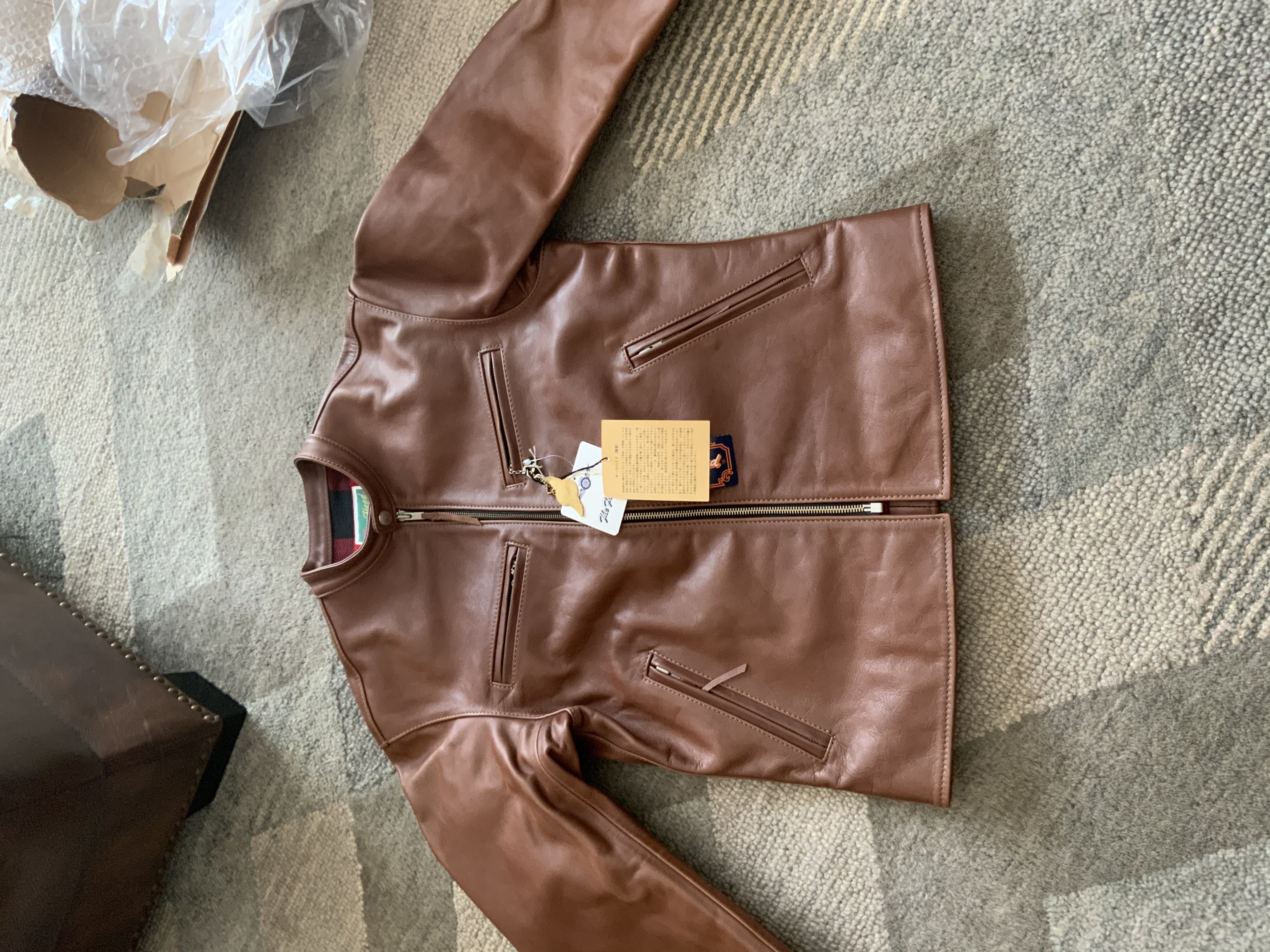 Here it is laid out with tags still in place.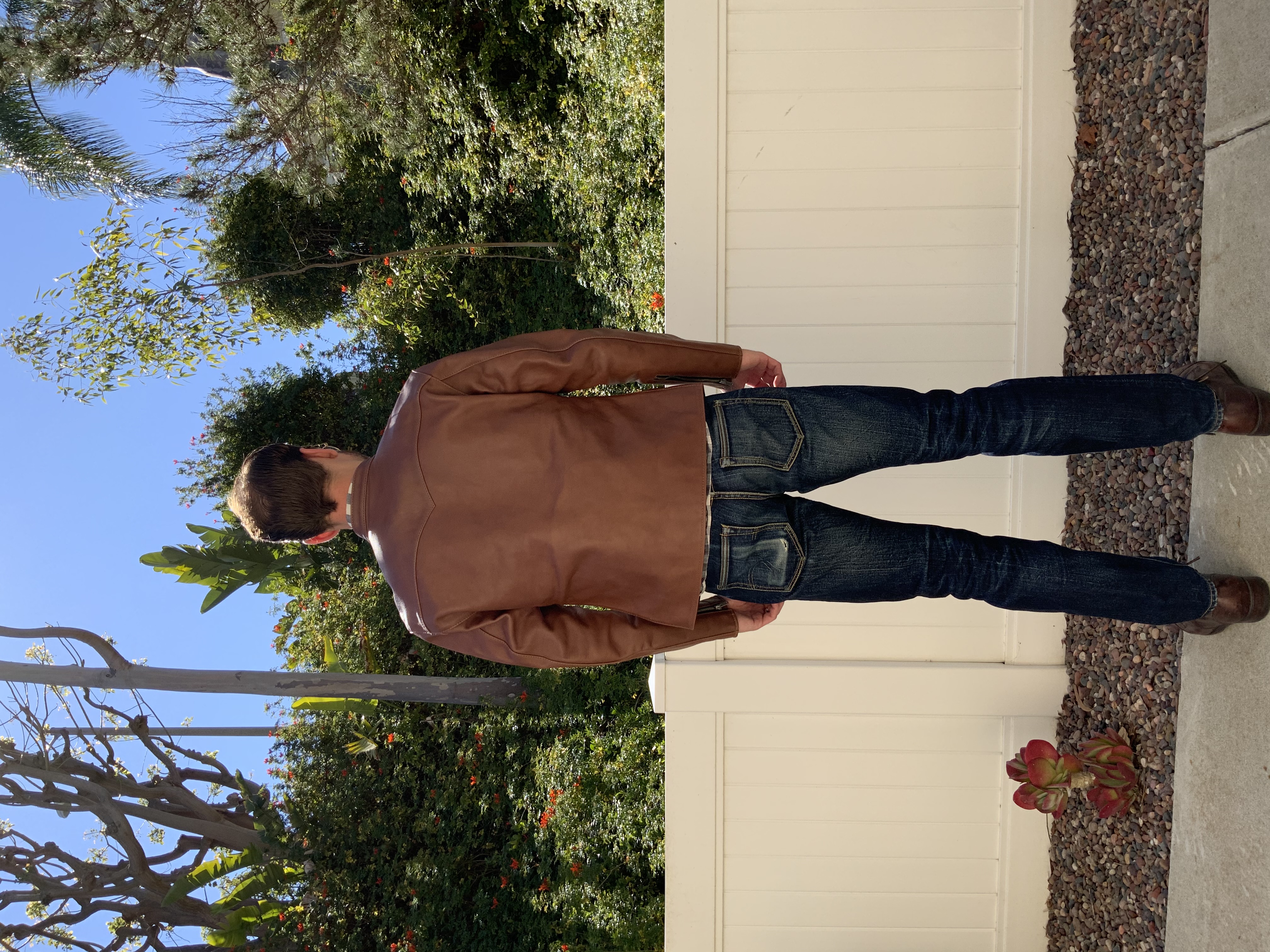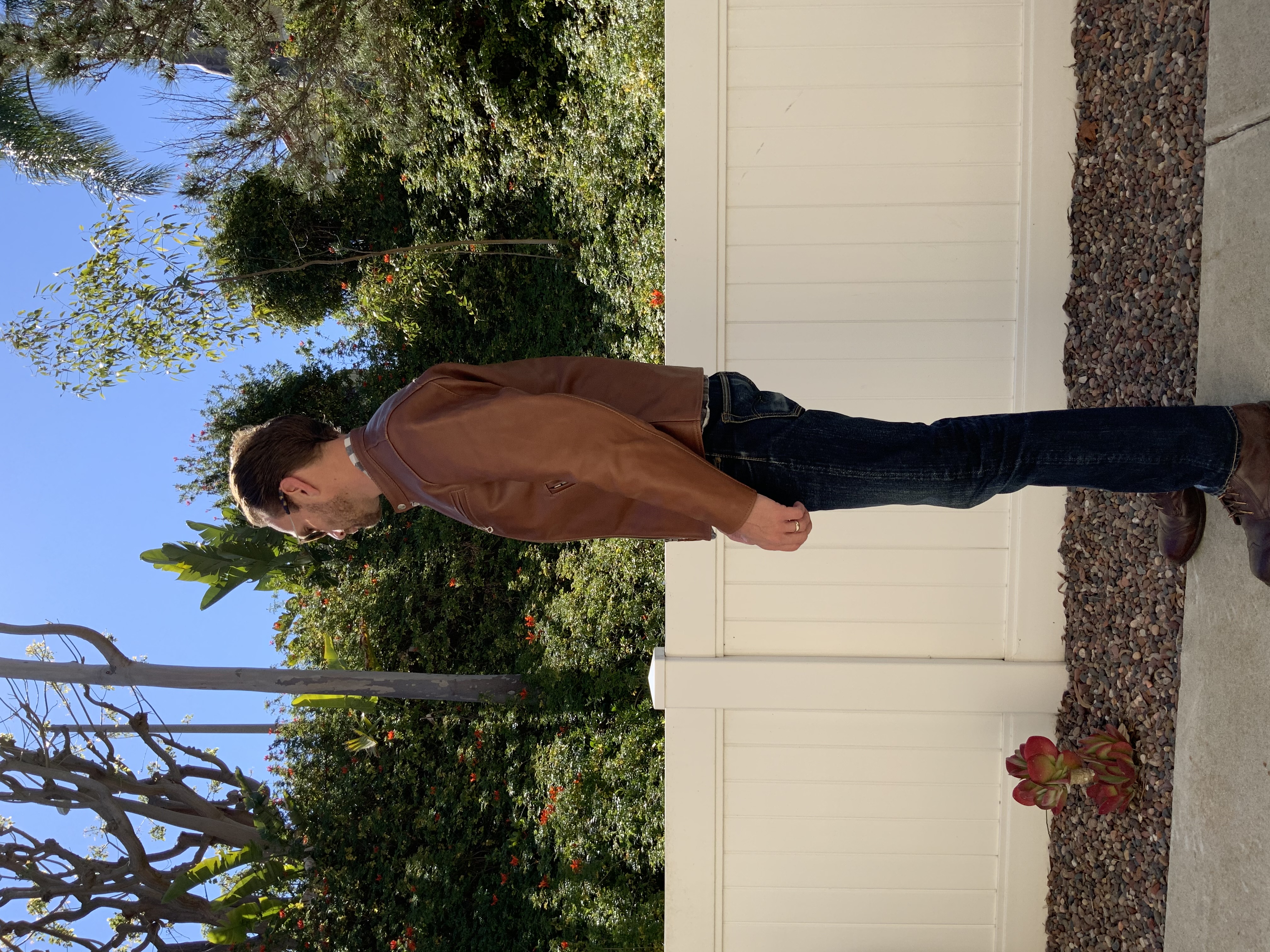 And here are the fits. I'm Flat Head from head to ... ankle (TFW no Flat Head boots) in celebration. Overall the fit may be a touch tighter than this forum may love but I honestly find it perfect for me. This is exactly how I like my stuff to wear. I could possibly use a bit more length on the body but that is about it.
Overall A++ jacket for me and I look forward to breaking it in!