So what do folks here think about this style overall?
Does anyone know the history or how it was designed?
I have never owned an actual "Cafecto" with an asymmetrical zipper, however while searching around for a proper-fitting Langlitz, I ran across several of these interesting creations. Most times, I have turned and looked away, and often wondered what was the point of that style, that also has a band-collar instead of the traditional shirt style collar.
I can see the following possible benefits:
- Easier to zip up all the way
- Lower interference with a helmet around the collar area on the bike
- Slightly lower cost of production
- A bit smoother appearance
- Easier to snap the smaller collar together for added protection
- ???
I suppose this design has grown on me, as I now have one on it's way to me. This will be a unique jacket for me as it is also made of Goatskin. I have not owned a Goatskin jacket since ~ 1999 when I briefly had a Navy flight jacket made of this leather. I have tried on a couple other jackets made of Goat, but we'll see how this works out. Here is a photo from the ebay ad, I hope to be doing a review of it soon.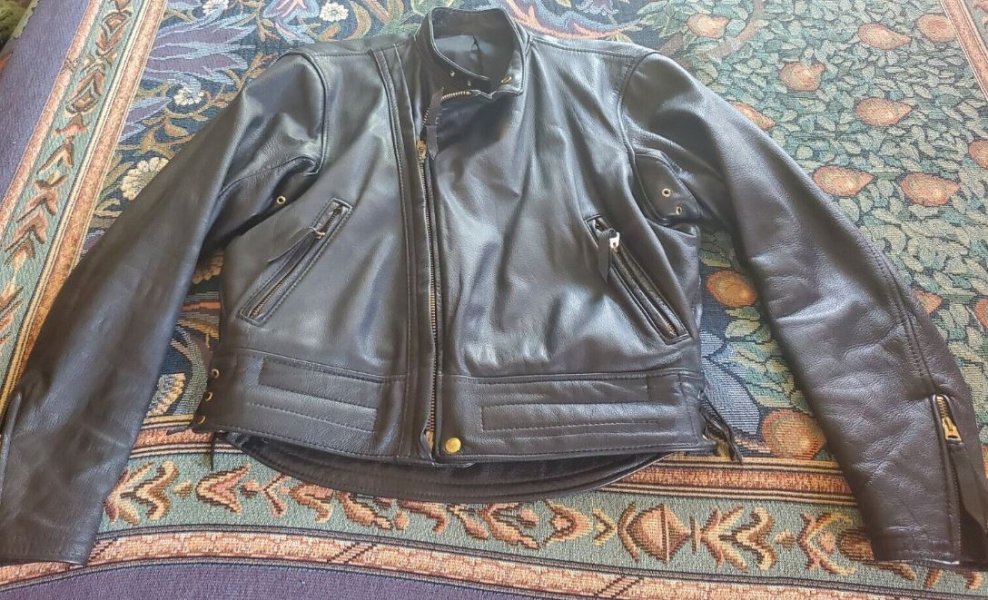 Meanwhile, any other thoughts or actual experiences with this style of jacket? What did you like or dislike?