Hi, I am for a short time affiliate in Fedora Lounge.
Last year I bought a "
Aero Leather Premier Half Belt
" jacket, that I will review. Everything I will write is only a set of subjective considerations, respect to my personal experience.
I liked the Premier Half Belt because it's a pretty short jacket with a snug fit and with a particular style in the back, and for the cuffs style.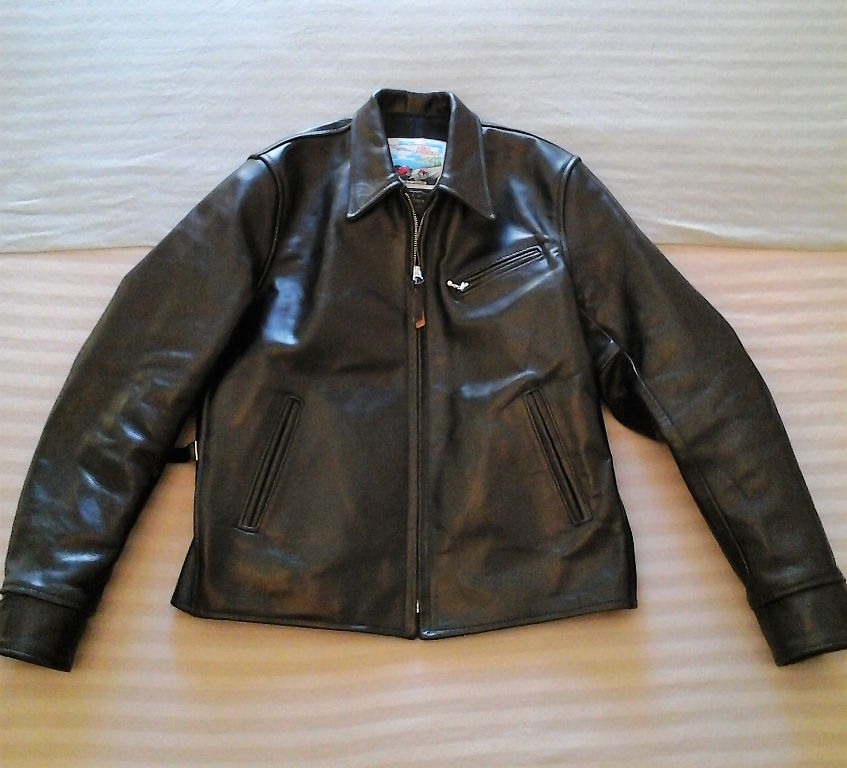 JACKET STYLE AND SIZE
" Aero Premier 1930s Half Belt" in Black Front Quarter Chromexcel Horsehide,
size 40
(corresponding to a 50 IT), although all my jackets are in size 38 (48 IT/M).
JACKET MEASURES
PIT TO PIT 54 cm./21.25"
SHOULDERS 44 cm./17.30"
SLEEVES 65.5 cm./25.75"
BACK LENGHT 62 cm./24.50"
FRONT LENGHT 53 cm./20.85"
FRONT DROP 4 cm./ 1.50"
MY MEASURES (taken over shirt and sweater)
HEIGHT 172 cm./5ft 7.75"
RELAXED CHEST 98 cm./38.75"
EXPANDED CHEST 102 cm./40.25"
STOMACH 96.5 cm./38"
WAIST 96.5 cm./38"
The choice of the size is the result of a set of evaluations, but above all the help of Holly , who doesn't need for presentations. According to my experience it is good to rely on size indicated by Aero: they explained to me that, for Premier models, size is calculated on the basis of the expanded chest. Regarding back and sleeves length, instead, I took as reference one of my Denim jackets, which I liked the back length, while for the sleeves I used as a reference a Cafè Racer jacket. I chose a 24.5" back lenght (advice from Aero 24"): the jacket is perfect, as it covers both trousers belt and a sweater, very important for me. Sleeves lenght is 25.75" (advice from Aero 24.5"): I like the length I chose!
An important consideration to do, if you determine the length of the sleeves on the basis of another jacket, is to evaluate the way which Aero takes this measure! In this regard, I attach the image that Holly sent me: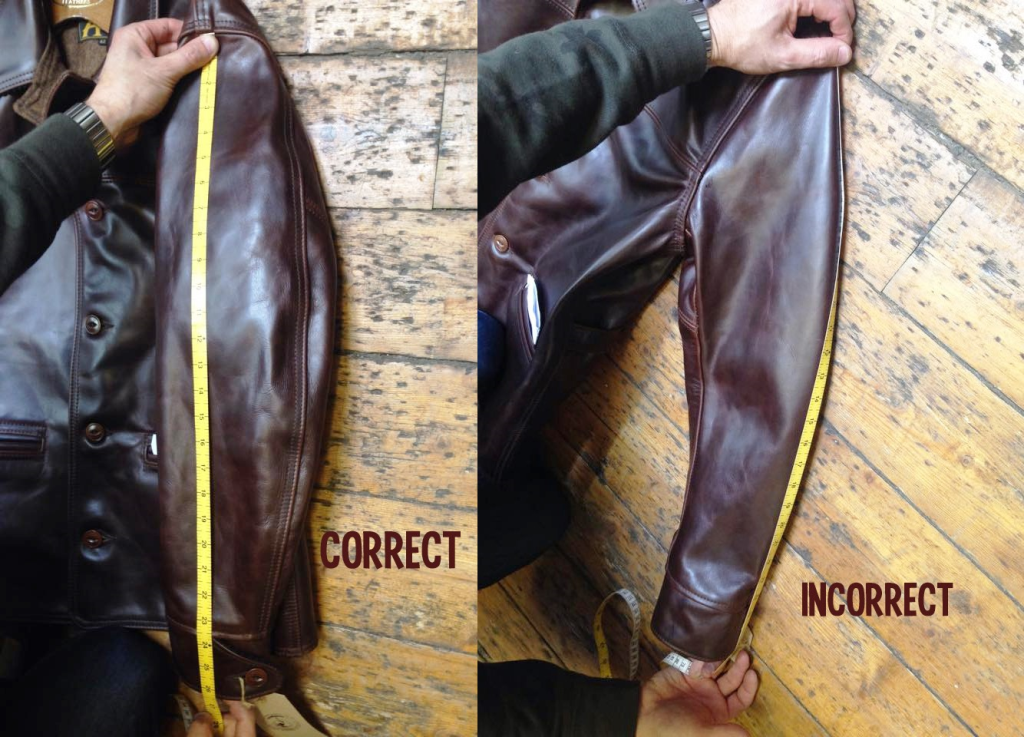 Another important thing to evaluate is also shoulders width: if you want to increase, for example, the size of a jacket, but sleeves length is fine, you must consider a smaller length of the same, to compensate for the increase in shoulders.
LEATHER
My doubts were on three leather types:
Chromexcel Horsehide
,
Chromexcel Steerhide
and
Vicenza Horsehide
. I asked Aero for samples: I immediately excluded Vicenza , which, due to its softness and tactile feel, seems like "nappa": I immediately had the sensation of an excellent quality, but also of a certain fragility". Surely a jacket made of this leather is immediately soft and comfortable, but I was looking for something different. Even informations about a certain sensitivity to the rain has distracted me by the choice of vegetable-treated leather. Having already two jackets in Cowhide, my choice fell on Horsehide: a hard, compact and charming leather. A real challenge to wear it!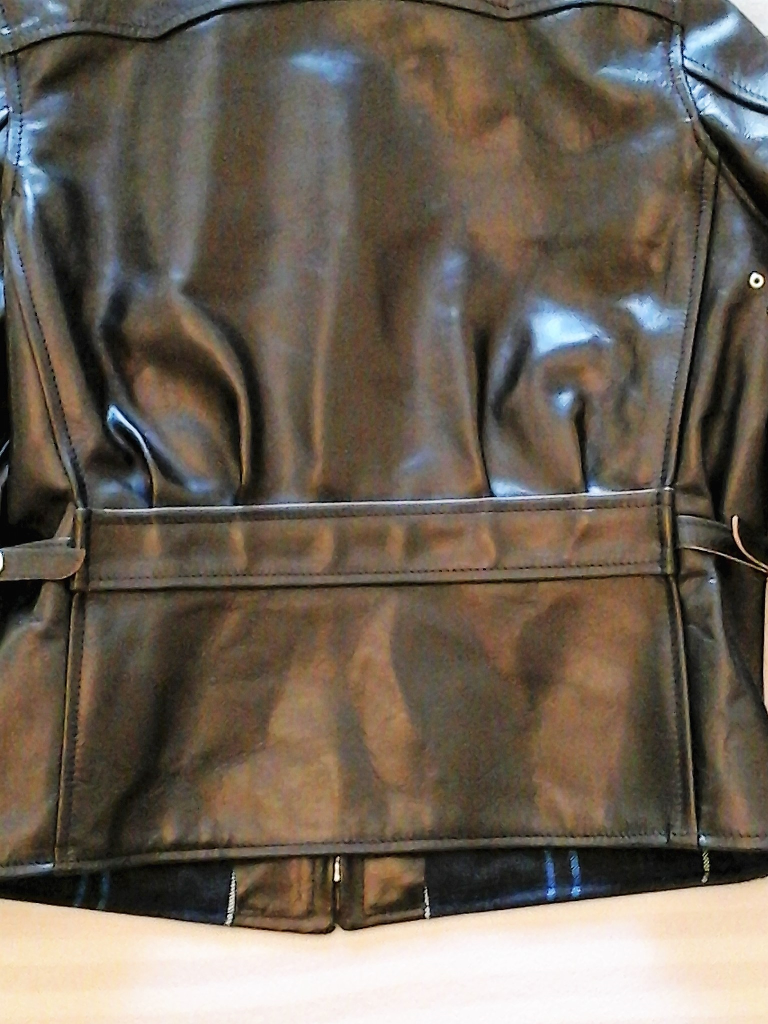 This leather gives stiffness and form, contributing to characterize the jacket with an "important" style and provide strength and durability over time. There are very compact and shiny parts, others with a spectacular grain, which gives a sense of lived and alive to the jacket. Black color is very intense and pleasantly glossy, but there are parts in which a certain patina begins to develop. Over time folds have also developed on sleeves, which are not wrinkles of old age, but waves that suggest the thickness and quality of leather, which improves over time.
About breaking in, after a year I would say that I am still on high seas: some movements are not easy yet and leather is still quite rigid. The jacket is indeed very hard, and even the simplest movements are difficult but wearing it is not oppressive. Driving the car immediately could help in this phase, but it wouldn't be safe, since there is a considerable impediment in the movement of the arms. Stiffness of the collar does not help, but, being small, not creates extreme discomfort. It is a thick and compact leather that will never become as soft as "nappa", but with time the hardness begins to yield.
I haven't implemented particular techniques to break in the jacket but I preferred to leave its course to nature
.
LINING
Inner lining I chose is Lochcarron Tartan Custom Medium Braeriach "PATRIOT MODERN". Also for this material I requested some samples directly from Holly and directly from "Lochcarron Tartan".
As for the thickness, I chose the Medium Braeriach: it seemed to me to be sufficiently resistant and protective compared to the use I designed for this jacket. I live in Napoli, and winters are not particularly cold: a few times we get to temperatures close to 0° C. Tartan is not, however, the hottest lining among those Aero, but I excluded other linings for two reasons: the first is that I wanted to buy this jacket mainly as a winter garment but thinking of a possible use both in late autumn and early spring (late October - early April); the second is that I didn't want to alter too much the slim line of the jacket with thicker interior linings such as Shearling or Alpaca wool. The consideration I can make is that the best use is with temperatures ranging between 15° C and at most 7/8° C. I specific, however, that I love the cold, but I suffer it a lot! In fact, in the temperatures and periods of the year indicated by me, I wear the jacket with, in the following order: woolen underwear, shirt and woolen pullover. My considerations are really very subjective!!!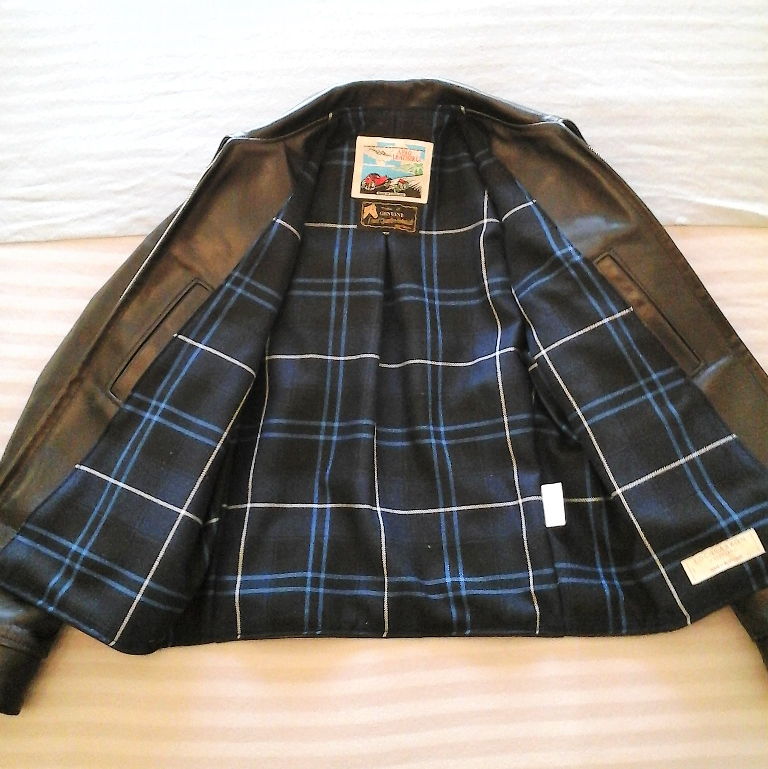 CUSTOMIZATIONS
My jacket basically reflects the standard configuration of the Premier Half Belt model:
- standard front with two handwarmer pockets and an oblique front pocket on the left;
- standard back with double-pointed yoke, half-belt and pleats above the half-belt;
- standard cuffs with classic buttons and leather interior. Some Fedora users ask if they can put their hands in the cuffs smoothly without unbuttoning them: I have no problems, but my hands are not very big. I believe, however, that the buttons and their seam could damage with such a thick and hard leather, at least in the softening phase;
- hand warmer pockets and sleeves interior in cotton drill ;
The customizations I chose are the following:
- Internal lining customized for both type of design and thickness of Tartan;
- 2 inside vertical pockets with open fastening, to maintain a thick symmetry in both the right and left sides. After about a year I own the jacket, I don't have found signs of internal pockets on the outer leather.
- Standard nickel Talon zippers: they are the classic Talon zippers used by Aero. I believe that on such a thick skin, perhaps, Aero should consider a larger measure zippers, type n. 8, but with a careful use I have not encountered big problems.
- Classic Aero label (airplane, car, bike).
FIT
The appearance and the feeling of quality of the jacket are truly exceptional! It is an adherent jacket, especially in the chest, while leaving a little room in the abdominal part, obviously adjustable through the side straps. I initially asked Holly to eliminate the lower flare, to have a tubular configuration like the "Board Racer" model. But I reconsidered this option to not distort the classic line of the jacket, and I must say that also Aero advised against this variant. Armholes are high, but they're certainly not bothersome.
Regarding the occasions in which to wear it, I consider that the Premier Half Belt is quite versatile to be worn quietly with jeans and T-shirt, but also with classic trousers, shirt and tie. Surely it is a jacket that is noticed! Hand warmer pockets are well coated and deep, but they are not as comfortable as they are positioned slightly high.
DEFECTS
Although it is a jacket produced in a traditional way, I have encountered only one small defect, which I report only because found by other users, and, however, easily resolvable: one of the side straps tends to widen compared to the other. This happens because the thickness of the leather with which it is made is a little thin, and tends to loosen from the belt buckle. I solved the problem by making a sort of knot around the belt with a black lace for pendants and necklaces: it disappears behind the buckle and holds the strap firmly.
FINAL CONSIDERATIONS
Further advice I can give to people interested in this type of jacket regards the choice of this model: it is certainly a simple model, without too many frills, suitable for different occasions. The use is certainly more suitable for periods of the year not too cold. Obviously it is a very subjective data, as I have seen photos of Fedora users wearing similar jackets even in the snow: it is certainly not my case
.
In the end, I would like to say a few words about Aero. My contacts have been exclusively with Holly, of which I would like to praise the professionalism, but also the great kindness and patience in answering the many ritual questions with great respect of the customer (though certainly trivial after receiving and read them thousands of times!). Aero is a good company, with a policy now rare today, not because of companies, but because of a system that no longer allows you to manage things in artisanal way, with the consequence of the disappearance from the cities of small commercial realities that once were the backbone of the economy.
Now I post some photos wearing the jacket.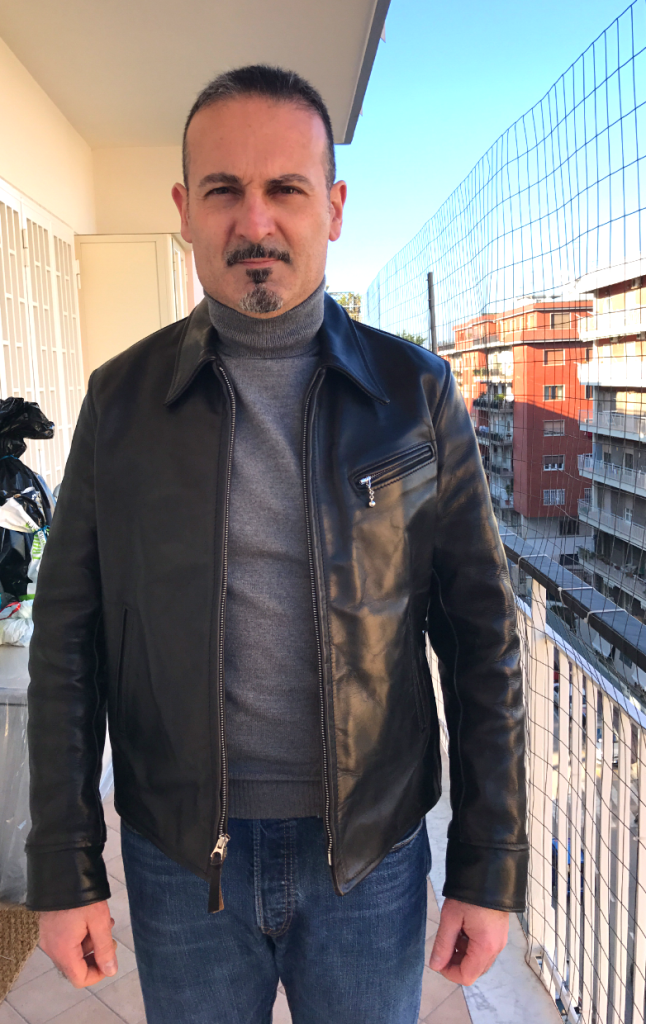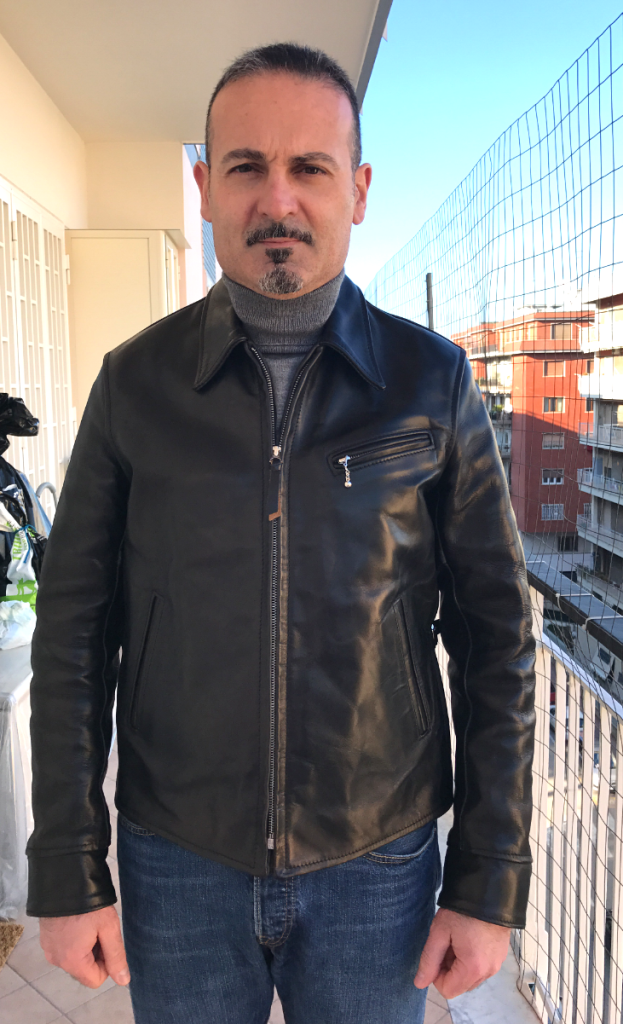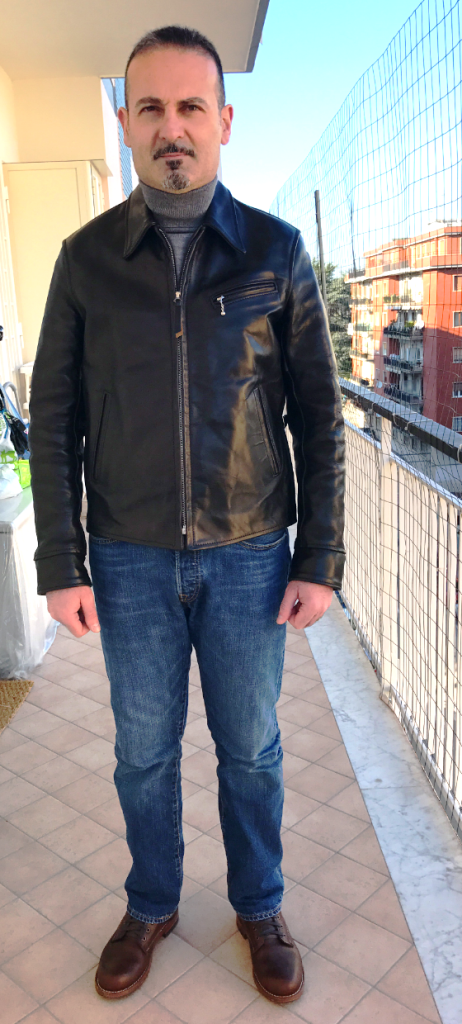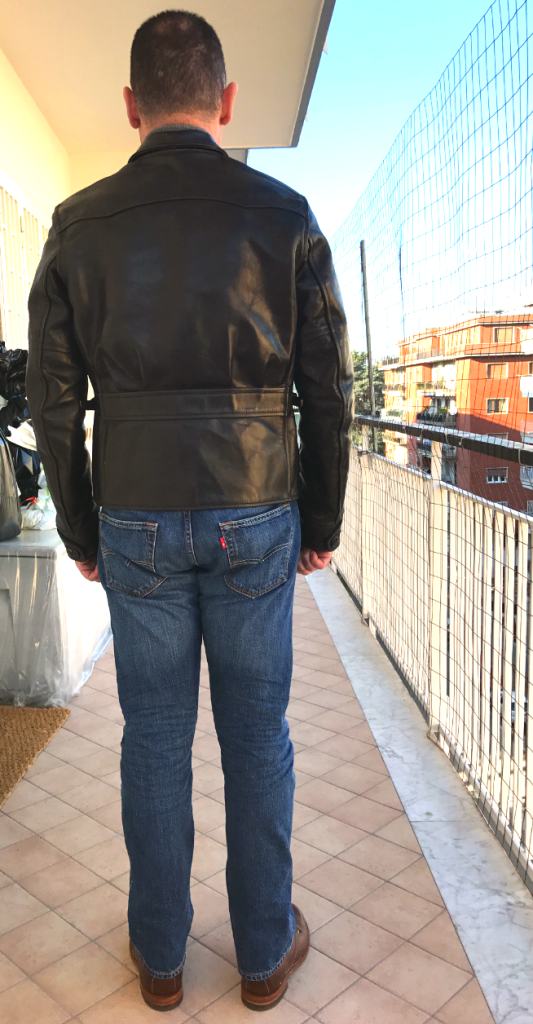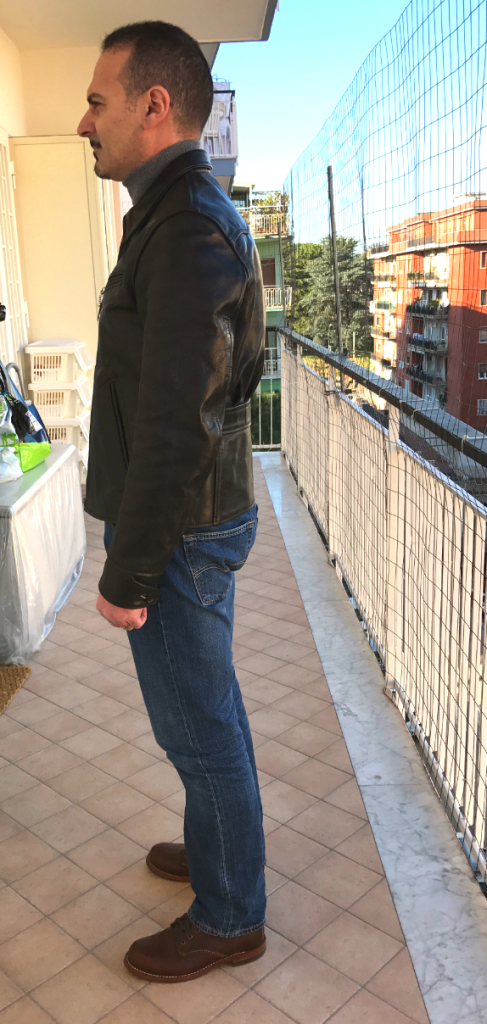 I apologize for my English and I hope I haven't been too boring, but above all I hope to have helped to dissolve some doubts on the choice of this jacket.
Vezio.