I first saw this jacket from one of the threads here. Cushman is a repro clothing brand in Japan that does jeans and bunch of other stuff and they do one leather jacket per year. Blue Cylinder is his retail store.
This is Cushman's deerskin aviator: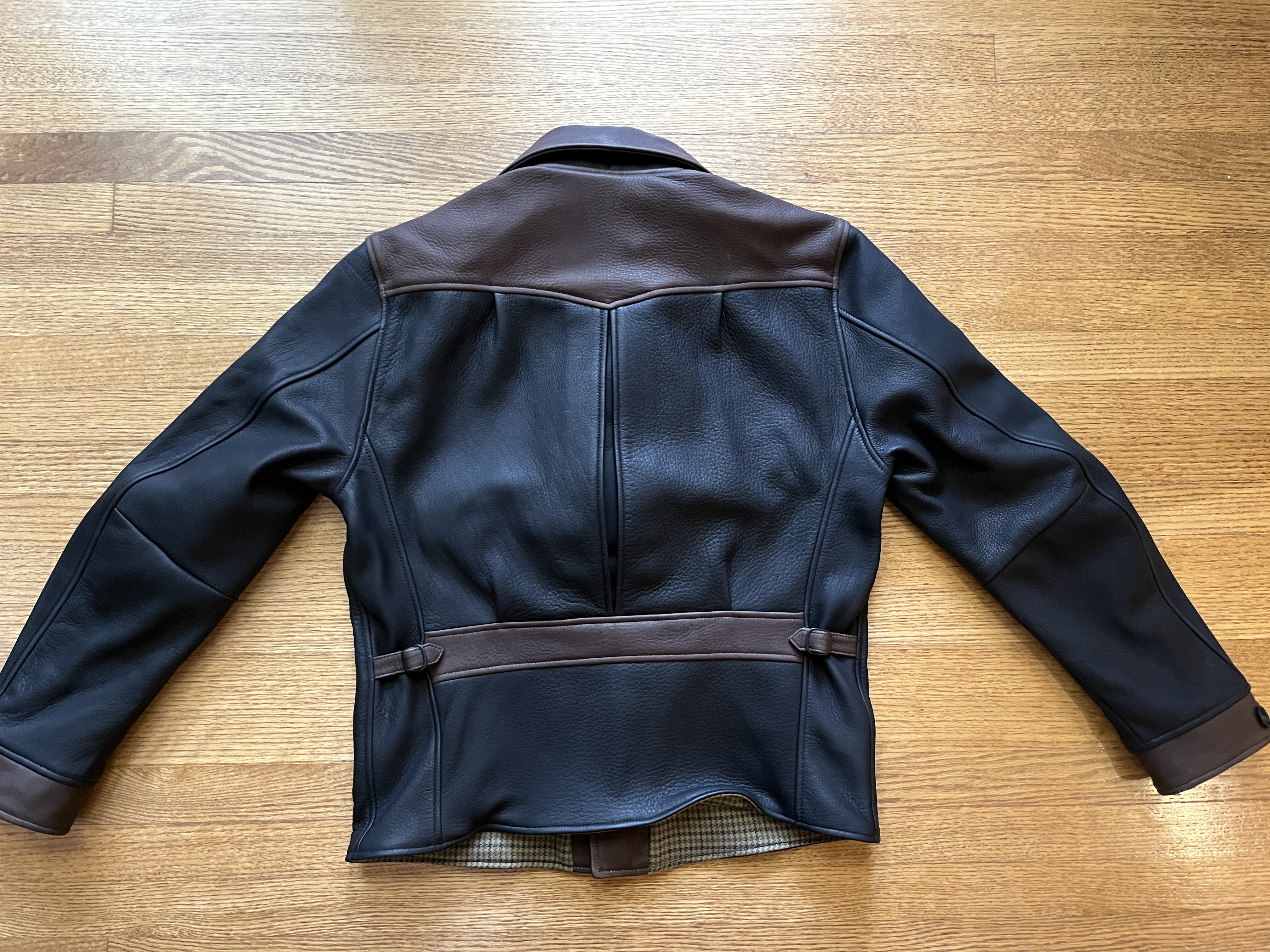 The deerskin is quite thick, 1.4mm at least, same as the stuff used on the Freewheeler deerskin jacket and vest I have. I suspect the deerskin used on Finecreeks are also the same. There is a write up some where talking about the place these deerskin came from (in Japan). If I find it again I will post the translated version here. Full naked hide, so it is very spongy, and doesn't wear like leather, more like sweatshirt. Lots of stretch in this deerskin leather.
Full suiting wool lining in the houndstooth design, quality cloth, not scratchy. Waldes zips all around. The other small difference I've noticed is that he put the pull tab on the other side.
Cushman sizing is very different than all other Japanese brands I've got. He doesn't do numeric sizing, just S/M/L/XL. This is a Large. It's got 19.5" shoulders, almost 22" P2P, 20.5" hem, 24" back length, 24.5" sleeves. This jacket has curved sleeves so the back of the palm is longer than the front. If I measure straight down to the front of the wrist its 24", and if I measure straight down to the back of the wrist is 25". He also put the under side sleeve break right below the elbow point instead higher up. Just small differences. Not noticeable in wear.
Here is how this fits on me, 6' and about 180lbs. It's a bit tighter and a bit shorter than I'd liked but within my tolerance for off the rack jackets. The deerskin wears very easily, lots of stretch every direction.
Cushman jacket is as good as the "1st tier" jackets mentioned around here, with even better lining material. But there is no brand tax like the other overpriced brands. If you are in Japan or find his stuff online, check him out. I ordered directly from him from Instagram. And I do see his stuff come up on the used market every now and then. Excellent built quality and material.