December last year I sold my Eastman Californian jacket to one of the Lounge members. It was too small for me so I decided to go buy a new one, one size up. I went to one of Eastman's stockist in France and tried a size 42 which was a perfect fit. Unfortunately, the brand-new jacket did not possess half the character of the jacket I just sold. My old jacket had beautiful grainy leather, the new one looked very flat. Therefore I decided to have another look around...here on the lounge.
I came across Red Devil's review of his Thedi jacket (
https://www.thefedoralounge.com/threads/thedi-mtc-127915-in-tan-buffalo.91938/
) I loved the beeswax finish on it which, in my opinion, adds tons of character without overdoing it or making the jacket look 'distressed'. I also saw photos of HD's Thedi jackets, one in tan with buttons and the grey one with a zipper. I made up my mind, my next jacket was going to be a Thedi.
One of Thedi's stockist in Germany had a jacket in stock with a similar design. It was a crosszip with a shearling vest and collar. Me and my girlfriend made the trip to Germany so I could try it on. Unfortunately, it just didn't fit: size large was too tight in the chest, XL was too long and too wide in the waist.
Having my mind set on buying a Thedi jacket, I decided to send Theodoros an e-mail. Theodoros was very helpful and told me he could sew a custom jacket for me. I just had to send him my measurements (chest circumference, shoulder circumference, waist etc etc). He also asked for two photos of me wearing a t-shirt, one taken from the front and one taken from the side. Furthermore I asked for specific sleeve and back lengths.
Next step was to decide on the leather, lining and other customization options (zipper; collar). I saw a nice jacket on Theodoros' Instagram profile which was made of brown 'bruciato' horsehide. As we all know capturing the true color of a brown jacket in a photo is very difficult, therefore Theodoros sent me a few samples: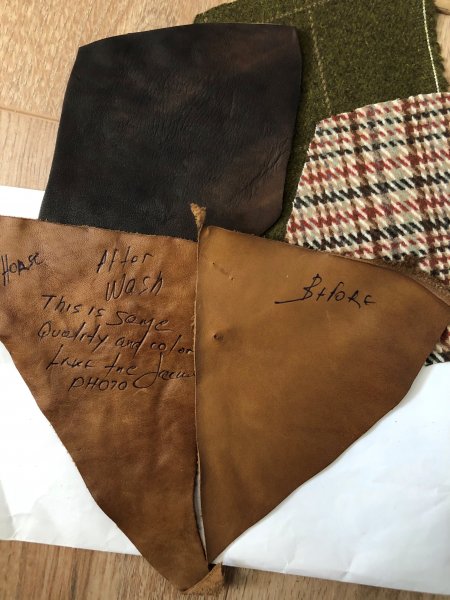 The darkbrown horsehide was nice and had lots of natural character, but it was thinner than what I was looking for. The unwashed 'bruciato' leather looked a bit 'flat' to my taste. The bruciato horsehide with the beeswax finish was exactly what I had in mind. Furthermore I wanted an off-white detachable shearling collar.
In the beginning of february, after e-mailing Theodoros my leather and lining preferences, he told me it would take approximately 60 days for him to complete the jacket. Then COVID-19 happened and Theodoros had to close down his workshop and therefore I had to wait a little bit longer for my jacket to be completed.
In the meanwhile, while waiting for my jacket to be completed, I started to doubt my choices: did I choose the right back length, would the color of the leather not be too light, shouldn't I have chosen a button close instead of the zipper close, etc ect. I guess that is just part of the process of ordering a custom leather jacket, hoping it will turn out the way you imagined it but not knowing for sure until you actually receive the jacket.
Then, beginning of may, Theodoros let me know his workshop had reopened and it would take another 20-25 days to complete my jacket. Last Thursday, end of may, I finally received the jacket.
Opening the box, I could immediately tell the jacket was even more beautiful than I imagined it to be. Beautiful leather, buttons, shearling and lining.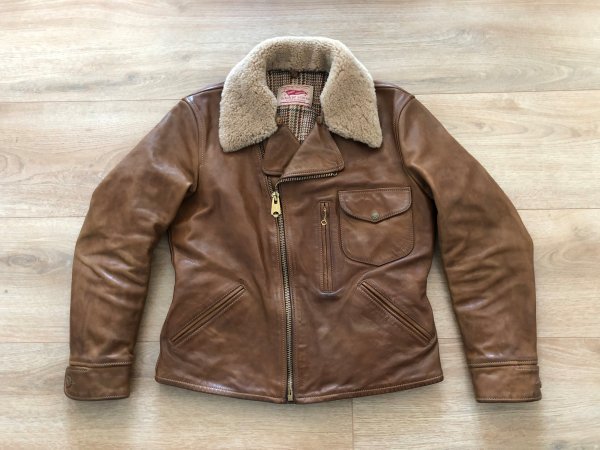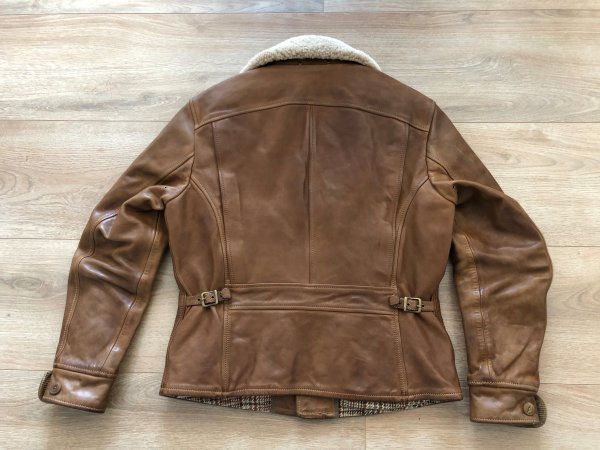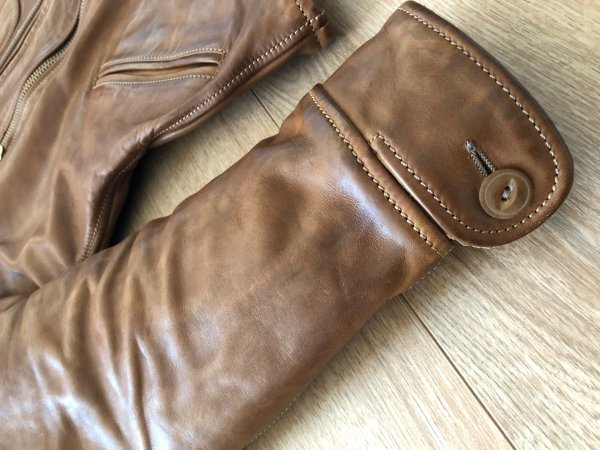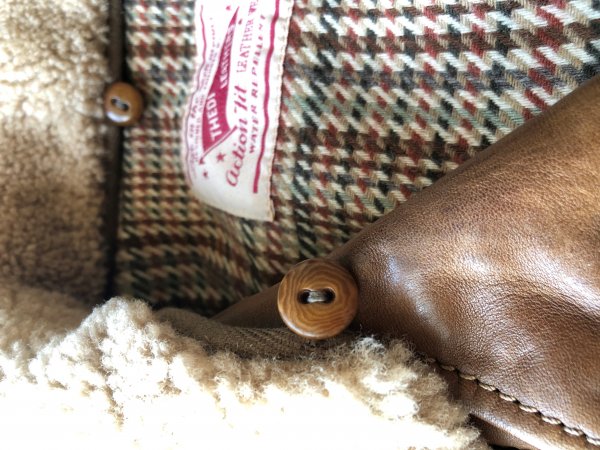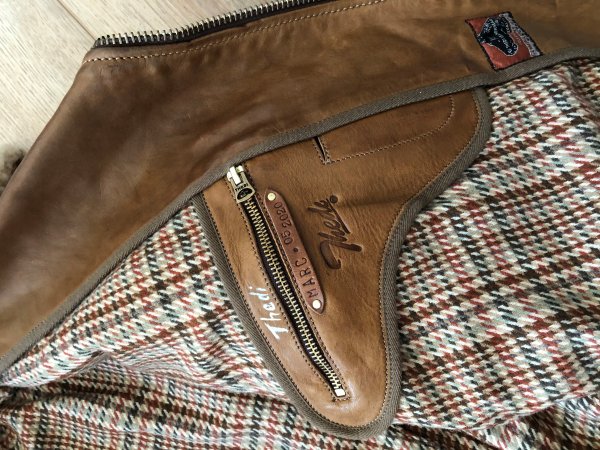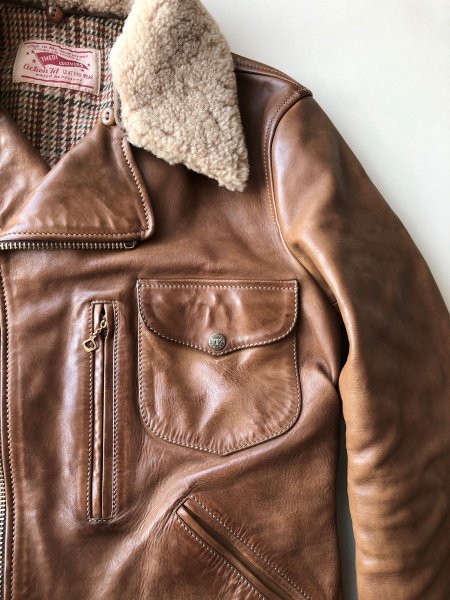 Trying on the jacket, it fits like a glove. Perfect in the chest, nice slim sleeves, and still roomy enough to wear it with a thick sweater. I was told the leather is between 1.1 and 1.3 mm thickness. I cant tell, but it is heavier than my Eastman Roadstar, but not as heavy as an Aero CXL FQHH. The leather is vegetable tanned and shows beautiful grain. I believe when ordering I asked for an off-white collar, the collar I eventually got is more beige than off-white. I'm not sure this was a deliberate choice of Theodoros, but in hindsight I'm glad he went for beige. I think the beige collar suits this jacket much better than an off-white collar would have done.
I'm absolutely over the moon with my new jacket. Too bad I'll have to wait till the fall before I can actually wear it (the jacket is much too warm for now). Like I said its even more beautiful than I imagined it to be. Even though, if I had to name one thing I would change about this jacket, it would be the bottom width. It flares just a little bit and I would have liked the jacket even more if it were one and a half inches narrower at the bottom.
Chances are good that my next jacket will also be a Thedi. In my opinion, his designs are unique. He's not just recreating vintage jackets from the past, he takes a classic design and gives it a modern contemporary twist, combining the best materials with the finest craftsmanship.