Hello everyone. For your consideration: my submission to the New England Journal of Leather Jackets.
Title: Analysis of Aero Board Racer Tag Sizes

Background:
I'm new to buying leather jackets and I'm considering buying an Aero board racer. I noticed that there seemed to be a fair amount of variability in measurements for each tag size when shopping for jackets.
Objective:
To determine the variability in board racer measurements for each tag size, so that I can figure out if any particular individual jacket is "a large 38" or "a small 40".
Methods:
I scraped measurement data from the Thurston Bros website for each board racer on sale / previously sold with relevant measurements listed. Then I used R to spit out some statistics and plots.
Results:
Thurston Bros has 49 different board racer jackets with measurements listed. I excluded one jacket from the analysis because it was listed as "short".
Box plots: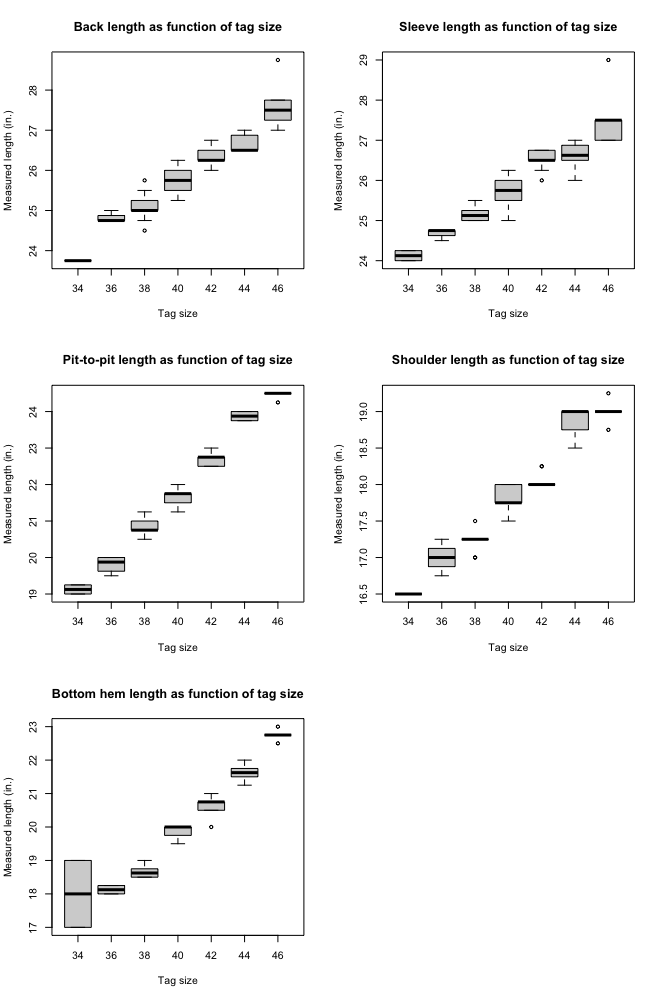 Descriptive statistic table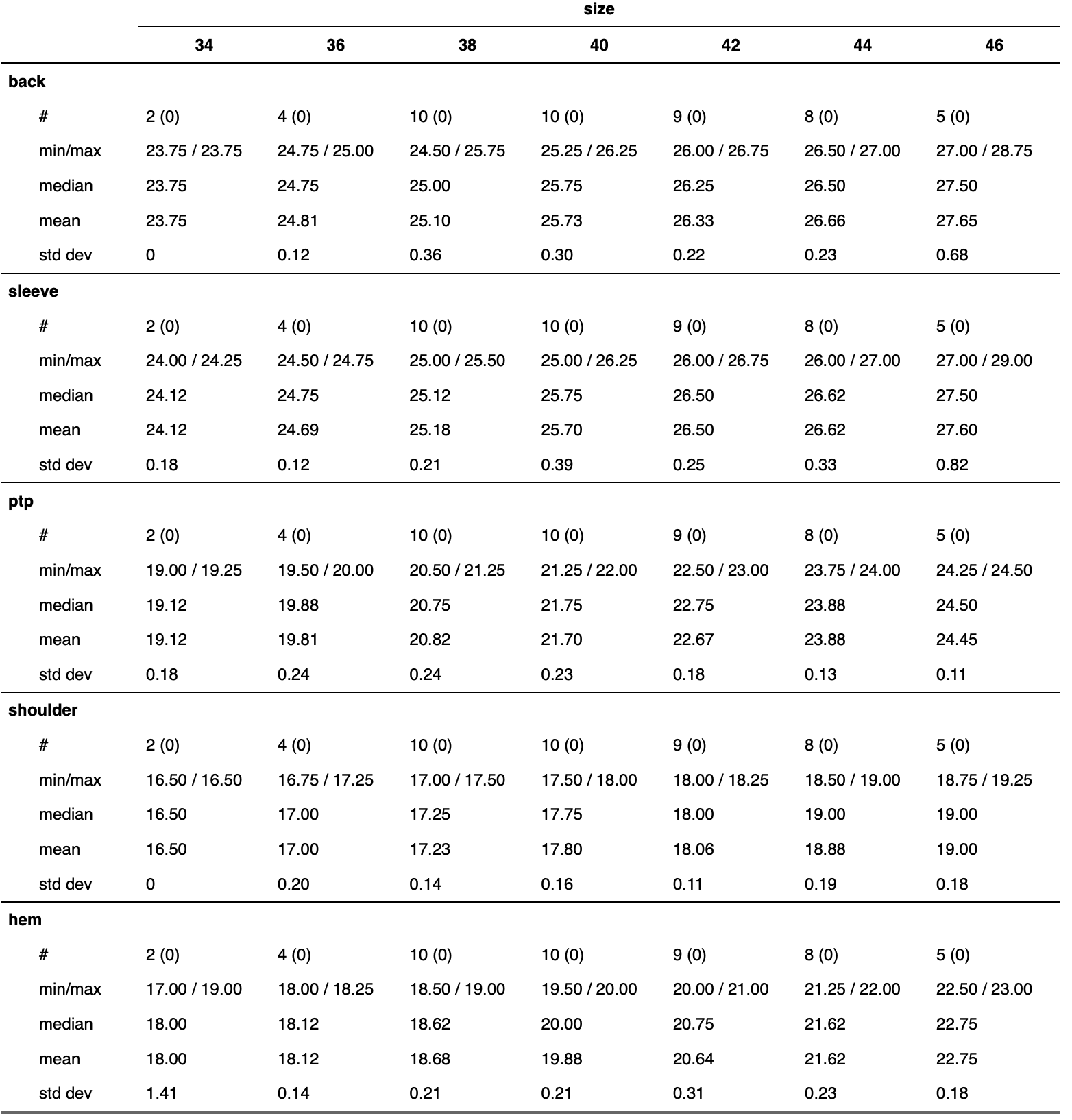 Cross table: each column corresponds to the tag size, and the rows correspond to the type of measurements. "#" is the number of jackets for each tag size, "min/max" is the biggest and smallest measurement, "std dev" is the standard deviation.
Discussion:
Back length and sleeve length had quite a bit of variability with respect to their tag size, as might be expected since these are the customizable measurements via Thurston Bros custom ordering. There's a decent amount of overlap between tag sizes for many measurements.
Keep in mind that this is just a small and limited sample. There weren't many jackets available to compare. I didn't calculate confidence intervals and all that to estimate the means of all the Aero board racers that exist. But it can still be useful as a reference point. For instance, we can look at a Real Mccoy J100 tag size 40. Measurements listed on their website:
Chest: 21.3in
Sleeve: 25in
Length: 25.4in
Shoulder: 18.9in
We can compare it to our Aero BR 40 mean (standard deviation in parentheses):
Chest: 21.70 (0.23)
Sleeve: 25.70 (0.39)
Length: 25.73 (0.30)
Shoulder: 17.80 (0.16)
We can say that a RMC J100 size 40 has a smaller chest, shorter sleeves, and shorter back length than most tagged 40 BRs from our sample, and it has wider shoulders than all of them. In fact, it has shoulders that would be comparable to 44 or 46 BR.
Of course, this all assumes that we're all measuring exactly the same as Carrie at Thurston Bros.
Anyway, thank you for coming to my board racer TED talk.