TLDR;
I ordered a bespoke Chevalier jacket from Himel Bros. Leather. It took 20 weeks to complete, more than double their estimated lead time of 2 months. The jacket itself is excellent, but their service was not very good, especially at the price they charge.
What was supposed to be a glorious, once-in-a-lifetime splurge became a costly and stressful project management exercise.
Would I do it again?
If you want to know the details, get yourself a coffee and saddle up, it's a long read. But, hopefully it provides you with some insight into how one customer's experience with Himel Bros Leathers went down. I needed to get it off my chest anyway, so maybe it will help someone who is thinking of ordering a bespoke jacket from them.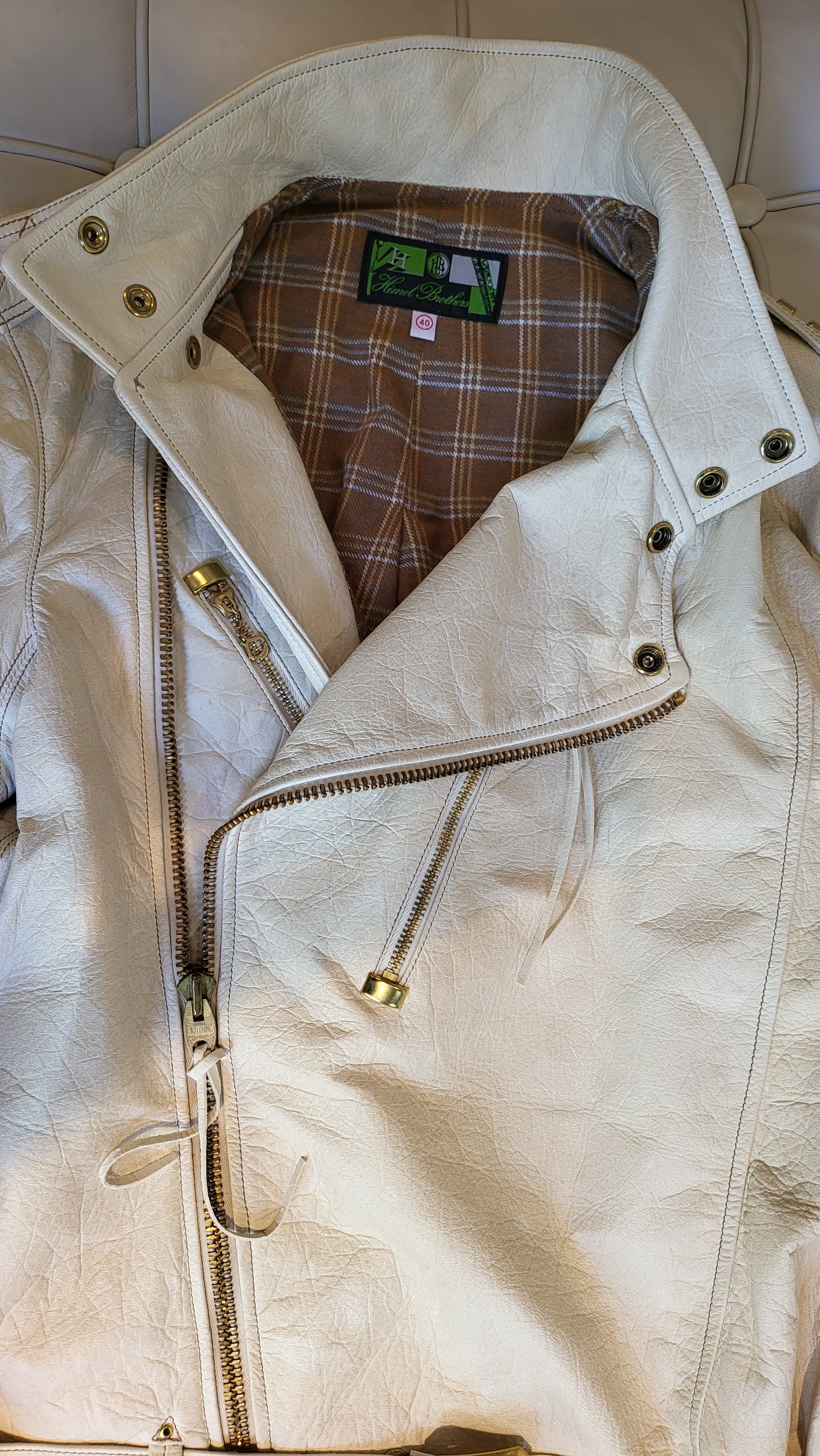 --
PROLOGUE
I initially reached out to Himel at the beginning of 2021 to inquire about getting a bespoke Chevalier made.
Since they never replied, I ended up going with my other option, Langlitz, for a custom order that March. I liked one of their similar models (the Comstock), they had more options (leather colors and mouton collar), and overall, they were less expensive by more than $1100, even with all my customizations.
My Langlitz jacket never materialized, though. They kept me on the hook from when I ordered in March 2021 until that November, a couple weeks before delivery was supposed to happen in December. They then refused to make the jacket unless I could fly out to be measured in person in Portland, which is pretty ridiculous for someone mail-ordering from NYC.
I actually was in San Francisco literally a week before they emailed for a wedding. Had they communicated this any sooner, I would have considered making an expensive pit stop, but it was now out of the question. Needless to say, the order was canceled, and Langlitz was not that nice about it, either. Maybe they're too busy making jackets for Nick Cage.
--
PLACING THE ORDER
So, I turned back to Himel in November 2021. The Chevalier pattern is in my top 3 jacket styles, but mainly, Himel's price turned me off. After the disappointment with Langlitz, I figured fck it, "one good thing," as Himel's motto goes.
The initial communication was pleasant, if not sporadic and sometimes not thorough. Some questions or comments from me would be missed or ignored in the emails, but David is very willing to hop on the phone and talk.
When we did talk, he really took the time to understand what we were building, and cited any potential issues (leather weight vs. jacket pattern, availability of desired materials), which I really appreciated -- he is definitely knowledgeable in his craft.
In retrospect, it would be wise to get leather swatches or samples from them if they offer it. There were a lot of confusing things about which leathers were available, how they'd patina, etc., and it probably would go a long way to visit them if you are local, or ask if they can send you samples of the hides you're interested in.
I wasn't offered swatches, but I was picking from very few hide options due to my color preferences in this case, so I didn't ask. The pictures they send of the leathers via email / text message are not high quality, and do not accurately show color or texture. They are not organized or labeled in any real way, so you as a buyer start to lose track as to what's what. Langlitz did send me labeled physical swatches, and it made me much more confident in the choices I made for the jacket they never made.
I was working directly with David and Jasmine, his employee who deals with orders. I understand he's got about ~4 people in the shop: himself, Jasmine, his sewer, and his cutter.
Eventually, by November 19th, we had the details settled, and I placed my order, with David mentioning it would take about 2 months to complete (their site estimates 4 - 6 weeks, so I figured mid-January). By beginning December, they had my sample jacket, measurements, and all the specs I wanted in the Chevalier.
To get started, they needed everything paid upfront, then I shipped them a fit jacket of a similar style, and emailed photos of me wearing that jacket, some dimensions I wanted changed based on that fit, and a form they sent me, which provided them with specifications, measurements, and preferences for what they were making for me.
[continued on next thread]