So this thread is to serve a few purposes - one to chronicle a jacket I "just" received that is a surprise hit. Second is to give a place of information of this company - Just Leather out of San Jose, CA. From all I can find, the company is gone now.
And if you happen to own a "Just Leather" jacket, feel free to post photos & details here.
I found this jacket in the "finds & deals thread" a little over a week back. I had noticed it on ebay prior and realized it could be a fit. Then I made an offer on it and the seller accepted the offer. I arrived yesterday, and well, I have barely taken it off since I put it on. It was a great purchase.
This jacket is their California Highway Patrol jacket, and as is well known here, many other makers have copied this pattern. This CHP is notably simple of design, having no belt or belt loops. It is a rather heavy grade of steerhide leather, the whole jacket weighs over 8.5 lbs.
I am bit confused as to manufacturing date of this jacket. I would place it late 70's or early '80's, as it has the snap inside for a snap-in lining. This lining is missing in my jacket. I have not seen a jacket earlier than the '80's with these snaps inside, however that may just be my limited experience with this type of vintage jacket.
What is a bit more confusing here is that all the pocket and sleeve zippers are brass boxy Talon's - #5's as shows in the photos. Would I be correct in thinking these would have been earlier than the '70's?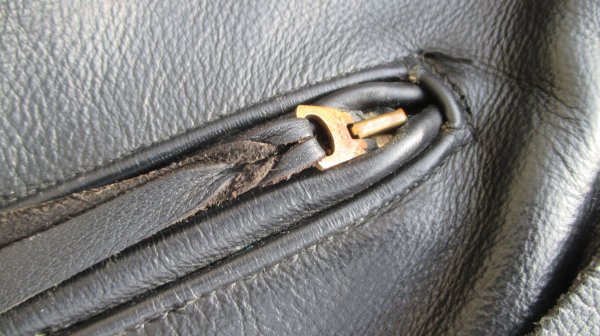 The main zipper is a replaced brass YKK that shows very little wear. It also was replaced very neatly in my opinion and the stitching is tight & true.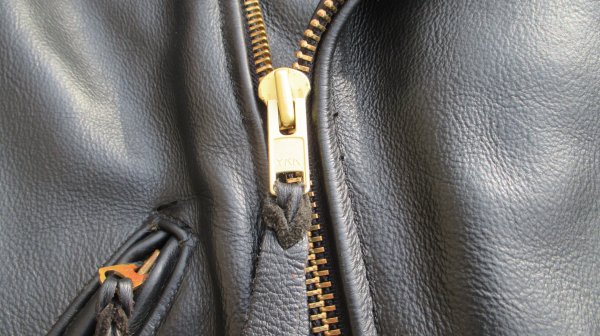 The lining is a heavy duty, but easy wearing Rayon lining and I for one am happy the Just Leather saw fit to put the tags inside the snap-out liner. This one is a size 46 and fits like a 46L overall. It's a great fit on me as is with a layer or two underneath, and the side laces can be loosened up if needed.
When I first pulled the jacket out of the box, there was a noticeable odor of acetone - I suspect someone tried to remove the small "spray" marks of dull red-brown paint (likely deck stain) that is at the end of the RH sleeve. This is barely noticeable, see photos, and I think it gives it just a little bit of character. I will leave it as is: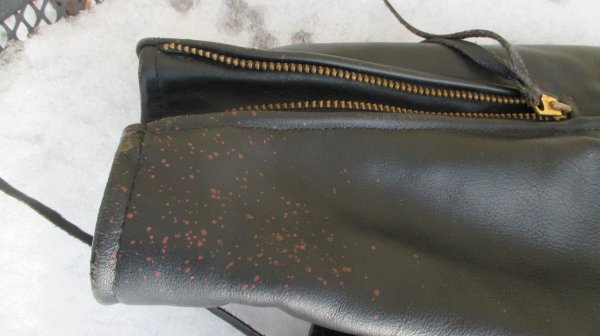 The "odor" has all but disappeared with simply wearing the jacket around all day, the leather smell is coming back nicely. The leather appears to be dyed-through, and the very small areas showing wear do not show much color loss. The leather on this jacket is the best part of the jacket. Not "spongy" at all, just thick, durable, and forms easily to the wearer. It is a heavy jacket, but does not feel heavy when it's on. So it's a good pattern as well.
Wear on sleeve underside:
All this to say, if you run across an "early" Just Leather jacket in a size that fits, it may be worth a try. This was under $150 shipped. I cannot speak for the newer jackets they produced, hard to tell unless you have one in hand anyway. For a daily driver jacket, this will do nicely. Thanks for reading...photos below: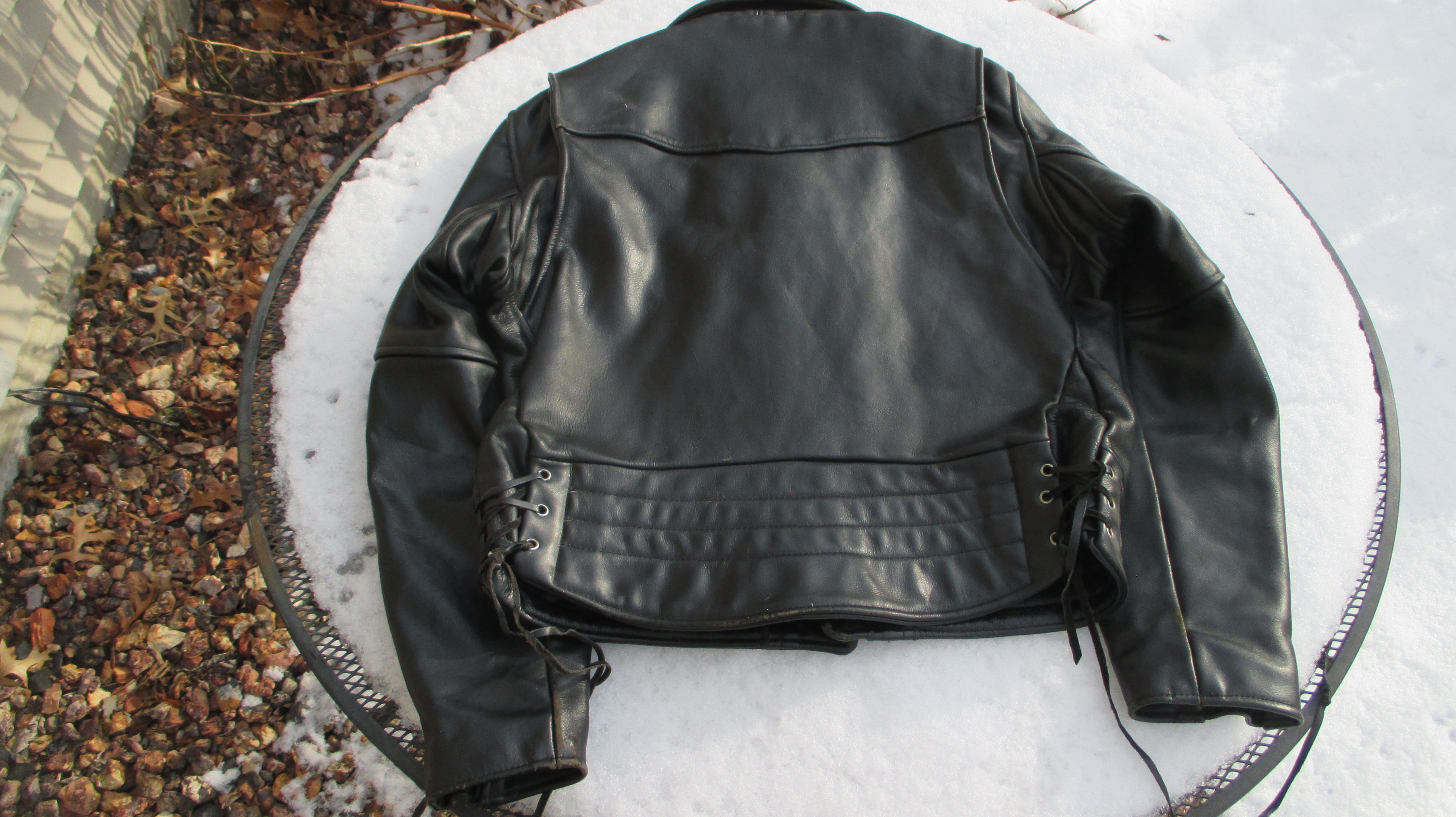 Last edited: